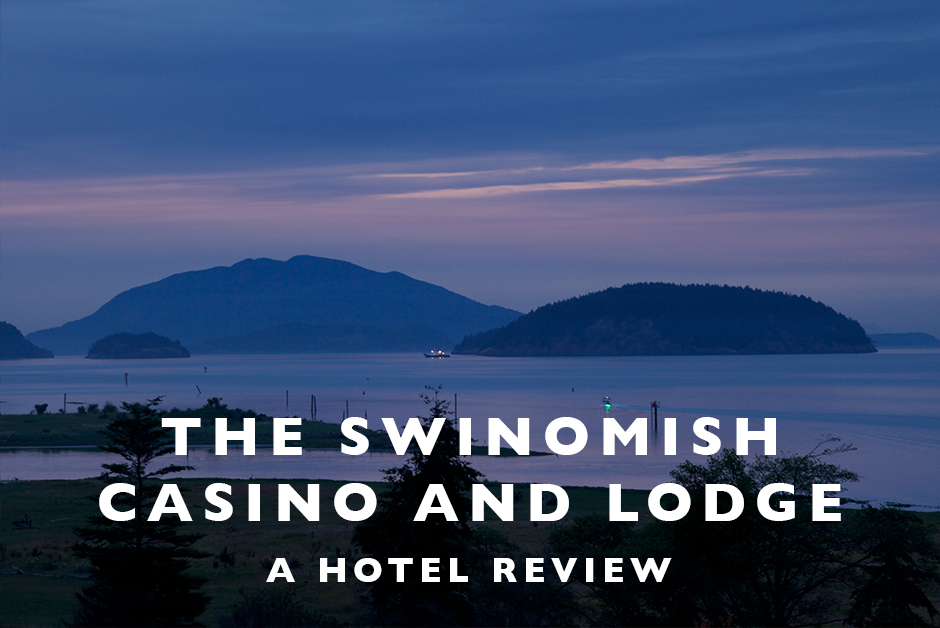 Swinomish Casino and Lodge – Anacortes, Washington
Check in
 – We arrived around 4pm on Friday (4th of July) and checked in quickly at the front desk.  The staff at the check in (and everywhere in the hotel) were really helpful and kind, which made our stay really nice.  They also offer complimentary valet parking or self park, which are both nice options upon arrival.
Room
 – We had a bay view room with a balcony looking out over the water and islands in the distance and were really comfortable during our stay.  The room was large and had lots of great furniture for our items.  
Bathroom
– The bathroom was large and well designed.  The 
shower was great and there was lots of counterspace for our items.
Design
 – The design of this hotel is done really well to match the local scenery and Native American tribes who's land the hotel is on.  The dark wood tones and pops of red were really well done, as well as excellent finish choices for a really comfortable but nice aesthetic 
throughout
 the hotel.
Dining – We only ate at the Casino buffet while at the hotel and while I think it was a little overpriced, I enjoyed the selection and the food they served.  If you like seafood, it's perfect for you with lots of options including crab and other seafood.  They also had a carver station with prime rib and lots of side options.
Overall Impressions
– I really enjoyed staying at this hotel and for us, it was the perfect base for our weekend in the area.  Just 15 minutes up the road you can get on the ferry and the I-5 in just another 20 minutes in the opposite direction.  It was accessible and well designed and ended up being a really comfortable spot for us for the long weekend and we'd stay again.
We were kindly welcomed as guests of the hotel for the weekend, however the above review and opinions are all my own.