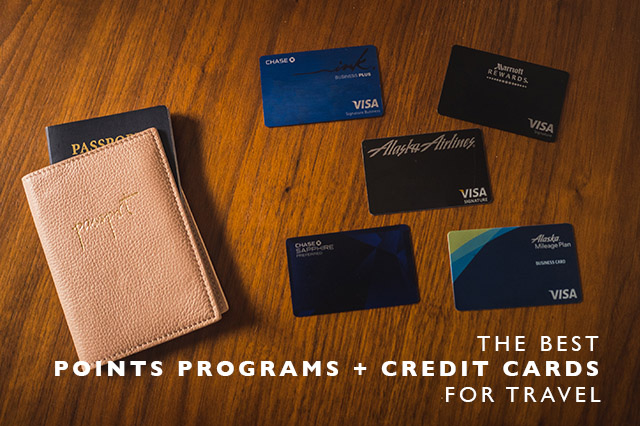 Since I've started posting more on how to use points and miles to travel for almost free, I've received quite a few questions and comments about how best to do this.  My goal is to start sharing more about this part of travel to best maximize travel using your points and miles through various programs, so to start and get back to basics, I thought I'd go a little more in depth about what exact credit cards and loyalty programs I use more frequently and how I use each of them to best benefit us for travel.  Hopefully this will give you a better idea of how to use points and miles and what might work for you!
Marriott VISA + Points
As one of my newest cards to join my points programs, I'm loving the Marriott Visa card.  Earlier this year after staying in two amazing Marriott hotels in Peru, we decided to start trying to pool more of our hotel points (outside of what we already do with Hotels.com and through Land of Marvels) to one loyalty program.  We chose Marriott based on our experience in Peru and when we got home, I immediately applied for the Marriott Visa card.  It was a huge bonus at the time which has paid for about 4 hotel stays for future trips already.  I'd highly recommend the brand and their visa card if you're looking for ways to maximize hotel loyalty points.
Hotels.com
Still my main source of hotel loyalty points, I've been a loyal fan of Hotels.com for years now.  With as much as we travel, we get lots of free nights through them.  Basically, every ten nights you stay through hotels.com, you get one free (total of your average hotel stay price).  I've had great experience with the company and have had more free nights than I can count!
Chase Sapphire VISA
Probably my favorite points and miles card, the Chase Sapphire visa card is amazing!  Overall, the Chase cards are amazing for mileage and accrue really quickly.  You have to book through their online portal, which is really well designed and easy to use.  The other great thing about these is that when booking travel on the card, you get double points which makes your points add up really quick.  And finally, my favorite thing about booking travel through the Chase portal on points is that when you book on Chase points, you still get to collect the airline miles as well so you're essentially double dipping!
Chase Ink Plus VISA for Business
I also have the Chase Ink Plus visa for my business and love it.  It's pretty much the same as the Chase Sapphire but for a business application.  The amazing thing about it though is that I can merge my points from this card with my other Chase credit card accounts, meaning the points accrue really really quickly!
Alaska Airlines VISA for Business + Personal
Probably my second favorite card and loyalty after our Chase accounts, the Alaska Airlines visa cards are great!  Because Alaska is our main airline in the Pacific North West, we try to fly them for as much as we possibly can.  I have both their Business and Personal cards and when you pay for anything to do with Alaska Airlines on the cards, you get double points.  But my favorite thing about these cards are the companion fares.  Every year for every account you have (so I have 2 cards, so I get 2 per year), you get a $99 companion fare to use anywhere on Alaska flights.  We use ours for Hawaii every year since that's such a deal with pricey Hawaii airfares and basically your second person flies for just over $100 after taxes and fees!