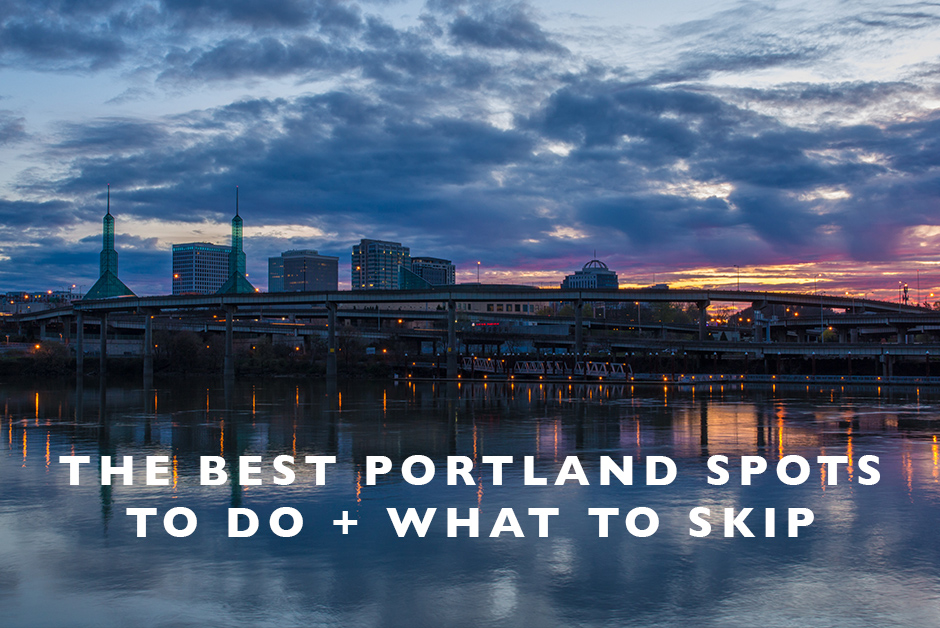 Welcome to Portland Week!  I realized that while I share so much about all the places I visit, I often don't share as much here on Land of Marvels about my amazing home city of Portland, Oregon which is becoming a tourist destination in its own right.  With an amazing food scene, incredible landscapes and a really livable downtown, Portland is an up-and-coming destination with so much to offer.  All week I'll be giving you local advice and information on how to make your visit to Portland the best it can be!
Portland is full of "it-spots," those places that you'll see plastered across everyone's Instagram feeds after a visit or that you hear "you must see and do this!"  But in all honesty, a lot of those "it-places" aren't really worth the hype so from a local, here's what you should definitely still do and what to skip.
DO visit the Rose Test Garden.
Often this is left off people's itineraries since it's kind of hard to get to but it is well worth a visit.  Since Portland is known as the city of roses, this garden full of hundreds of different types of roses is beautiful and offers excellent skyline views of downtown.
DON'T wait in line for Voodoo Donuts.
Portland is famous for Voodoo donuts but they aren't that great as far as donuts go and you can look up a picture of their weird shapes online and call it a day.  There is always a line around the block and it's really not worth the wait – instead head to any number of other donut shops like Blue Star or Pip's Original for much better donuts and usually a shorter wait.
DO check out local restaurants.
Portland has an amazing collection of restaurants so skip the chains and head to the local spots.  I just posted a whole long list of some of my recommendations here!
DON'T wait around for Salt and Straw.
Salt and Straw has become an it-spot in Portland in the last few years and their location on NW 23rd Avenue always has a line.  They are known for weird flavored ice cream and while it's ok, I would highly recommend skipping Salt and Straw and instead heading to Cool Moon in the Pearl which won't have a line and in my opinion is just as good or better!
DO wander through the old neighborhoods around NW 23rd Avenue.
Part of the charm of Portland is it's historic tree-lined neighborhoods in the NW district of the city.  Just around NW 23rd Avenue is a whole slew of old neighborhoods that are well worth a wander.  You can easily access this area from downtown by jumping on the NS Streetcar line headed toward NW 23rd.
DON'T just stay downtown.
A lot of tourists stay downtown and don't see much else.  It's well worth it to get out of downtown and explore more areas of the city!
DO decide which neighborhoods you want to visit before you get here.
Portland has a slew of neighborhoods and each is really unique, from NW to the Pearl to Hawthorne to Alberta, you'll want to decide which you want to explore before you get here, otherwise you'll be totally overwhelmed!
DON'T use Uber.
We have great public transport in Portland and it's so much easier than Uber here, which often don't know where they are going and get lost easily.  Portland is very easy to walk first and foremost and you'll see the most this way.  As far as public transport goes, our bus system is great and we also have light-rail (MAX) and a streetcar that will pretty much get you anywhere you need in the Downtown/NW/Pearl areas.  We also have Nike Biketown bike shares that you can rent and ride around the city.  It's much better than circling forever in the back of an Uber!
Headed to my home town of Portland?
Check out our Portland Travel Guide in the Land of Marvels Shop for only $5!