The Darcy
1515 Rhode Island Ave NW, Washington, DC 20005
In January of 2022, I was supposed to fly out to DC and visit my cousin who lives there for a few days.  But due to snow storms and general COVID issues, that trip got canceled.  So when I rebooked for May, I was looking for a place to stay for a quick 2 night, somewhere close to Logan Circle as that's the neighborhood she lives in and something that was comfortable and well-designed.  Enter The Darcy, a great boutique hotel in the center of everything in DC and I would definitely stay there again!
LOVE
Well Designed – The hotel overall has a really nice design aesthetic, modern and simple but with some fun elements as well.  I did feel the interior was way better than the exterior but that didn't bother me too much.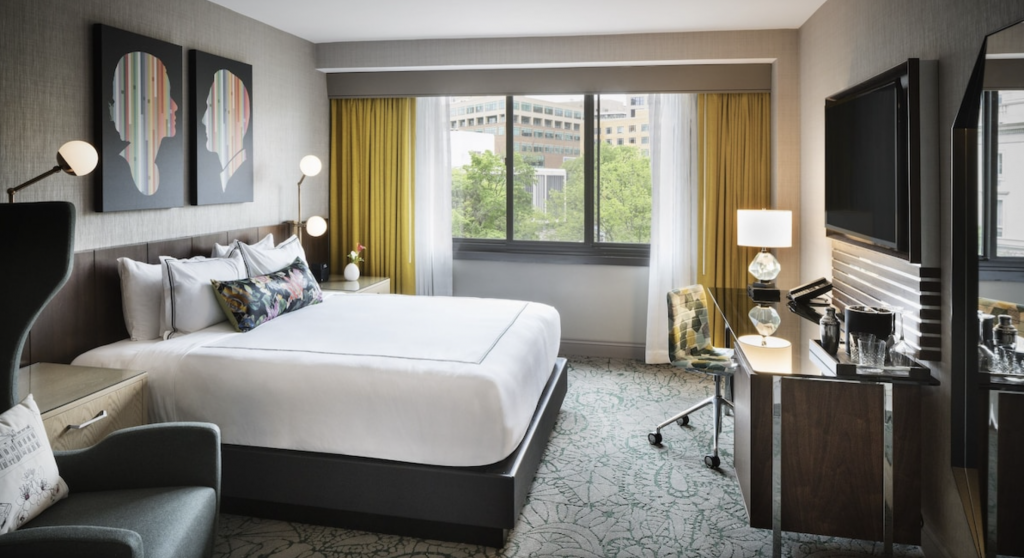 Location – The location here is perfect.  5 minute walk from the Logan Circle area and the main road on the 14th where all the restaurants and shops are, 10 minute walk to the White House, 15 minute walk to the National Mall, 30-ish minute walk to Georgetown… it's really in the center of everything and easy to get everywhere on foot in DC from here.
Quiet – While it's in the center of everything, it still felt quiet and removed which was really nice.
DIDN'T LOVE
Resort Fee – The hotel did charge a $30/night resort fee which was not included in my pre-booked reservation which I didn't love.  I'm not sure if this is hotel-specific or a DC thing in general, but I hate extra added expenses when you arrive at a hotel.
NOTES TO KEEP IN MIND
If you want to have easy access to the tourist spots in DC but also the more local spots, this is a great location.  I personally love walking around DC and very rarely do I drive or use public transit there because it's just such a walkable city and this hotel really has the best location for that.  Whether you want the more local scene in Logan Circle or you want the touristy stuff at the National Mall, this hotel is perfect for both types of travel in the nation's capitol.
Traveling to Washington DC?
See all of my posts on the city!