The Oberoi Bali
When Bali was for sure on our itinerary for our November trip this year, I knew immediately where we'd stay.  As I mentioned a couple years ago after our trip to India, I have a personal family connection to the Oberoi Hotel chain, so whenever we travel somewhere where there is an Oberoi, we opt to stay there to support the business.  Not that it's a hard choice, the Oberoi Hotels are gorgeous and some of the best in the world and so we were really excited to experience the Bali property!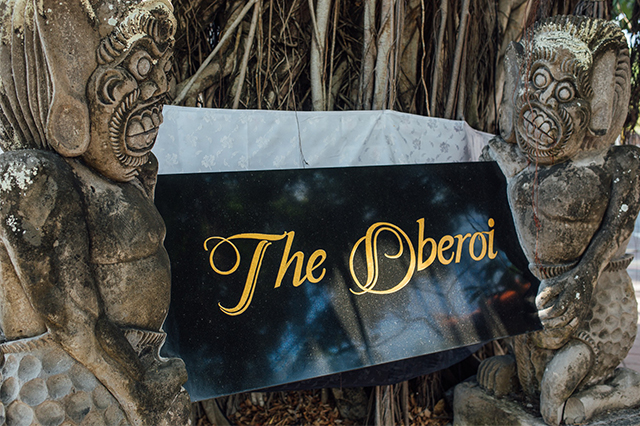 LOVE
The Location – Located in Seminyak, the hotel is really convenient.  Only about 30-45 minutes from the airport, Seminyak is full of shops and restaurants.  It's also only about a 1/5 hour drive to Ubud, so super easy to do a day trip.  The hotel is also right on the beach, so it's easy access for that too.
The Service – As in all the Oberoi's that I've stayed at, service there is incredible.  From the staff at every restaurant remembering our names to having them remember things we told them the previous day.  From the hotel sending envoys to walk us through immigration at the airport, meeting us directly after we disembarked the plane and helping us with our lost luggage.  From the staff letting us keep our room until 6pm on the day we left because we had a late flight to the manager inviting us to a happy hour at sunset, the service here is beyond incredible and a huge perk of staying at an Oberoi hotel.
Our Villa – Because of my family connection to the brand, when we travel to places that have one of their hotels, I make sure we stay there to support the company.  In turn, we usually get upgraded to pretty amazing rooms (like our room in Agra with a view of the Taj Mahal), and this time was no different.  We were graciously given the largest villa on the grounds with our own private pool, 3 outdoor patios and an incredible room with a bathroom that had to be about 300 square feet just by itself.  Our villa was gorgeous and totally made our whole trip!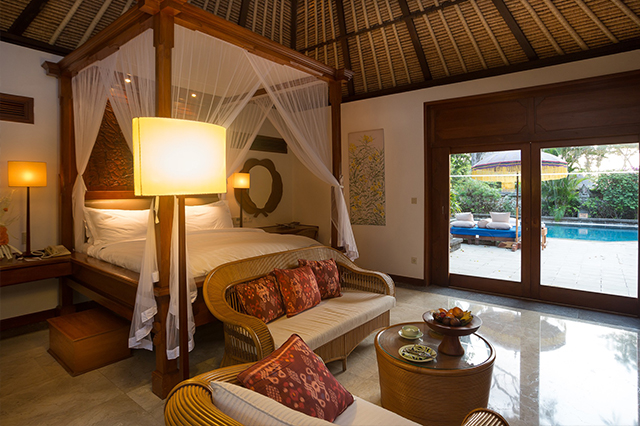 The Grounds – One thing I always love about the Oberoi Hotels, their grounds are gorgeous and so unique to the property.  The Bali location is built in all traditional Balinese style with grass roofs on the buildings and stones making up the villa walls.  It felt like wandering through a little village.  The other thing I loved at this hotel, and all of the Oberoi's, no matter how full they are, it always feels peaceful and quiet.  I don't know how they do it, but the grounds felt like we were the only ones there!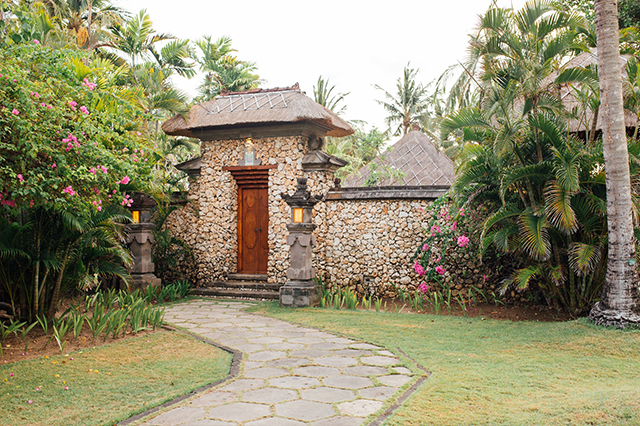 The Shower – A good hotel shower is a great perk.  But then there are some hotel showers that are just beyond.  This was one of them.  It was incredible with a powerful rain fall and windows looking out over our private, walled courtyard which made it feel almost like you were outside but still completely private.
Amazing Wifi – Nick and I don't completely shut off when we go on vacation and need access to wifi.  And we appreciate really good wifi after staying so many places with bad wifi, we loved the access and signal of the wifi all over the Oberoi property in Bali!
DIDN'T LOVE
Mosquitos – To no fault of the hotel, just know there are quite a few mosquitos in Bali.  With no screens on doors or windows of our room, lots of mosquitos go in our room the first night and we had to close the mosquito net around the bed to keep them out while we slept.  I know the hotel sprays for mosquitos so I don't think there is much else they can do, but something to be aware of when traveling to Bali in general.  And don't forget to cover yourself in bug spray, (which I had forgotten on our trip and the hotel had some ready in our room!), so you lower your chances of getting bitten and infected.
TIPS
Book activities through the hotel – Any activities you want to do while in Bali, you can book through the super helpful staff at the hotel.  We anted to do a day trip up to Ubud with a private driver and the hotel arranged an amazing driver and guid for us for the day and it ended up being our favorite part of the trip!
Don't Miss out on the Sunsets – Bali is famous for its sunsets, so be sure to watch them from the beach in front of the hotel each night to get your fill!
Traveling to Bali?
See all of my posts on the island!