The Paris Hotel and Casino
3655 S Las Vegas Blvd, Las Vegas, NV 89109
After more trips to Las Vegas than I can count at this point, we've actually never stayed at the Paris Hotel.  But for my 35th birthday, we headed to Las Vegas to celebrate and since I haven't been able to travel to the real Paris for longer than I would like due to COVID, we decided it would be fun to stay in "Paris" for the weekend while in Las Vegas.  Overall, I was pretty pleased with the hotel and would definitely consider staying there again.
LOVE
Renovated Comfortable Rooms – The hotel underwent a renovation a few years back and the rooms were great.  The bed was super comfortable, the design was nice but not overwhelmingly cliche and the amount of space in each room was really large.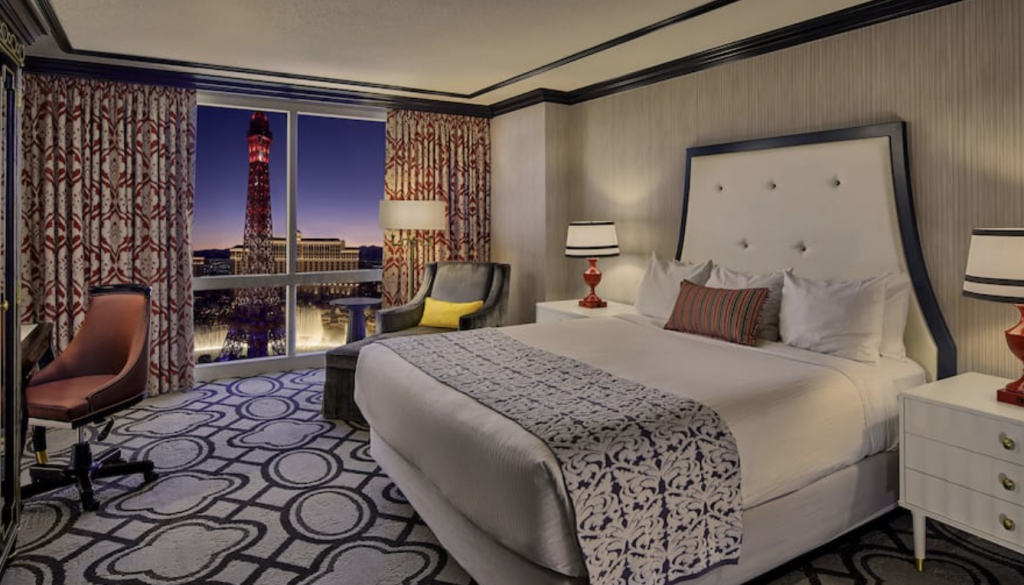 Restaurants – We ate at Mon Ami Gabi for breakfast and it was delicious, seriously one of the best breakfasts I've had in Vegas.  My parents also ate at another of the restaurants in the hotel before we arrived and said it was delicious too.
Quiet Room – We came back to the hotel Friday night around 10pm and a guy was yelling in the hallway near our room.  I immediately thought, here we go with a loud guy all night.  But once we closed our door, the sound disappeared.  The acoustics were amazing for a Vegas hotel which I very much appreciated.
Location on the Strip – The Paris Hotel is very centrally located so it's easy to get to all the other hotels on the Strip which does make it really convenient.
DIDN'T LOVE
Connections – Even though it's centrally located on the Strip, there are no interior connections to other hotels and casinos so you have to walk outside and over the overpass bridges to get anywhere else which can be a bit of a pain when there are crowds.
NOTES TO KEEP IN MIND
If you like Paris and want a cheesy nod to France, staying here can be kind of fun.  While it's definitely not the real Paris, it's kind of fun as a weekend getaway to see the Eiffel Tower and have a cheesy take on it.
Traveling to Las Vegas?
See all of my posts on the city!