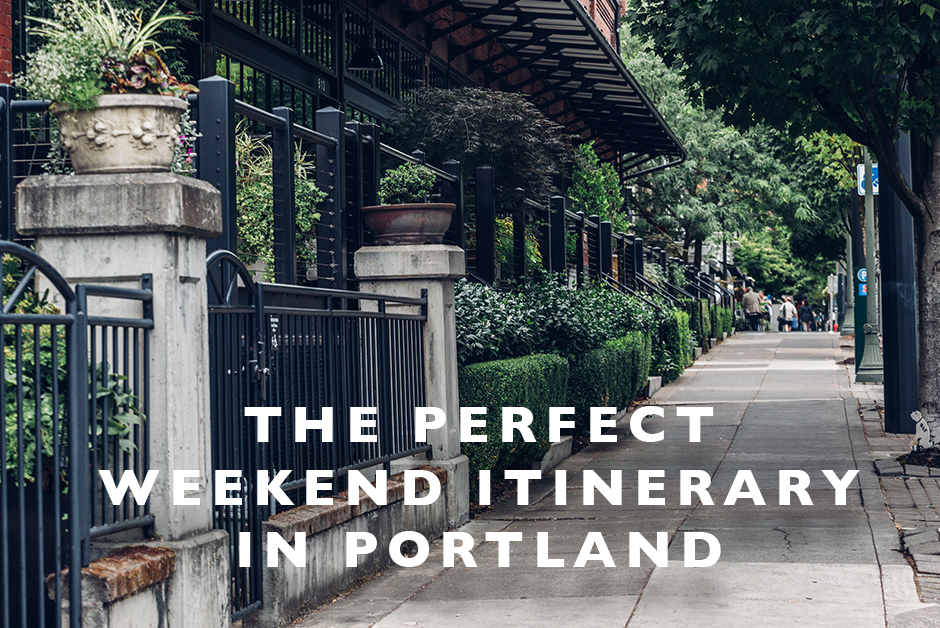 My beautiful home city has become much more of a tourist destination that past few years and mostly due to our foodie scene and beautiful old neighborhoods, the city is the perfect weekend escape.  I've offered a number of suggestions about Portland over the years of blogging but finally, I'm giving you today the perfect itinerary to follow for a weekend in my city with all my favorites included!  If you're looking for a great city escape for a weekend way, Portland is a fantastic option and here's all you need to know for the perfect weekend itinerary in Portland.
And be sure to download this free itinerary in PDF form at the bottom of this post!
DAY 1 : ARRIVE IN PORTLAND FRIDAY EVENING
Arrive in Portland! 
Take the MAX (the city's light rail) in from the airport and you'll be Downtown in 45 minutes!  You can also take a taxi or an Uber/Lyft which will take you about 15 minutes without traffic.
Check into The Sentinel Hotel.
Do a quick outfit change, freshen up and head out to for dinner at Andina.  Be sure to get a reservation for dinner before you go!
After dinner, wander back to your hotel which is only a few blocks away.
DAY 2 – Explore Downtown and the Pearl District
Start out your day at the Portland Farmer's Market in the South Park Blocks at PSU.
Don't miss breakfast here with a breakfast burrito from Enchanted Sun.  You'll find their stall where the long line is, but take it from me, it's well worth the wait!  Then wander around the market and take in all the great local organic stalls.
Wander back through downtown toward the Pearl District.
As you head back toward downtown through the Park Blocks, meander through the beautiful parks toward the Pearl District.  Once there, there are endless shops and restaurants to enjoy.
Stop for lunch at Piazza Italia (again a reservation is best), for an authentic Italian lunch straight from Roma.
 followed by a wander through Jameson Park across the street and then heads towards Tanner Springs Park and the Fields Park.  Then head back South towards your hotel stopping for dinner along the way.
Enjoy artisan pizza at Oven and Shaker for dinner! You won't need a reservation here but the earlier the better as it gets crowded!
DAY 3 – EXPLORE NW + Nob Hill
For your final day in the city, enjoy one of its oldest and most beautiful neighborhoods.  Not that I'm biased or anything, but this is where I live!
Start by jumping on the streetcar right by your hotel on the NS line towards NW 23rd Avenue.  Jump off on the stop at 21st Avenue and walk a few blocks North for a breakfast stop at Besaw's.  Order their Farmer's Hash here and I promise you won't be disappointed. But go early before the crowds when they open at 8am!
Then make your way toward NW 23rd Avenue to wander.  This long road is full of shops and restaurants and it's here you'll find the famous Salt and Straw ice cream shop and much more to discover.  Spend the rest of the day wandering through the old neighborhoods full of old Victorian homes and tree lined streets.
For a late lunch/early dinner head to Ataula!
For an amazing Spanish tapas feast at one of my favorite restaurants, try the Bombas and Spanish tortilla, washed down by their house made Sangria at Ataula.
AND DON'T FORGET TO DOWNLOAD THIS FREE ITINERARY FOR YOUR OWN TRAVELS AT THE LINK BELOW THIS PDF!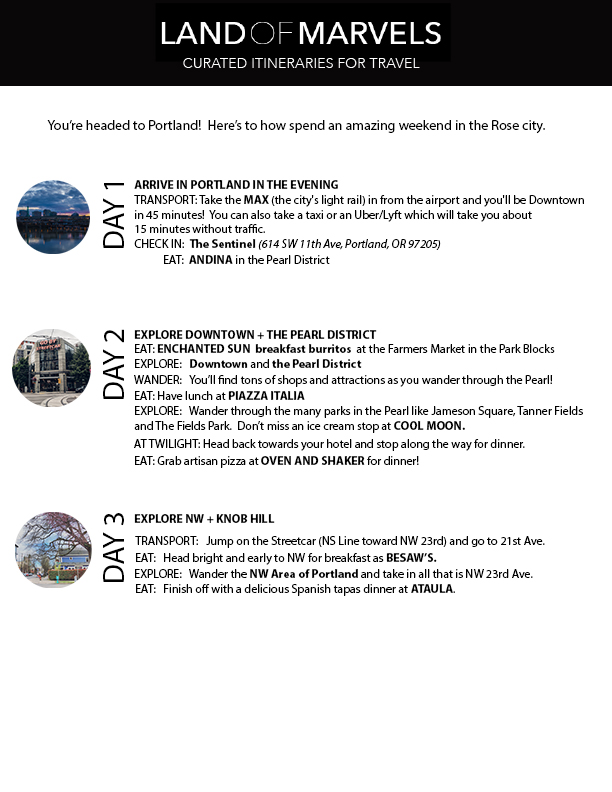 Headed to my home town of Portland?
Check out our Portland Travel Guide in the Land of Marvels Shop for only $5!