Pullman Melbourne (On the Park)
As I mentioned previously, we found out about the Pullman hotel brand last year in Brussels and since then have enjoyed staying with the brand around the world.  So when we knew we'd be staying our final night of our trip to Australia in Melbourne, I reached out to the Pullman hotels there to see about staying.  We ended up staying at the Pullman on the Park in Melbourne.
LOVE
Check in Staff – When we arrived at the hotel in the evening, we were exhausted from being sick and our long day driving the Great Ocean Road, but the staff at check in were really nice and helpful and asked us all about our day.  They were also great about answering questions we had about our stay.
Room Service – We ordered room service because we were so tired from our long day of driving and not feeling well.  The food came quickly and was delicious!
Great View – Our room was on the 15th floor and the views out over Melbourne were gorgeous!  Watching the evening light fade over the city was lovely!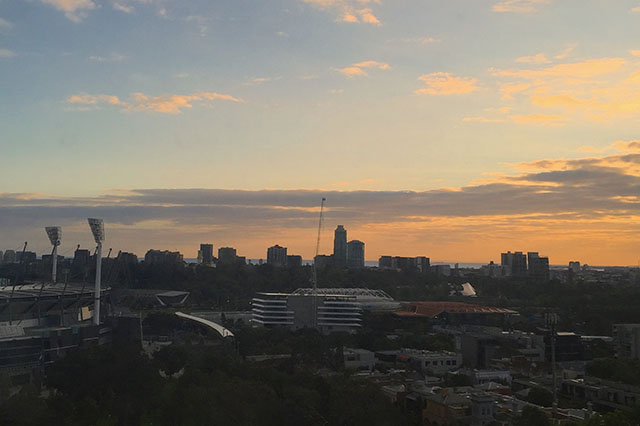 Welcome Gifts and Dessert – As I had booked our stay through Land of Marvels, we were welcomed to our room with a beautiful tray of goodies for us as well as a lovely gift of a glass travel mug.  It's always nice to have hotels go the extra effort and in this, the Pullman Melbourne certainly did!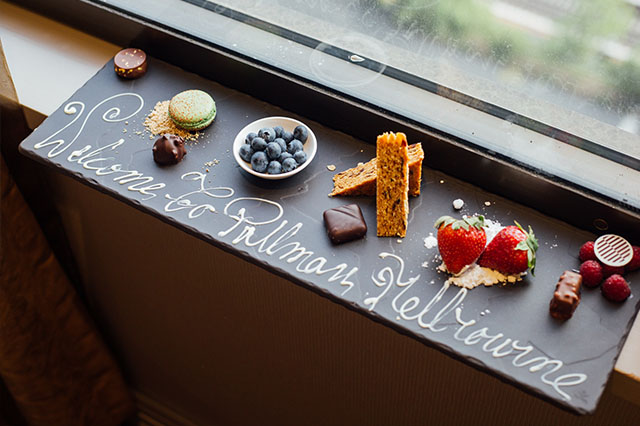 DIDN'T LOVE
Only 3 Devices for Internet Connection- When we were connecting to the internet in our room, we found out you can only connect 3 devices.  First of all, who only has 3 devices to connect to Wifi anymore when traveling as a couple?  We each have a phone, Nick has an iPad and I had my laptop.  After calling the front desk twice, they finally told us that there was nothing they could really do which was annoying and unhelpful.  Hotels should have unlimited devices available to connect – or at least be more helpful about it.
Worn Down – While the location and staff at the hotel were great, the decor is really dated and worn down and the hotel is in desperate need of a renovation.  We've stayed at multiple Pullman's around the world and we're always amazed at how up to date they are.  This one however, was not on par with the rest.  Many things in our room didn't work like outlets in the bathroom and screws were missing from the toilet.
Problems Answering Phone Calls – This was a constant problem I had all evening during our stay.  I first called reception and the concierge about the internet issues, both times the phone rang and rang and no one answered.  I finally got someone on the third try.  Then I ordered room service and the same thing… rang and rang and rang.  Then I called the restaurant thinking I could order through them, they answered and put me through to room service which again rang and rang and rang.  Finally on my third try I go through, but could barely hear the person on the other end due to a horrible connection.  I think a new phone system is in need here.
TIPS
Ask to be on a higher floor – The views were stunning from the top floors, so ask to be moved up for your own views out over Melbourne.
Location is not Directly Downtown – If you want to be directly downtown Melbourne, this probably isn't the best location to stay at.  But for a quiet hotel on the Park away from the craziness, this is your spot!
Hotel is outside the free zone on Public Transport – While we had a rental car during our stay, keep in mind if you're on foot, the hotel is outside the free zone in Melbourne's public transportation.
Land of Marvels was welcomed to the Pullman Melbourne on the Park as a guest, though all opinions are my own for this review.
Traveling to Australia?
See all of my posts on Australia!