The Savoy Limerick
Limerick, Ireland
I will say I had a hard time finding good boutique hotels in Ireland during my trip with my cousin and I'm not entirely sure why that is.  In Limerick, the options were pretty limited so I opted with a well known hotel brand, The Savoy.  Overall, I was pretty disappointed with how dated the hotel was and didn't love the cit of Limerick overall.
LOVE
Good Location – We were just passing through Limerick and arrived late and left fairly early the next morning so this was an easy location in the city to stay.  
Easy Valet Parking – We valeted our car to save time in the morning and since we were leaving early the following day, the hotel just kept our car out in front of the hotel, which did make it very convenient.  The cost was 30 Euros for the valet service and overall, it did make everything a bit easier that night, not having to find parking elsewhere.
Good Service  – In the morning before we left, I woke up earlier than my cousin and went down to the lobby to get some work done.  When I got down there and they saw I was working, they offered to open up the executive lounge for me which was a really nice gesture.  
DIDN'T LOVE
Run Down and Really Needs a Renovation – The hotel is really dated and feels like an upscale hotel out of the 80's.  The design needs a major makeover and it was one of the things that I expected more from The Savoy brand.  Also while searching for photos of the hotel, it definitely did not look in person how the website makes it look – a huge issue in my book!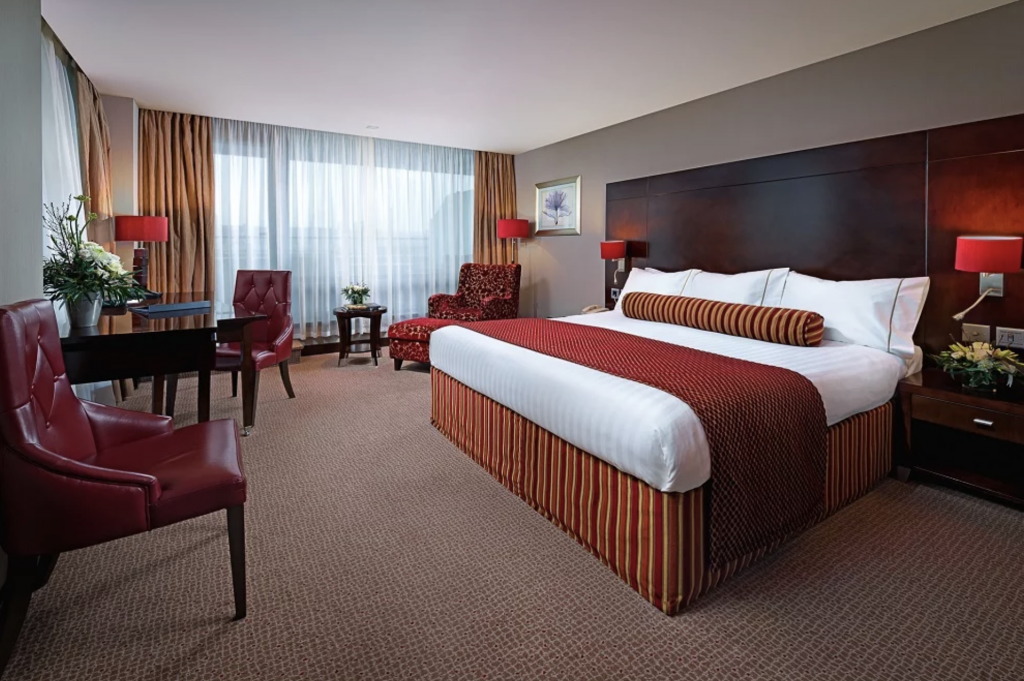 NOTES TO KEEP IN MIND
Restaurants and shops are not open late in Limerick – We found it very hard to find open restaurants and shops in Limerick past about 8pm.  Since we arrived late, we wanted to have dinner and there were only a few places still serving food.  So if you plan to arrive later in the evening, have a plan for food.
Traveling to Ireland?
See all of my posts on the country!