Sentinel Hotel – Portland, Oregon
I often forget that my own home city of Portland is a tourist destination in itself and becoming increasingly more so in the past few years.  So recently I've been making more of an effort to include reviews of local favorites like hotels on my site so that if you're looking at making a trip to my city, you have some of my recommendations!  My stay at the Sentinel recently is yet another great spot for you to rest your head when you're exploring Portland and when I reached out to the hotel a while back after their beautiful renovation and name change (it used to be the Governor Hotel), I was so excited to stay there for a night and check it all out!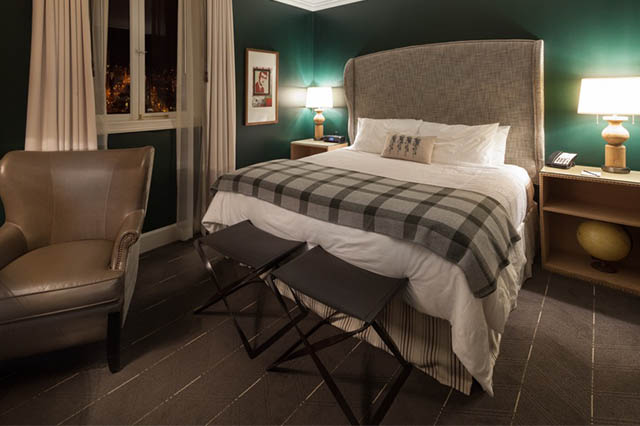 LOVE
Decor – I was most excited about seeing the renovation of this property since this hotel is such a historic spot in Portland.  I loved the updated look and the modern tweak on things but that the hotel still keeps in touch with its Portland roots and history.
Views – Our room had a gorgeous view from the 6th floor looking West over Portlandand as twilight fell over the city, I couldn't help but be transfixed by it.  I love the views in this hotel of the city as it's a true "downtown" hotel.
Location – The location of the Sentinel is truly one of its best features.  It's downtown enough that you are close to the major shopping and hub areas like Pioneer Place, but a few blocks away enough that you feel more in the center of the local area, closer to the Pearl District and some of Portland's best restaurants.  It's also out of the congested parking and driving streets closer to Pioneer Place which makes it easier to get to and from.
History – The Sentinel (formerly the famed Governor Hotel) has a grand history in Portland and I love that they keep that alive.  Not only does the hotel have a history in Portland in general, but it's also where I got ready the day of my wedding 4+ years ago and it brought back so many memories in my own history!
DIDN'T LOVE
Nothing – There was seriously nothing I can complain about from our stay…love this spot!
TIPS
Don't forget to eat at Jake's Grill– This old time Portland restaurant is not to be missed and is actually in the same building as the hotel.
Previously the Governor Hotel – If you know Portland at all, the Governor was a long time favorite hotel.  The Sentinel is the new name since the renovation so if you see anywhere anything about the Governor, this is it!
Land of Marvels was welcomed to the Sentinel Hotel as a guest, though all opinions are my own for this review.  
Headed to my home town of Portland?
Check out our Portland Travel Guide in the Land of Marvels Shop for only $5!