Tokyo Station Hotel – Tokyo, Japan
When we we knew we were heading to Tokyo, I had a few different ideas of hotels to stay at.  But after seeing photos from the Tokyo Station Hotel, I couldn't resist booking immediately!  The design is gorgeous and the location couldn't have been easier!  The Tokyo Station Hotel will easily be a new favorite spots in Tokyo for us.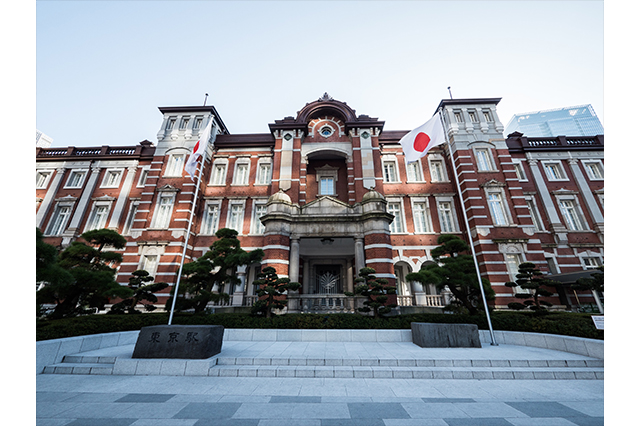 LOVE
The Location – We remarked numerous times during our stay at the Tokyo Station Hotel that the location was incredible.  Located directly above Tokyo Station, the main connecting points for trains and subways in Tokyo, we literally walked downstairs to get on the subway or just out the door of the station arriving from the airport to our hotel.  The location really can't be beat.
The Malls Nearby –  In central Tokyo, this hotel has amazing access to numerous malls nearby with lots of amazing restaurants and shops.
The Design – The hotel was renovated 4 years ago and they did an impeccable job.  The design and aesthetic of the hotel is beautiful and unique.
The Service – The hotel really went way and above for us during our stay including helping me with my iPhone when it wouldn't connect to wifi, stopping whatever they were doing every day to say hello when we came through the lobby and helping us with our bags down to the train station on our way back home.  The service was impeccable!
The Shower – A good hotel shower is a great perk.  But then there are some hotel showers that are just beyond.  This was one of them.  It was incredible with a powerful rain fall and windows looking out over our private, walled courtyard which made it feel almost like you were outside but still completely private.
The Location – The location was in a nice modern area of Beijing but only about a 30 minute walk from Tiannamen square and the Forbidden City, which made it convenient to explore.
DIDN'T LOVE
Room was a bit small – While beautiful, our room was a bit small, even for our standards.  With only carry on luggage we had a hard time with space, so I can't imagine trying to fit large suitcases in the room we had.
TIPS