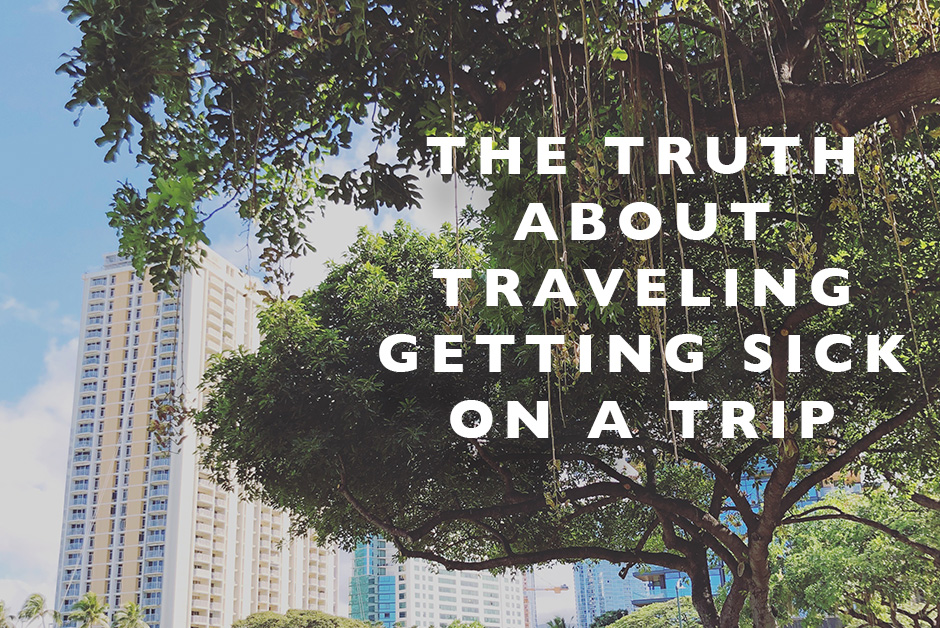 We spent 10 days in Hawaii earlier this month for work and out of those 10 days, I spent 7 of them pretty miserable being sick.  Out of the 7 I was pretty miserable, 2 of them I was so sick I could barely get out of bed.  We've all been there, getting sick on a trip is pretty much the worst.  And whether the trip is for work or play, being sick when you get somewhere can be really frustrating and scary.  But there are some little things that can help you power through it, even if it means your vacation gets pretty much ruined and here is what I did and what might help you in the same situation.
Find a Pharmacy nearby.
The first thing you'll need, figure out where there is a pharmacy or a drug store nearby wherever you are.  In Hawaii, I stocked up at Long's Drugs with all the remedies I needed.  This will be your life saver.
Depend on your loved ones or whoever your traveling with.
I happened to be staying with my parents so it made it a lot easier, but whoever you are traveling with, you'll be depending on them a lot.  Things like figuring out food and running to the drug store for you, you'll want to be sure to have someone to help you, especially if you are in a place you aren't familiar with.
If you're by yourself and at a hotel, you might be able to ask the concierge or front desk for help getting you food and such.
Don't over do it, even when you start feeling better.
Even when I started feeling better towards the end of our trip, I still took it way easier than I normally would.  Usually at the end of feeling sick, at the first sign of feeling better, you'll want to push yourself to see and do everything you missed earlier in the trip – don't!  If you over do it, you'll end up getting sicker and it won't go away as fast as it would if you really just rest and heal your body.
Sleep.
Sleep really is the best remedy for when you're sick – whether at home or while traveling.  I had certain work meetings I had to be at, but I tried to work my schedule so that I could take naps when I needed to and wasn't feeling well, as well as getting a long night of sleep each night.  Rest and relaxation really will help you feel better faster so make it a priority.  The good news is that you're probably at a nice hotel on vacation, so that hotel bed will be super comfy to relax in!