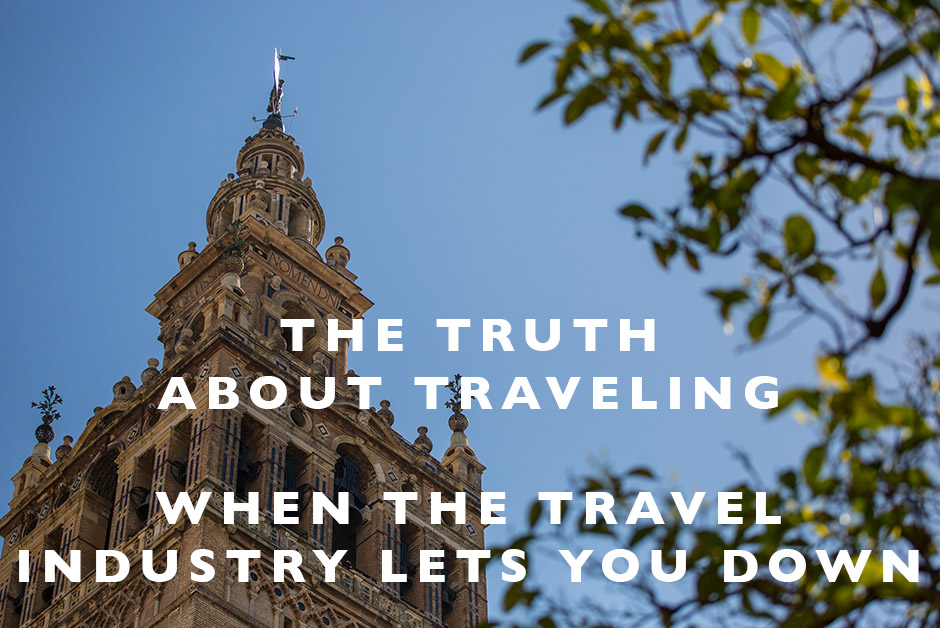 I'm back!  That didn't take long did it?  I'm still in the midst of getting my bakery up and running for April 1st but after a long and exhaustive process of trying to cancel one of the hotels from my canceled trip to Europe this past month due to a family emergency, I thought this post was necessary today.
Also PS, a number of your commented that you'd like to see periodic personal updates as well as I go forward here on LOM at a much more relaxed pace and I am happy to do that.  So keep any eye out for that going forward!
Ok so back to travel…. long story short, due a family member having to have major surgery on short notice a couple of weeks ago, I canceled my trip to Europe that I was due to take earlier this month.  Every hotel (and even most of the non-refundable flights) was able to work with me and help me out with refunds except one hotel: the EME Catedral Hotel in Seville, Spain.  Now I share a lot of the great things about travel here on Land of Marvels, but I also want to be honest about the downsides of travel and the travel industry as well so that you go into travel without the rose colored glasses.  And sometimes the truth is, the travel industry lets you down and this is definitely one of those times.
I could go on and on about how much the travel industry takes advantage of its customers.  And I've definitely been screwed out of money and time along the way of all my travels around the world, but honestly, most of the time, I've been able to connect with companies and brands along the way in a human way and have them try to help me in one way or another.  This time though, it upsets me because this particular hotel, the EME Catedral Hotel in Seville told me that they would refund my stay which I had paid for through Hotels.com if I could provide a doctor's note referencing my family emergency.  I did just that and proceeded to email them several times with no response back.
Finally after weeks of trying to reach the hotel and get a response (always a bad sign to start with), I tweeted Hotels.com who I had booked the hotel through to try and help me with the situation.  To their credit, they did try several times to reach the hotel however, and this is where I am starting to question my loyalty to the booking site I've actually had great luck with in the past, they wouldn't even try to offer me anything on their end when the EME Catedral Hotel was constantly blocking me from getting a refund even though I had done everything they asked to get said refund.  Hotels.com is a big company, if they wanted, they could offer me some compensation.  After all, I did book through them and hence they are getting a commission on the stay.  I have given them good reviews in the past and this is the first time they've actually done nothing in their power to help me other than call the hotel and twee me to tell me the hotel said no, even though originally they told me I could get a refund if I got a doctor's note.  They could have given me a coupon code for a future stay or a credit or some sort, but they chose not to even though I've been loyal to their brand over a number of years.
Here's the thing, we are all people.  And brands need to realize that to keep our business, they have to understand we're just people.  We have emergencies, we sometimes have to cancel a stay or rearrange a booking due to life happening!  And the thing that the EME Catedral Hotel is not seeing is that I would have stayed with them again this year on our postponed trip to Seville in November.  I would have brought the money I paid for the hotel stay back to the city, back to the brand again and probably written a review of my lovely stay there here on the blog for other people to go and enjoy the hotel.  But now, when I return to Seville later this year, I will not be bringing my money there.  I will not be recommending if for other people.  All because they refused to even consider a refund for a two night stay… yes, it was only for a couple nights.
And this brings me to the larger picture of the travel industry.  Unfortunately, airlines and hotels and booking sites don't treat us like people anymore.  And for an industry that makes a ton of money off of us as customers, it's time for us as consumers to start taking our loyalty to places that will actually see us as people.  Personally, I'm questioning my loyalty with hotels.com and might start booking direct with hotels that offer free cancelations.  I'll also never book a stay with the EME hotels again after this experience and I would urge anyone looking at their hotels to think twice about it after my experience.  Ultimately, the truth about travel is that sometimes the big companies aren't actually looking out for the customers that make them what they are and sometimes, we as travel consumers have to look out for our own self interests too.  Loyalty is important in the travel industry… I wish that went both ways with companies and consumers.