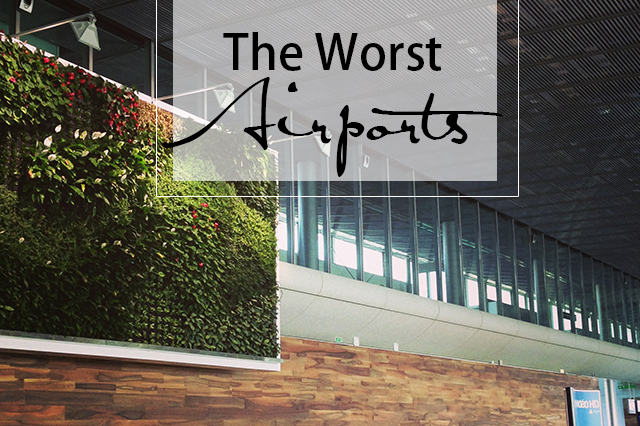 As we travel around the world, we spend a lot of time in airports. And while there are some great ones, there are also some not so great ones, so today and tomorrow, I'm going to be sharing some of the best and some of the worst that we've traveled through and that have made an impression on us.
Today, these are some of my least favorite airports around the globe. While there are an endless list of airports to fly in and out of, these have ended up being my least favorites for various reasons as I show below.

We flew through Belfast last November on our tour through the UK, heading to Edinburgh. Granted our experience at this airport was right after a bomb-threat in Belfast the previous day, so that might have hindered our experience, but least to say this airport is a struggle. The signage is not great and it was strange how we entered trying to find the check in counters to check in for our flight. Next security was ridiculous and it was a good thing we happened to be really early for our flight and had lots of time. They were stopping literally every person in line and going through their entire bags to the points of pulling every items out and then handing us back our destroyed bags to put together again. It took us literally about 45 minutes to go through this process and for people running late for their flights, I don't know how they expect people to make it through. Next, we went to get something to eat, ordered our food only then to be told 20 minutes later (after we waited) that they didn't actually have the meat we had ordered to make our meals. There was hardly any seats to wait in our gates as well, and overall this airport needs a lot of work.

I fly to Hawaii often, at least once every few months usually and Honolulu is the airport I frequent a lot in the Islands. For such a tourist hub, I seriously can't believe every time I go through HNL how horrible of an airport it is. There is no signage anywhere and every time I get off the plane, I head off right away because by now, I know the airport really well, but needless to say, everyone gets off the plane and looks around and doesn't even see how to get to baggage claim. There is no signage anywhere. The airport is also really outdated and while they are working to update parts of it, it needs an entire overhaul. The gate systems are confusing and the gate numbers don't always make sense for where they should be. You also have to walk really long distances at this airport or wait forever for their shuttle which I never do because it takes so long. HNL also is always behind on offering airport perks like TSA pre-check. They have it now in their International departures but it took them way longer than the mainland to get it and set it up correctly.

LAX, for being such a huge US hub airport, leaves a lot to be desired. The airport is disjointed and the
terminals
are all so far away that you have to take shuttles between which are inefficient, as well as making you go through security again when you travel between
terminals since you've actually left the airport and have to go back in again. The interiors are old and run down, lounges aren't great in the domestic wings and restaurant choices are dismal in most of the wings. The new International terminal opened last year and we went through right before it was opening and weren't super impressed, the majority of new restaurants are pre-security and the layout of the wings is strange. While there are a great amount of destinations to fly out of from LAX, it's an airport I'm not crazy about using and really only do when it's our only option.