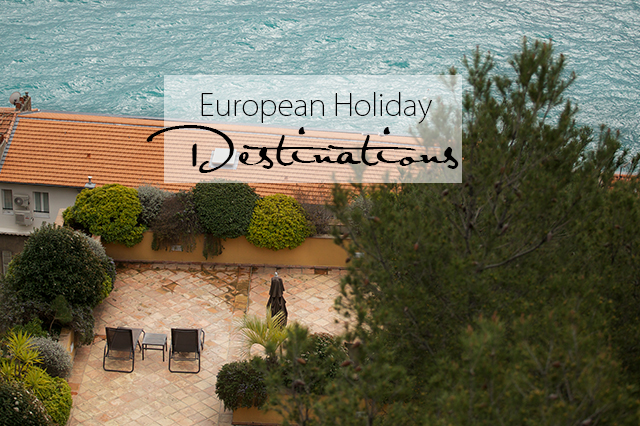 There are lots of reasons why Europe has always been a hot spot for travelers from all over the world. Millions of travelers flock to Europe every single year, and for very good reason. With so many magnificent cities to visit, selecting what to see and where to go can prove to be somewhat difficult.
In this article we are going to take a look at five of the most popular European holiday destinations of 2014.
A stunning coastline combined with spectacular views make Croatia a firm favourite with holidaymakers of all ages. The coast is most definitely the country's main attraction, but the interior of the country also offers a huge array of exciting activities for travelers too. The cities in Croatia are steeped in history, culture and amazing cuisine. Whether you choose to go backpacking, rock-climbing, scuba diving or river rafting, you're sure to have an unforgettable time in this picturesque country.
Situated high up in the scenic Alps, Switzerland is another popular holiday destination within Europe. Bordering countries like Italy, Germany, and France make Switzerland easy to access and enjoy. If you're a skiing fanatic, a trip to Europe in not complete without visiting at least one of Switzerland's impressive ski resorts such as Zermatt or St. Moritz. Zurich and Geneva are two cities that are a pleasure to explore and are filled with great examples of the county's culture and history.
A trip to France will give you a real taste of European culture. The country is most famous for its structural masterpieces like the Eiffel Tower and the world-renowned Louvre Museum, not to mention the amazing selection of bread, wine and chesses that can be found here. Other popular sights and attractions to visit in France include the port of Versaille, Notre Dame Cathedral and Corsica. If you do have time, make sure to visit the ever-popular French Riviera. Companies such as Newmarket Holidays offer great value deals that will make your stay as enjoyable and as memorable as it possibly can be.
Greece has been deemed as one of the most important destination in all of Europe to visit, mainly because of its reputation as being the home of modern philosophy. Spectacular views of the Aegean Sea will inspire visitors to further explore ancient ruins and unique historical artifacts. A trip to Greece must involve a visit to Olympia or Acropolis of Athens, the city where modern day Olympics first originated from. The food in Greece is absolutely amazing and will leave you wanting to re-visit for a second helping.
Italy has always been one of the top destinations to visit in Europe, and for very good reason. The cities are beautiful, the sights are ancient and inspiring, the people are friendly and the food is just outstanding. What's so amazing about Italy is that people of all ages will enjoy a holiday here, and that's why families, backpackers, couples and students flock to this incredible country year after year. The beautiful city of Venice, the historical sights of Rome, the Leaning Tower of Piza and the streets of Pompei are just some of the wonderful places to experience while visiting Italy.
If you're planning a visit to Europe this year, the above destinations need to be strongly considered. Each of them is unique and extraordinary in their own way, with each one providing visitors with enjoyable experiences and special memories that are sure to last a lifetime.
*This is a sponsored post.