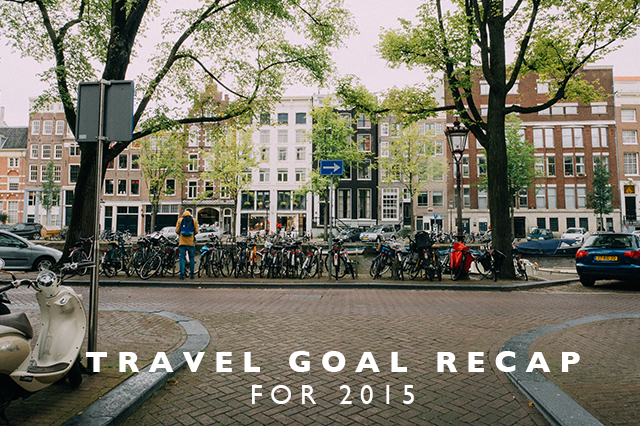 At the beginning of last year, I wanted to look ahead to our travel experiences in 2015 and hold myself to some goals while we were exploring.  I think it's often easy for us to just travel and go on vacation and forget that we're supposed to be getting something out of the experience, so having goals in mind for what you want to accomplish while traveling is a good way to hold yourself accountable for that.  I had 5 goals in mind for my travels this year and I think I accomplished all of them in one way or another and here's the results…
Travel Deeper
The first one, and the one goal I wanted to really dive into this year, I wanted to see places on a deeper level and experience spots that were off the beaten path of the tourist areas.  I think overall, we did a great job of this this year.  We explored off the beaten path rice fields in Ubud with no other tourists around, we drove backroads of Australia, and we found new spots in Hawaii to watch the sunrises on quiet secluded beaches.  We wandered back streets of Seville and drove way off the beaten path in Iceland's North.  I think this year, we traveled deeper than we ever have before.
Indulge in Local Treasures
This one was not hard at all!  With this one, I wanted to really indulge in local foods in the places we traveled, as well as checking out local markets and seeing local crafts-people at work.  We ate tapas galore in Spain, local ramen in Hawaii, the best tacos of my life in Mexico.  We explored local wood carver factories in Bali and wandered through markets in London and Spain.  I think there was no shortage of local treasures being indulged in for us this year!
Be a Global Citizen
This, I think, was the hardest for me.  It's often hard to know how you can really help out in the world and what we can offer from the West to help other countries in need.  This for me was all about seeing how other countries do things, see what they need and how we can help as travelers.  For this one, we learned about how sustainable Iceland is during our time there and in my daily life, I try to be as sustainable as I can.  In Bali, we talked with locals about how they need rain and they are short on water, so during our time there I tried as best I could to preserve as much of our water usage as possible.  I think overall, this is one that needs to just continue and to see what is needed in our ever changing world.
Take Time to Relax
We did do this this year but still need to work on it as well going forward.  We did slow down and rest much of our time in Lisbon early in the year, as well as taking a low key trip to Amsterdam in September with the sole purpose of sleeping, eating and wandering the city, as well as a few days on our trip in November in Bali where we did lounge around the hotel the majority of the time which was really nice, complete with our own private pool outside.  So overall we did do this, I think next year (and as we get older), we need to add more of this into our travel schedule.
Embrace Spontaneity 
This one, I can say, we did really well with this year!  We pulled off the road spontaneously multiple times while in Iceland in May to take in sights as they came.  We also booked a trip to Amsterdam over Labor Day, only a few weeks prior which is really last minute for us and ended up being one of our favorite trips of the year.  And we stopped at random at a spice forest in Ubud, Bali, which ended up being one of my very favorite moments of the trip.  I think it's important to remember that sometimes you can't plan everything out and it's sometimes better to embrace what comes up instead of having everything planned out!