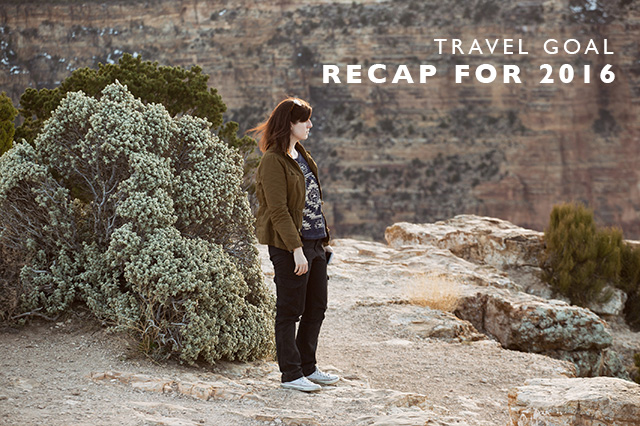 Every year at the beginning of the year I think about what goals I want to have for travel in the year to come.  I find it always helps me balance how we travel and how we see things and gives us a focus for our travel, when often it gets busy and daunting.  This year I really embraced my travel goals all year and kept them in mind with each new place we went.  So as we near the end of the year, I like to look back and think about how the goals went and what I learned from each one, as well as what each goal actually meant and how I can keep them alive in travels to come.
Take in Global Landmarks
This goal, we checked off massively this year.  2016 was the year of the landmarks for us.  We climbed the stone steps of Machu Picchu and stood overlooking the Grand Canyon at sunset.  We wandered the ancient streets of Rome and took in the Colosseum.  We stood under the Eiffel Tower and climbed the Great Wall of China in the snow.  I'm pretty sure we saw more landmarks this year than perhaps all our travel years combined and they were all spots I'll never forget.
Don't Forget the Small Places
This goal was all about seeing more places within my own country or close to where I live in Portland and we did a pretty good job of this as well this year.  We explored Northern Arizona and road tripped through Vermont.  We explored Alaska and made multiple trips to Seattle and Central Oregon, as well as a stopover at Crater Lake on our way to Southern Oregon.  I'd like to do more of this next year as well, but for 2016, I think we did pretty good with this goal overall!
Bank all Air Miles with Alaska Air
We for sure accomplished this this year and really made an effort to always fly Alaska Air or their partners wherever we traveled this year.  It definitely paid off and we both made elite status pretty early in the year!  We'll for sure be doing this again next year.
Fall in Love with Traveling Again
This goal was all about falling in love with the journey of traveling again.  After some bad travel experiences in 2015, 2016 was the year of falling in love with airports and planes and trains and cars again.  It was the act of actually enjoying the journey of getting somewhere and I think I definitely found that love again.  I was able to slow down and actually enjoy the time of getting somewhere and embracing those long haul flights with nothing to do but watch TV shows and movies.  All in all, I'd say this goal was fulfilled this year!