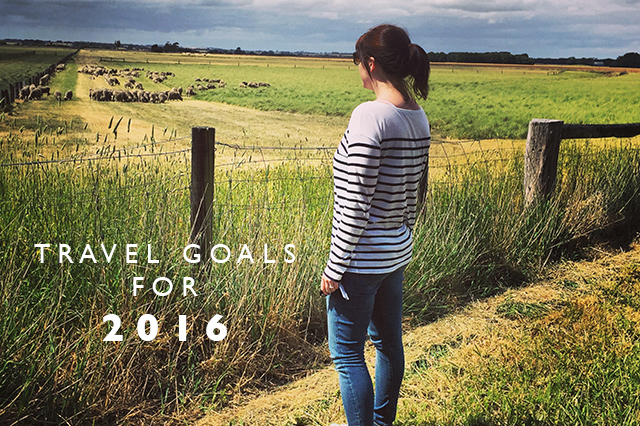 I seriously can't believe it's 2016 already.  Much of 2015 was a blur and looking back, I see why… we were crazy busy for most of the year!  In 2016 we are looking at a different approach to our travel and so my goals this year are a little different.  I always like to make travel goals though at the beginning of the year so that as we plan and then travel, we keep these in the back of our minds.  They help focus us as we travel and get the most out of it.
For the past couple of years we've traveled a lot for a number of reasons: because we had a lot of places we wanted to see, because we had extra money to spend, because work or random reasons took us to certain places.  Now looking into 2016 and as we both turn 30 this year, our lives are changing.  Work is getting harder and harder to leave for extended periods of time, we're buying a townhouse which will offer us a lot more space but not as much free cash every month and as we're getting older, our thoughts on travel are changing and we're talking about how we'll edit the way we travel and see the world.  That's not to say we won't be traveling this year, on the contrary!  We already have a bunch of amazing trips booked and others lined up to plan, but I think this will mark the year that we do travel a little differently and my goals will end up going along with that.  It's healthy as we grow that the way we see the world changes, so as we embrace 2016, here's what I'll be trying to do this year with travel in my life!
Take in Global Landmarks
As I get older, I am realizing how incredible it is to be able to see amazing landmarks around the world.  Of course places like the Eiffel Tower are so iconic, but this year I want to see some of the harder to reach landmarks around the world, places that everyone knows but not everyone gets the chance to see.  This year I'm hoping to see the Leaning Tower of Pisa, wander the ancient streets of Rome and take in the Pantheon and the Colosseum again.  I want to take in a famous Santorini sunset and stand, looking out over the Grand Canyon.  I want to climb to the top of Machu Picchu and look out over the Andes and stand on the Great Wall of China.  We have lots of trips in the works this year that include incredible global landmarks and I want to really take them in and remind myself of that moment.
Don't forget the small places.
Last year in 2015 we had a lot of big trips.  We traveled out of the country a lot more than usual for different reasons.  This year, whether it's in the US or nearby, I want to really embrace and not forget about the small places too.  Long weekend trips to places like Vermont for Fall foliage or Arizona to see the Grand Canyon or a long weekend up to Banff in Canada.  I want to really see more of my own country and those close by and embrace those small trips that might not seem so exotic but are amazing all the same!
Bank all airline miles with Alaska Air.
Last year I tested a new theory in trying to bank all our domestic miles with Alaska Air and all our international travel with American Air.  In theory it was great, but it turns out American Air is kind of hard for us to use without a bunch of stop overs from Portland.  So this year, I'm going to do all I can to bank all our miles (using Alaska partners for International travel) with Alaska to build up my elite status again with them and book all mileage tickets on partners through their site.  We'll see how it works out but this year, that's the goal!
Fall in love with traveling again.
Now you might say, wait, what?!?!  But hold on a second.  I'm not talking about falling in love with amazing places around the world, that's never been a problem of mine.  I fall in love with destinations very easily.  What I'm talking about here is the actual act of travel.  I want to fall in love with plane rides again (after some bad experiences in 2015), I want to feel that flutter of excitement to head to the airport.  I want to embrace the long road trips and the long wait times.  Those things that I used to love, I became a little jaded last year with them.  I want to get back to the whole experience of travel and fall in love with it over again this year!