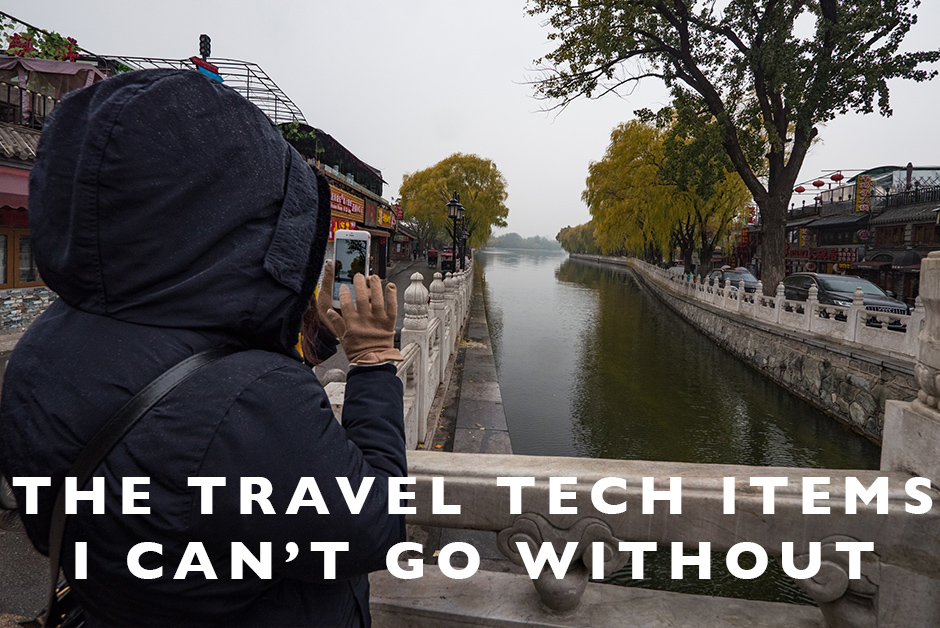 These days we really can't go on vacation without our favorite tech, those pieces of technology that help us get through our days and make travel (and life) easier.  And while some people might prefer to totally unplug during a trip, I find that really difficult and in an effort to keep track of work and life, I have a group of tech items that I really can't travel without anymore.  So for each item below as the travel tech items I can't go without, I'll tell you why it's important for me to travel with and how I use it when I'm traveling around the world!  Here are the travel tech items I can't travel without.
Apple AirPods
It took me a while to get on this bandwagon and to be really honest, I thought they were really stupid when they first came out.  It was only after I got my new phone in the Fall when it no longer had a headphone jack and being on airplanes a lot, it was driving me crazy not being able to charge my phone and listen to music at the same time.  Finally, I'd had it and ordered the AirPods and now, I really can't imagine having to go back to cord headphones.  The cordless feature truly is incredible and I love my AirPods.
Find it here.
Apple Macbook Pro
At the end of December, I bought a MacBook Pro laptop and whoa, where has this been all my life.  I've had an iMac for the last several years, and while they were great computers, having a laptop again has completely changed how I work and how productive I am on the go.  We used to have a MacBook Air which was our "travel" computer but it didn't have all my files and music and photos and everything on it, so it was always just kind of a pain.  My new MacBook Pro is super powerful but also still super light and I am loving it for travel to stay connected on the go.
Find it here.
Logitech Keyboard
I've written about this beauty before, but it's still one of my favorite tech items for travel.  Especially on trips where I might not take my laptop (which is few and far between, but sometimes for small weekend trips), this keyboard is amazing.  It's bluetooth connected to my phone and I can answer emails or write blog posts on a really keyboard.  Plus it's pretty cute in bight colors too!
Find similar here.
Extra Battery Pack
We've all been there on a long flight with no seat power or wandering around a city all day and our phone is dying.  Power is seriously the new issue for our generation as we all have devices that require us to power them around the clock.  One of my favorite travel tech accessories is my Kate Spade battery that my Mom gave me a couple years ago.  It's super slim and light and easy to just keep in my purse while on the go and then available to power my phone when it's running low and I don't have access to power.  Plus it's super cute too.
Find it here.
Apple iPhone 8 Plus
Can you tell we like Apple in our family?  I'm a big believer in the iPhone and seriously, I don't know how we all survived before smartphones.  On the go, there is nothing easier than my iPhone 8 Plus.  I personally like the larger plus version because I can watch movies on it while traveling and it serves the purpose of an iPad for me.  I can listen to music, work on blog posts, watch movies and tv shows or answer emails wherever I am in the world.  I also shoot almost all of my photos on my phone which has an amazing camera and most of the video footage (that isn't drone footage) in my videos here on LOM is all shot on my iPhone 8 Plus.
Find it here.
DGI Mavic Pro Drone
A little over a year ago, we got our first drone and it's been such an amazing purchase for us.  We actually bought it for doing videography in my design projects but it's also been an incredible addition to our travel tech arsenal.  A lot of the videos here on LOM feature footage from our DGI Mavic Pro and the best thing about it is how small it folds up!  For travel, this is the drone I always recommend as it's super easy to take with you since it's so small but it also handles amazing and the footage is always sharp and clear.
Find it here.