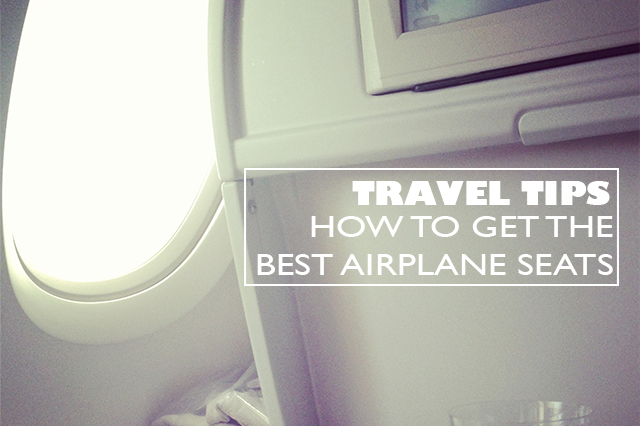 When you travel a lot or when you're flying long hauls, the seat you have on an airplane can greatly affect the experience you have.  Flying 11 hours in a horrible seat can be a horrible experience and greatly affects how your trip starts off or ends.  The good news is there are a few different tricks to employ to make sure you get a decent seat, even when just flying in economy.  So here's how to make sure to secure a good seat for your trip, that way your whole trip will start off on the best note!
Reserve a Seat at Booking
The best way to secure a good seat is at booking.  Some airlines give you the option to pick your seat when you book or you can do it later.  If it's available, choose it when you book.  That way you'll get to choose before the flight gets full and before everyone starts checking in.  Even if it's an extra charge to pick seats in advance, I always splurge for the option to confirm I get to pick where I want to sit.
Call the Airlines (but do it before you check in)
You can also secure good seats by calling the airlines and requesting certain seats that might not show up on seat maps online (i.e. Exit Rows).  Especially if you want to sit with other people in your party or you have some specific requests while onboard, this is a good option.  But be sure to call before you check in online 24 hours prior to the flight because after you check in, the agents on the phone are locked out of the seating system and you'll have to deal with the airport staff.
Utilize Social Media
If you know what you want and for some reason there is an issue trying to get a seat you want, utilizing social media is a great avenue.  Tweeting airlines and expressing your dissatisfaction will often result in quicker and more efficiency fixes regarding seating and other travel issues.  Often as well, the social media people for an airline have more power to help customers who are not happy than the agents on the phone do.
Know What You Want and Do Your Research
If you're not familiar with the aircraft you'll be on or if it's a route you don't fly often, be sure to do your research and figure out what seats you want.  Do you want to be near the restroom?  In a bulkhead?  Or do you want to be in the front of back of the lane?  There are pros and cons to each of the types of seats you'll be able to pick and website like SeatGuru are great for figuring out some of the information on what kind of plane you'll be on and what the seats will be like.  Know what you want…aisle, window, etc., as you'll be better able to pick a good seat if you are aware of what the choices are.  You might also know what you want based on flying a specific airline or type of plane before and that  way you'll have a sense of exactly what you'll be getting.
If All Else Fails, Ask the Agent at the Gate or a Flight Attendant on Board
Worst case scenario, you can't get a good seat by the above methods, that's when if all else fails, ask the gate agent or a flight attendant on board.  If you board and you're stuck in the dreaded middle seat next to a screaming baby, if you're nice and approach a flight attendant, explain your dilemma and approach the situation with professionalism, chances are they will try to help if they can.  Flights often reserve seats that they don't open to booking that may be available last minute, so you might as well ask.  I've been in this situation a couple times and actually was moved to a much better open seat by flight attendants.  Just be nice and they will try everything they can to help you.