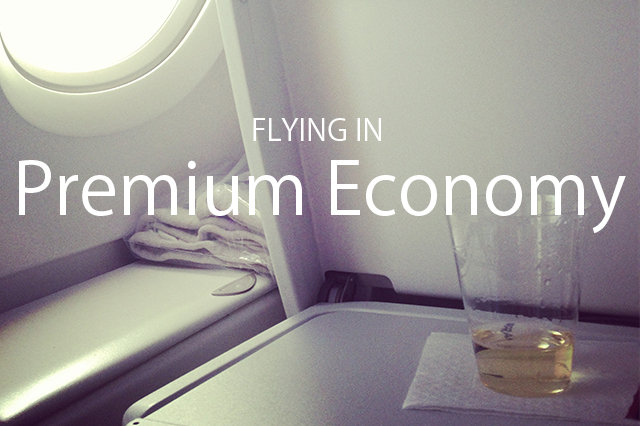 In recent years, Nick and I have started, here and there, upgrading our flights abroad to Premium Economy. We're still not splurging for business yet as we can travel more each year if we stick to not splurging too much on flights, but even the upgrade to Premium Economy cabins on International flights can make a lot of difference.

The upgrade to the Premium economy cabins can also include some nice perks like early boarding, free champagne (a personal favorite of mine), and quite a bit extra room and comfort depending on the airlines.
We've flown in the Premium Economy cabins of quite a few airlines over the past few years and there are definitely some great ones and some not so great ones. So today, here's the Premium cabins (in order from best to worst in my experience) I would highly recommend and the ones that aren't worth the extra money you pay.




One of the best Premium Economy cabins out there, Air France is by far my favorite airline in terms of the seat that we've flown. Unfortunately the closest and most convenient Air France flight for us is out of LAX, and we prefer to fly out of Seattle as it's closer to us, otherwise, I'd be on the non-stop to Paris in their premium economy seats way more often than not.
The seats are really big, with lots of space, great recline and a ton of amazing storage. I always appreciate an airline that gives you space to store your items and Air France is one of them. Not to mention the great food and excellent service.




We've actually never flown the British Airways Premium Economy cabin because the time we booked it, we got upgraded to their Club World Business class (which was fantastic) but after flying Economy on BA quite a few times, we always remark how great their Premium Economy cabin looks.
The seats are big and usually in a private cabin with their own bathroom. The service is always great on BA and the price for premium economy on BA really isn't too much more than the normal economy seats, but it's such a big difference.





I flew Premium Economy on Delta from Paris to JFK last Summer when I was traveling alone. I paid only about $75 more for a premium cabin seat and while I would say it was worth it, it wasn't anything special. The seat was pretty much just the economy seat with extra leg room, but it was fairly roomy in consideration and there was quite a bit of room in between the seat in front of me and mine. Everything else was identical to flying in Economy, same food, same service, same storage.




By far the smallest Premium Economy seats I've flown in, I wasn't very impressed with United's premium cabin on our long haul flight from Newark to Delhi. We paid an extra $130 per person for the premium economy seats on this flight, thinking we'd want the extra space on the super long flight. In reality, I'm glad we did it just because with how small the premium seats were, I can't even imagine how small their normal economy seats were.
The leg room was dismal (the normal Economy seats on BA have more room than our premium seats had) and that was the only real difference between our seats and the normal economy seats behind us.