The Vdara Hotel and Spa – Las Vegas, Nevada
When we booked our trip to Sedona and Northern Arizona, it was cheaper and easier time-wise for us to fly into Vegas instead of Phoenix.  So we figured we'd spend one night in Sin City, gamble a little, eat good food and then head out on our way to Sedona.  We've been to Vegas more times than I can count and in the past we've always stayed at the Luxor because we like that end of the strip being a little quieter.  However this time around, I really wanted to try something different and the Vdara was perfectly lovely for that – we have no doubt we'll be back!
LOVE
The Location – I tend to like staying at the end of the Strip in Vegas because it's quieter.  But the great thing about the Vdara is that you're still in the center of everything but set back enough from the Strip that you feel removed from the chaos – and in Vegas, that's a very good thing.
The views – We were graciously upgraded to a corner suite on the 32nd floor and the views, wow, they were amazing.  With panoramic views out over the strip, the Bellagio Fountain and Southern Las Vegas, I could have watched out those windows for days.
The staff – We checked in on a Thursday night around 7:30pm and the staff couldn't have been nicer.  I happened to mention my travel blog and they were so kind to upgrade us (even though we had paid for this completely on points and no money out of pocket).  The front desk staff couldn't have been nicer or more helpful!
No Casino – The Vdara doesn't have a casino of it's own, so if you're going to gamble this might not be the place for you, but if you're going to enjoy the city and the amazing culinary spots the city has to offer.  But what I loved about it is that you are totally removed from that part of Vegas, if you want to be.  We did gamble a little bit at the Flamingo since we were nearby, so if you're going to gamble there are still lots of spots close by that are super easy to get to as well!
Huge Room – I have a feeling the Vdara will be our new go-to spot to stay in Vegas from now on for all the reasons above but also because of the size of the room.  It's nice to be able to spread out when traveling and our suite was huge, with a living and dining room, kitchen, bedroom and 2 bathrooms.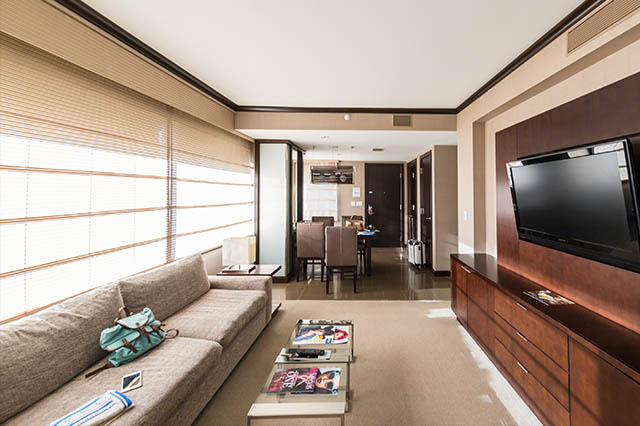 Decor – One thing that always gets to be a little too much in Vegas is the over the top decor.  I loved that the Vdara was understated and classy in their decor and that it felt more like a nice boutique hotel instead of theme.
DIDN'T LOVE
Nothing! – There was nothing we didn't like about our stay at the Vdara!
TIPS
Entrance is somewhat hidden –While your GPS can tell you where to turn off of the strip for the hotel entrance, it is semi-hidden and kind of strange to get to.  So just follow the signs and be aware.
Ask for an upgrade at check-in – This is Vegas after all and they are very willing to upgrade people.  Ask for an upgrade with a view and you won't be disappointed.
Land of Marvels was graciously upgraded for our stay, though all opinions are my own for this review.