W Hotel in Seattle – Seattle, Washington
As I mentioned on my review of the Hotel Max a couple days ago, originally we only intended to be in Seattle for one night.  But when the heatwave became a little too unbearable in Portland, we opted for another night in an air-conditioned hotel room while in Seattle.  We ended up booking our second night at the W Seattle, which we always see but had never stayed at before.  It turned out to be a new favorite and I have no doubt we'll be repeat customers!
 
LOVE
Views – I had emailed the room before our stay to mention that we'd be staying there and that I was a travel blogger.  I never heard anything back so we weren't expecting much as far as room upgrades or views, but upon check in and being handed our keys to an 18th floor corner room, we literally walked in the room and our mouths dropped to the floor.  Our room had windows facing 3 directions with incredible views of downtown Seattle and the Sound.  The views in this hotel are alone worth the stay.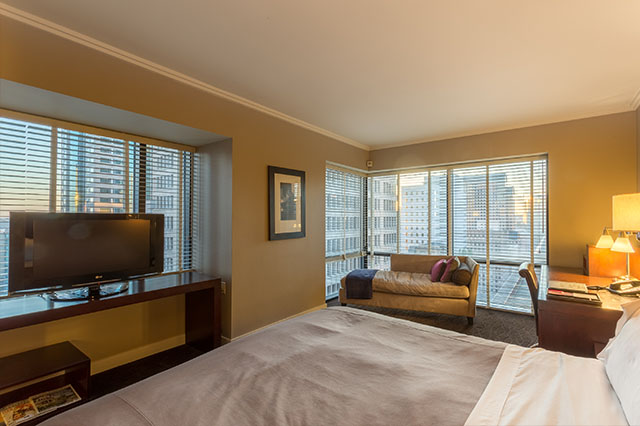 Huge room – Perhaps because of our upgrade, but our room was huge.  It was so nice to be able to spread out and have a lot of room for camera equipment and our luggage.
Comfortable bed – We slept really great at the W and the bed was really comfortable.
Location – Really anywhere in downtown Seattle is pretty convenient to stay, but I particularly like the hotels in this area close to the Public Library.  You're a little bit out of the chaos of the city center but still right there.
Service – I love a hotel that when you call to order room service, picks up the phone and says your name.  Those touches really add to the feel of the hotel stay.  The check in staff, room service and everyone else really was great at the W Seattle.
DIDN'T LOVE
Nothing!– We really didn't love anything about our stay here.
TIPS
Ask for an upgrade or book a high floor room– When you stay here, ask for an upgrade or book a room on higher floor.  The views and layouts really can't be beat.
Order room service– We arrived at the hotel around 8pm and were hungry but didn't really want to go out.  We decided to just order some room service and we couldn't have made a better decision.  The food was phenomenal and eating it in our pajamas as we watched the sunset out our huge panoramic windows was even better.
Land of Marvels was graciously upgraded for our stay, though all opinions are my own for this review.