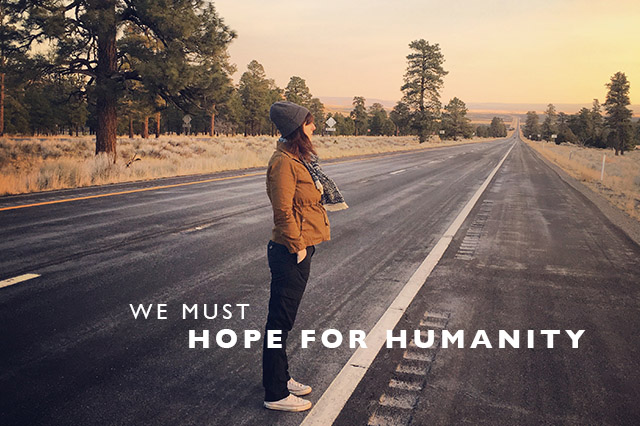 I had another post for today, but to be honest, after our elections in the US overnight, I couldn't just post something arbitrary about beautiful Fall leaves in New England.  I promise I'll get back to regular posts tomorrow but I couldn't go without saying anything here in my space on the internet after what happened last night in the US.  If you're not aware, Donald Trump was elected our president of the United States.  And if you're not aware, as I don't speak politics on the blog too often, I was and am a proud Democrat and Hillary supporter.
I went to bed last night heartbroken and when I woke up this morning at 4am scared of the reality I would face, I felt and still feel an incredible pang of dread, of something coming and a very very hard road ahead.  I won't go on with everything on my mind today as so so many of you are feeling the same.  These next four years will make a huge difference for my generation for years to come, they could catapult us back behind where we need to be in terms of women's health and rights, gay rights, equality and climate change.  This will change our nation in the scope of the world.  This will change relationships I have with people close to me.  This decision will change us, God knows, it's already changed me profusely.
To see so much of my country vote for hate.  For bigotry.  For ignorance.  For racism.  For sexism.  I'm actually terrified to see the repercussions of what this win means.
If you voted for Trump, you might find this dramatic.  I on the other hand, find it absolutely terrifying, no drama involved.  I'm not a dramatic person, I don't throw things out there to get a rise.  I am honestly and deeply troubled with the choice my country made.  As a woman, as someone who grew up in the Middle East, as someone who believes everyone, no matter their race or religion or gender or sexual orientation, should be treated equally, I am terrified and heartbroken.  So if you read this and don't agree, fine.  But at least acknowledge that this is how half our country is feeling, acknowledge the pain is real and the fear palpable for so many of us.
So to those of you that feel like I do, a deep sadness, a fear, a dread for the years to come, we must be smart and agile and vigilant, we must do the work that needs to be done to help those in need, because there will be great need.  We must continue to believe in love and peace, to support those less fortunate than us and we must pray and hope that this doesn't turn out as bad as I think it's going to.  So as the light begins to form in the dawn of the new day, we must hope for humanity, we must work to be better people, we must stand for freedoms for everyone and we must fight on.