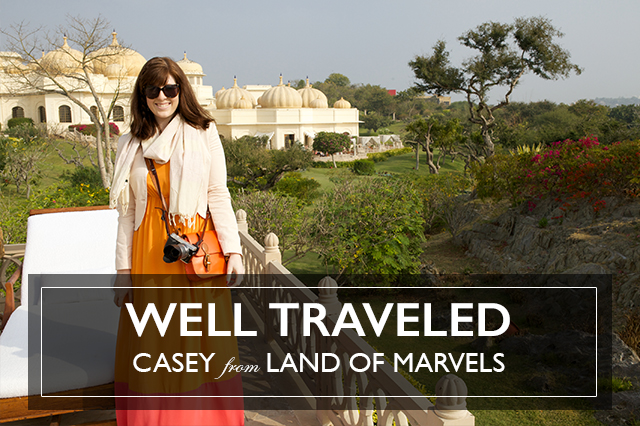 We are back from our incredible adventure through Spain and Portugal and stuffed full from eating our way through both countries!  As I get back into routine back at home and after reading all these interviews from bloggers I love, I really wanted to do my own version of the Well Traveled interview series you have been enjoying this past week or so.  I had so much fun reading everyone else's answers… so if you're curious, here are mine!
What's your dress code when flying: dress up or dress down?
I like to be comfortable but stylish too.  I'm usually in black jeans, loafers, a soft long sleeve t-shirt, a sweater and big scarf… always a big scarf.
Favorite luggage?
My Tumi hardside carry-on luggage I purchased last year has been my favorite luggage to date.  While it's definitely an investment, it's so worth it!
Best flight you've ever had?
This is a tie for me between our upgraded business class flight on BA from London to Seattle last year, complete with lie flat beds and our ANA flight from Tokyo to Seattle last year on ANA's Dreamliner with amazing entertainment systems and larger seats and bathrooms.
Favorite hotel you've ever stayed at?
Hands down, the best hotel I've ever stayed at is the Oberoi Udaivilas in Udaipur, India.  The service, the rooms, the incredible hotel grounds… I know I'll be back to this hotel in the future.
If you could make flights on airplanes better with one thing, what would it be?
Honestly, I would love a Starbucks on long haul flights.  Wouldn't that be great… to saunter to the back of the plane and get a fresh Starbucks latte???
What is one place continuously on your list to get to that just hasn't happened yet?
Istanbul has been high on my list for years and it just hasn't happened yet.  Greece is another one.  Hopefully we'll be able to make both of them work sometime soon!
Your next planned destination is where?  
We obviously just got back from Spain and Portugal, but our next planned trips are to Eastern Oregon in April and Iceland in May, which I'm so excited for!  We're going to be road tripping to the Northern part of Iceland this time around (after visiting in November a few years ago and having it covered in snow), so it should be fantastic!  I'll also be heading to Hawaii numerous times in the next few months for work and then to Australia, New Zealand and Bali in November!
What is the best souvenir you've ever brought home from your travels?
I like to pick up little things here and there, though because we travel carry-on only, it's hard to bring too much home.  Some of my favorites are the Arab tea pot from Morocco and a wooden elephant from India.
Where have you been in the last 6 months and where was your favorite?
In the last 6 months we've traveled to Hawaii, Seattle/Leavenworth, Paris, Copenhagen, Amsterdam, Bruges, Brussels, Korea and Denver, and then London, Madrid, Barcelona, Sevilla, Granada and Lisbon which we just got back from.  My favorite was by far Sevilla.  I fell hard in love with the city and  just felt totally in awe of it.
What's your best kept travel secret?
Get up to see the sunrise!  With Nick being a photographer, we often plan our days around the sunrise and sunset when traveling since those are prime times for amazing photos.  Some of my best memories are when we've gotten up early to see the sun rise in places all over the world, it's quiet and devoid of tourists which makes it feel so much more authentic.