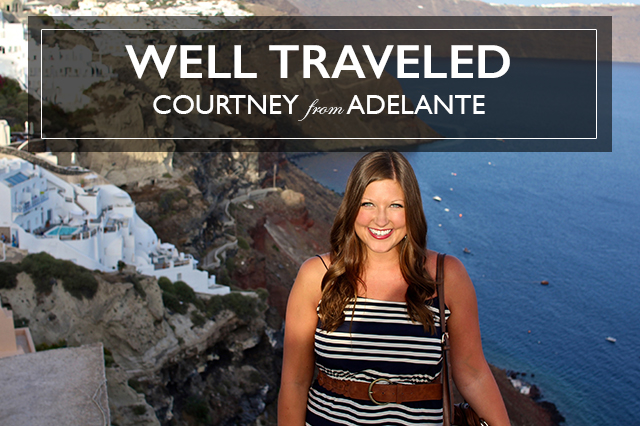 Courtney is currently living in Spain and this week while there, we hopefully were able to meet up!  She's got such a wealth of knowledge about traveling in Europe and has been to some amazing places.  I love her posts on the amazing places she sees and her experiences abroad!
Find her here: Adelante
What's your dress code when flying: dress up or dress down?
Dress down, for sure!  On long haul flights, you'll usually find me sporting leggings, an oversized sweater and moccasins.  (That is, moccasins that bear an uncanny resemblance to slippers.  Some might even go as far to say that they actually are slippers.  Your call…)
Favorite luggage?
I usually just go with the largest bag I can find that will still fit into the overhead bins!  I also can't live without my Longchamp Le Pilage tote, which is perfect for stuffing as much as possible into one carry-on, or when you need a makeshift camera bag while sightseeing.
Best flight you've ever had?
Flying business class to London on British Airways wasn't too shabby, but it'll be a long time until I can culminate enough miles to do that again!  Flying from Madrid to Budapest was also memorable (despite the fact that I flew with RyanAir), because flying over Barcelona, the French Riviera, Genoa and Venice gave us some absolutely breathtaking views.
Favorite hotel you've ever stayed at?
Definitely La Aldea de la Selva in Puerto Iguazú, Argentina!  We had our own bungalow in the middle of the jungle, and I felt as if I were staying in an enchanted tree house.  Sipping caipirinhas in the pool wasn't too bad either.
If you could make flights on airplanes better with one thing, what would it be?
Free champagne for everyone who has to sit next to a crying baby.
What is one place continuously on your list to get to that just hasn't happened yet?
Thailand has been on my list for as long as I can remember, but I just don't know when I'm going to get to Southeast Asia!  Fingers crossed I can make it happen sooner rather than later!
Your next planned destination is where?  
My next big trip is to Copenhagen this June.  I've always been curious about Scandinavia, so I'm excited to see what Denmark has to offer!
What is the best souvenir you've ever brought home from your travels?
I love collecting art in the cities I visit.  My favorite souvenirs are the paintings I've brought home from Paris, Buenos Aires, Prague, and Ollantaytambo (in the Sacred Valley, Peru).
Where have you been in the last 6 months and where was your favorite?
Aside from Madrid, in the past 6 months I've visited Seattle, San Francisco, Phoenix, Istanbul, La Rioja (Spanish wine country), Green (Athens, Crete and Santorini), and Asturias (up in the northern part of Spain).  Out of all these incredible places, Oía, Santorini blew me away the most.  It's unbelievably picturesque, filled with friendly locals, and home to the world's best cuisine.  Santorini captured my heart in an entirely unique way, and I can't wait to back again someday.
What's your best kept travel secret?
Always pack extra socks and a spare camera battery!