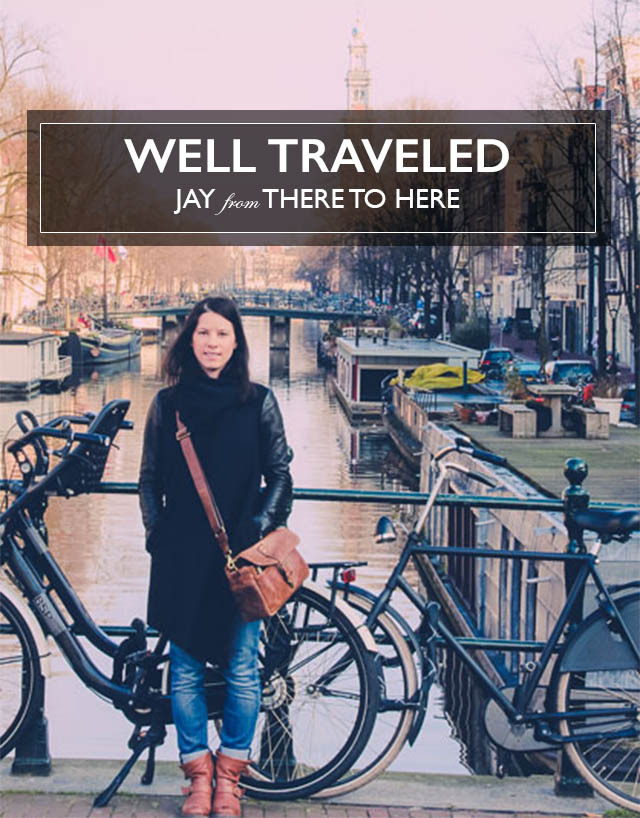 I've followed Jay's adventures around Norway and Europe for a few years now and I've always found her travel style to be very similar to my own.  I've always admired the destinations her and her husband choose and how they make their trips come together.
Find her here: From There to Here
What's your dress code when flying : dress up of dress down?
Long haul, definitely dress down but that doesn't mean pajama pants and an old t-shirt.  I often wear black leggings, flats, a simple shirt and a drape-y cardigan.  Short haul – usually I'm well dressed as we're generally going to hit the ground running when we land, whether it's out to dinner or out exploring.
Favorite luggage?
We are big Briggs & Riley fans.  We made an investment in luggage before we moved to Africa in 2010 as we knew our bags would be put through the wringer.  Our bags have held up remarkably well and B&R have a lifetime warranty so any small issues we've had, have been remedied quickly and without charge.
Best flight you've ever had?
We were upgraded on our first trip to Gabon so we flew 1st class from Toronto-Frankfurt with Air Canada and then Business from Frankfurt-Libreville with Lufthansa.  The little pods enabled us to stretch out, eat well and feel rested despite traveling for 30+ hours.
Favorite hotel you've ever stayed at?
Oh goodness, this is impossible for me to choose.  Our stay at the Waldorf Astoria Trianon Palace in Versailles was elegant and luxurious, Absolute Bliss in Santorini wins for breathtaking scenery from our room's terrace, Rouge on Rose in Cape Town for amazing personal service and Kapama Karula in Kruger Park, while not a hotel per say, it was the swankiest tent I've ever seen and the food was fantastic!
If you could make flight on airplanes better with one thing, what would it be?
More space!!!  We fly economy, sometimes economy plus.  I would be a happy woman if I could fly 1st for the rest of my life.
What is one place continuously on your list to get to that just hasn't quite happened yet?
Lately, it has been Austria.  Since we arrived in Norway we continually keep it near the top of our list but it gets bumped for one reason or another.
Your next planned destination is where?
Croatia in the Spring!
What is the best souvenir you've ever brought home from your travels?
I don't usually buy souvenirs mostly because we move so often and tend to keep our possession to a minimum so I'd have to say our photographs.
Where have you been in the last 6 months and where was your favorite?
We haven't traveled outside of Norway and Canada in the last 6 months as I was too busy having a baby.  However 8 months ago we were in Italy and Positano was absolute perfection.  The scenery was stunning and the food, delicious.
What's your best kept travel secret?
Well, I'm not sure it's a secret but I'm always keen to slow down.  Sometimes less is more and I believe that to be true when creating travel itineraries.  Rushing from city to city to check things off a list ends in less authentic and valuable experiences.  The more time you spend in one place, the better you get to know it and connect with it.