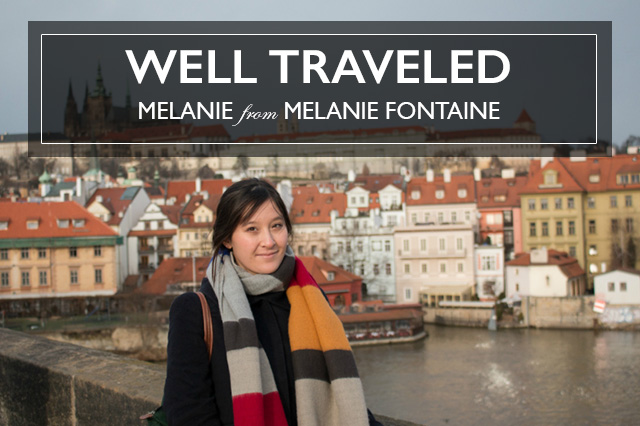 I can't remember how long I've followed Melanie, but it's been a couple years at least!  I love watched her adventures around the world and especially loved her time while studying in Norway!  She's also a loyal follower of Land of Marvels/True Colours and I remember her comments from the very beginning!
Find her here: Melanie Fontaine
What's your dress code when flying: dress up or dress down?
I always dress like I would in my regular day-to-day life!  I don's usually wear high heels or super fancy clothing and so my everyday wardrobe works just fine while flying and comes with the advantage that I feel presentable immediately upon arriving in my destination.  I do, howevr, like to make sure that I'm wearing my super comfortable, but still which, black riding pants from Zara instead of jeans and I always wear flat shoes – there's a lot of walking to do in airports!
Favorite luggage?
I take whatever luggage is functional for the trip I'm going on!  If I only head out for a weekend getaway I either only bring a large Longchamp Tote bag or a plain old gym bag.  If I travel for a couple of weeks at a time and know that I'm going to change my location a lot, I bring my backpack – it's just the most practical way of carrying your luggage through quaint Central European cobblestone streets or flooded ferry docks in Thailand.  I don't ever own a suitcase at the moment: after my old one finally broke, I just didn't really see the need to purchase a new one yet.
Best flight you've ever had?
I really, really don't like flying – not so much because of the aircraft experience, but mostly because it always makes me feel anxious.  The more often I fly, the better it gets, but it is never an experience that I'm looking forward to.  In other words, I can't remember the best flight I've ever had.  I imagine it's a flight in which I slept the whole time, but unfortunatley I don't think that has ever happened to me.
Favorite hotel you've ever stayed at?
I don't usually splurge on hotels – it's just not in my budget yet!  Luckily, you don't have to spend a whole lot of money to stay in great, comfortable places, though: I always like to look out for rental apartments (the pretty much always offer better value than hotels and are in better locations) and when I'm traveling solo, I try to find modern and stylish hostels.  I stayed in a range of great hotels when I was in Thailand last year, though, because we got some good rates in off-season; I'm still fawning over the Infinity Pool at the Pimalai in Koh Lanta!
If you could make flights on airplanes better with one thing, what would it be?
Are first class flights for everyone on economy prices a reasonable request?  Jokes aside, I'm actually pretty happy with most airplane experiences – but it would be great if checking luggage with budget airlines would be more reasonably priced!
What is one place continuously on your list to get to that just hasn't happened yet?
If I only could travel to one more country, I would head to New Zealand – no questions asked!  There is no place I want to go as desperately – I can barely even stand to look at New Zealand travel guides without wanting to hop on a flight to the other side of the world immediately.  I'm a huge Lord of the Rings fan and so a visit to Middle Earth New Zealand is just kind of obligatory!  The only thing that keeps me from going right now is the sheer cost associated with flights from Europe – I need to bite the bullet soon, though!
Your next planned destination is where?  
I'm heading to Paris for a weekend in March with a couple of blogging friends, but aside from that I haven't properly planned anything yet.  My boyfriend and I definitely want to head to Italy this Spring, though, and currently have our eyes set on Tuscany.  I would also love to go hiking in Ireland this Summer and visit a friend in Croatia, but I'm pretty busy with University at the moment, so I don't know how much I will be able to fit in.
What is the best souvenir you've ever brought home from your travels?
It may sound cliché, but my best travel souvenirs are definitely the memories I have made on my trips and the many photographs I have returned with.  I never really buy souvenirs, because I don't see th point of spending money on knickknacks that I don't need and that are just going to clutter my apartment.  I do, however, have to pick up a box of macarons every time I pass a Ladurée; I just can't resist them!
Where have you been in the last 6 months and where was your favorite?
During the last six months, I traveled to Salzburg, Amsterdam and Prague.  All of these destinations were lovely, but the one that stole my heart the most was Prague.  Prague is simply stunning: the architecture is a bit different than many cities in Western Europe and so it was a big breath of fresh air.  From Charles Bridge to the impressive castle that overlooks the city and the many little alleys in the Old Town, there is so much to discover!
What's your best kept travel secret?
I'm not sure if I have any travel secrets at all!  Travel really isn't rocket science, especially in Europe and other well-trodden travel destinations and so I definitely believe that everyone can do it and that everyone can do it well, no matter what budget you're traveling on!