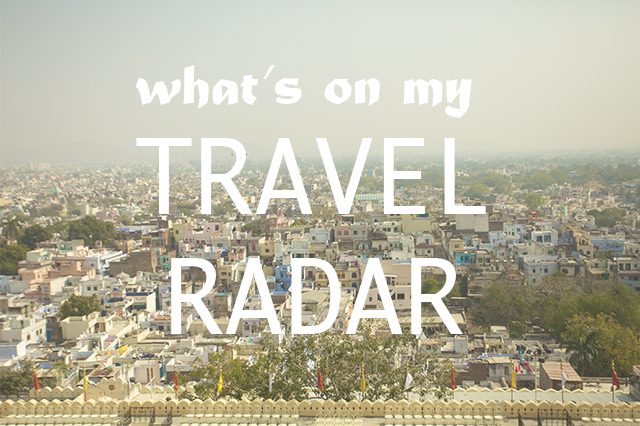 After a weekend in Southern Oregon for Nick's sisters wedding, we're back home now and getting ready for a week ahead full of more travel. So as I get everything together for our upcoming trip to Hawaii for work, this is a post I've been wanting to do for a while.
I follow a lot of travel blogs, subscribe to travel magazines and just in general try to keep up with what's happening in the travel environment, so it should come as no surprise that my "travel list" is constantly changing and updating. There are so many amazing places out there to see, but these places below have been catching my eye lately and are moving up my list faster and faster!
Spain was always one of those countries that I knew eventually we'd see but never could get myself too excited about. But in the last year multiple things have come up about Spain that it's fast gone to the top of our list and we just booked our tickets to head here for our Spring trip in 2015! Between falling in love with Spanish food, photographs taken of the country and Nick finding out more about his heritage there, Spain is now a country I can't wait to experience!
These past few months, I watched a few of my favorite travel bloggers meander through Hong Kong and their photos of the city totally blew me away. After our trip to Asia in February, I've been wanting to get back sooner rather than later and I think Hong Kong just may fit that bill.
I've been wanting to make it to Quebec for a while but due to weird flights from the West Coast, it's a lot harder to get there for us than I had originally anticipated. It's still high up on the list though and hopefully we'll be able to make it there sometime soon. With the French influence, gorgeous scenery and food that sounds delicious, I think Quebec is a place I'll love!
Istanbul has been on my list for a long time and due to random things it just hasn't happened yet. But more recently other areas of Turkey have moved further up my list to see and hopefully we'll get there sometime in 2015. Capadoccia and Bodrum are two places that have caught my eye recently and I can't wait to experience them.
After our trip to the Taj Mahal, we started researching some of the other "wonders of the world" and Petra immediately jumped to a place we want to get to soon. I love the Middle East and the mix of old world and new Middle East in Jordan is something I really want to experience hopefully next year!