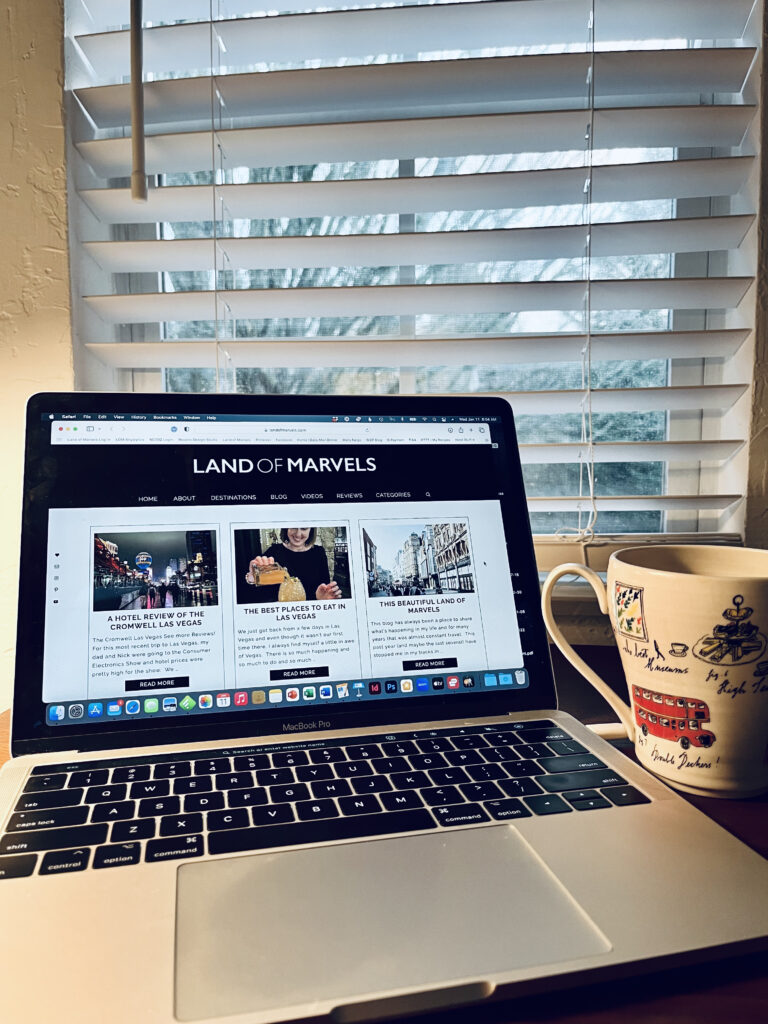 As a lot of us I would presume are home for a while curing this Coronavirus epidemic and can't travel, so let's talk blogging!  I've been blogging now for over a decade but it's been only 5 years since I started blogging more seriously here at Land of Marvels in January of 2015.  And in that span of time, I've had ups and downs with this blogging space, embraced this blog at times and put it on the back burner at others.  Over the years, I've never set out to make this space my full time job and honestly, I don't think it ever will be.  However, I have always been honest about trying to use this space to help other travelers use it as a resource, to help you book and plan your own incredible trip somewhere amazing.  I've also always been honest that I do make a little bit of money off of this blog and with that money, it helps with the upkeep on the back end of this site and that's really nice to have.  In the end, this blog is a passion project for me and while I don't anticipate it ever being my sole income, I have definitely made blogging mistakes over the years as I've attempted to grow this space.
I'm in the process now of trying to grow Land of Marvels a little bit more, mostly because I'm still so inspired by travel and this community that I want to be more a part of it.  And in that process of attempting to grow LOM, I've realized the blogging mistakes I made over the years and how I can correct them now.  So if you're in a similar situation and you're trying to grow your blog, or you're just starting out, here are the lessons I've learned and the blogging mistakes I made.  I'll also explain how I've corrected some of these mistakes and what's worked for me in that process so hopefully, you don't repeat my mistakes!
I didn't understand SEO.
To be completely honest, over the years, I've gone in and out of really focusing on SEO or how my posts ranked on Google, but most of the time, I haven't really thought about it when posting.  I've mostly just posted organically with content I think my readers would like to see, with posts that meant something to me or that I would like to have had when doing my own research for a trip.  And in the process of that, I didn't focus on SEO when writing my posts, I didn't look up key phrases that might perform well for Google and I didn't worry about making sure all my photos had alt text on the backend.  I didn't always link back to older posts of mine and in the process, I never really got the growth other bloggers do partly because of that lack of understanding and willingness to spend the time to optimize posts for SEO.
Starting in January this year, I decided I wanted to grow Land of Marvels a little bit more so I dove deeper into what I would need to do to make that happen.  Optimizing new posts for SEO and going back into my old posts to do it as well, I realized, would need to be a priority to help grow Land of Marvels.  People can't find your blog if you don't work to make that happen and SEO is one of the best ways to help with that.  So, I dove deeper.  I did research and figured out how to make my posts perform better in that regard.  I went back into old posts (and I'm still in the process of doing this) and tagged all my photos with alt text, I rearranged blog titles to make them easier to understand, I added links into the posts both to external sites as well as to related posts on my own site.  I made sure the layout of the posts felt organic and easy to read.  I added meta descriptions for the post that you see when the post pop up on your search, you know what it's really about.
Long story short, I have been updating my site for SEO for 2 months now and I am really noticing a difference.  All those little changes really do go a long way, the thing is, it's harder to do it after the fact.  So if you're just starting out blogging, do your research on SEO now and put that knowledge to use in each post on your site.  I'm definitely no expert in SEO by any means, but the small changes that I've made based on what I've learned have gone a long way!
*During the pandemic at the moment, I've found that most of us have had a bunch of free time on our hands and this is a great time to go back through your old posts and update the SEO items!
I was on and off with this blog.
Ask most bloggers what the secret to blogging successfully is and they'll say, "be consistent."  And while yes, that does mean somewhat consistent posting, I do also think that means consistency throughout everything related to blogging.  Being consistent with how you contribute to other blogs, consistent with how you interact with followers, consistent with your focus and intent.  And that's where I have found myself fall behind on Land of Marvels.  I've always posted pretty regularly with new content, but what I think I've made the mistake of doing over the years is being on and off overall with this site.  I might have been posting, but I was always promoting the posts, I wasn't always consistent with high quality content, sometimes posting just to post.  I wasn't always consistent with engaging in the blogging community.  And at times, that definitely hurt me in the long run.
Since January, I've been consistently promoting my regular posts on Instagram, Pinterest, my personal Facebook and Twitter.  I've been interacting with the travel blogging community more.  In short, I've noticed a big difference in how that helps with consistency for followers, for readers, for community.
Not embracing Pinterest for what it could do for Land of Marvels.
I've actually been active on Pinterest for years, but I never really realized what it could do for my blog and how it could help drive traffic.  And while I've been pinning things for myself for a long time, it was only in January of this year that I really focused on how I could use it to bring more people to Land of Marvels to see content.  When I started in January with this route, I had about 900 followers on my Pinterest page and about 20,000 monthly views.  As of writing this, I now have 1,200 followers and 192,600 monthly views! (I wrote this post a couple weeks back before the Coronovirus epidemic and I definitely have seen these numbers drop since then FYI.)
I have noticed a steady increase in traffic ever since I started my Pinterest strategy 2 months ago and I did that a couple different ways.  The first, I marked my calendar for twice a week (every Monday and Thursday morning) to pin 20-25 images from old posts on my site.  Most of those images I've never pinned before so to the people seeing it on Pinterest, it's new content which really helps drive traffic.  The second thing I did, is to start including more vertical photos in new posts as those do better on Pinterest and pinning those when the post goes live.  These two strategies for Pinterest have really helped me and it's grown my impressions and what posts people see really fast.
Not having a dedicated Instagram account right away and using my personal one.
For a long time, I only had my personal Instagram account that people followed me on.  And while that was fine, it wasn't only travel-related and sometimes there wasn't as regular of posting as I should have been doing to keep people engaged.  So while you can still follow me personally on Instagram, I also started a Land of Marvels dedicated account about a year and a half ago.  Though while I've been posting for that long, I only recently started really being engaged on that platform, sharing new posts, writing out longer captions that are more emotional, more personal.
Instagram isn't my biggest source of traffic, but I really like the platform so I continue to use it.  I like that it's easy to interact with readers and that it tells a story of some of the amazing destinations I showcase on Land of Marvels.  So if you don't follow the Land of Marvels account, I'd love to have you along for the ride.  I promise it will show you some of the most amazing places in the world and inspire you to see them yourselves too, as well as having important conversations about travel and life along the way!
Those, I think, are the biggest blogging mistakes I made and I hope it saves you from some of the same mistakes!  
What do you think?  Do you already do all of these things on your blog?