I love holiday decor and every year I look forward to the season when all the buildings and restaurants are festive, when streets start putting up Christmas lights and while it's usually dark and cold outside, it's festive and bright from the holiday decorations.  And if you're in the festive spirit, no one does festive quite like London.  Traveling to London around Christmas, starting in mid-November and going into early January, is a treat for those who relish in the festive season.  From lights to decor, you'll be blown away by how festive the city is during the holidays.  And while I love a good European Christmas Market, sometimes I just want to travel during the Holidays to a place I love, eat at good restaurants, and just enjoy the aura of the city without working too hard or trying to see too many things or having to pay entrance fees to attractions.  If you feel the same way, this itinerary for how to spend a festive 3 days weekend in London at Christmas is for you, without all the added pressure of seeing and doing everything, eating good food and an easy itinerary to follow.  Here's how to spend the best 3 day weekend in London, seeing all the festive things, enjoying all the amazing decor, enjoying a weekend full of amazing food and treats.
Day 1
I personally like to start my long weekend trips on Thursday, that way you can use Wednesday night and Sunday as your travel days, but whenever you arrive in London, day 1 should be filled with all the things you love most.  We start our first day in known-to-us spots so that we start the trip comfortably.
If you're arriving at Heathrow, jump on the Heathrow Express to take you into the city center at Paddington Station and then jump on the tube to take you to your hotel.  We love the Hoxton Holborn and it's become our go-to hotel in London, but wherever you stay, the tube will get you there fast and efficient!  Once at your hotel, drop off your bags and check in if you can, freshen up and get ready for your festive weekend in London!
Our first stop is usually one of our favorites, Covent Garden Market.  Located close to the Hoxton Holborn, it's an easy 10 minute walk or if you're staying further away, jump back on the tube and head this way.  Also for reference, you can use your Apple Pay on your phone on the tube, so simply tap your phone at the entrances of the tube station and it makes it super easy to get around!  Once at Covent Garden Market, wander around and take it in!  At Christmas-time, the market is all decorated and super festive, so take lots of photos.  Once ready to eat, I love Wildwood Kitchen nearby for a nice quiet lunch.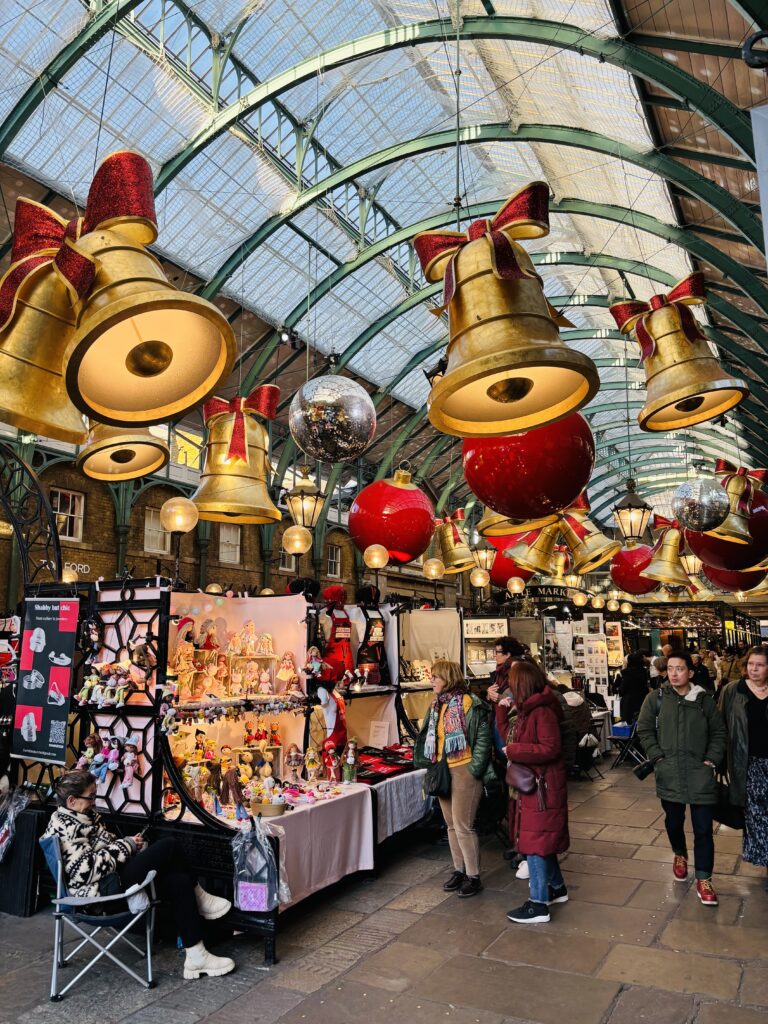 After lunch, wander the Covent Garden area.  There is lots of shopping here, a huge Christmas tree during the holidays and generally just a lot to see and do!  Once you're ready, head back to your hotel and take a rest for the afternoon before dinner.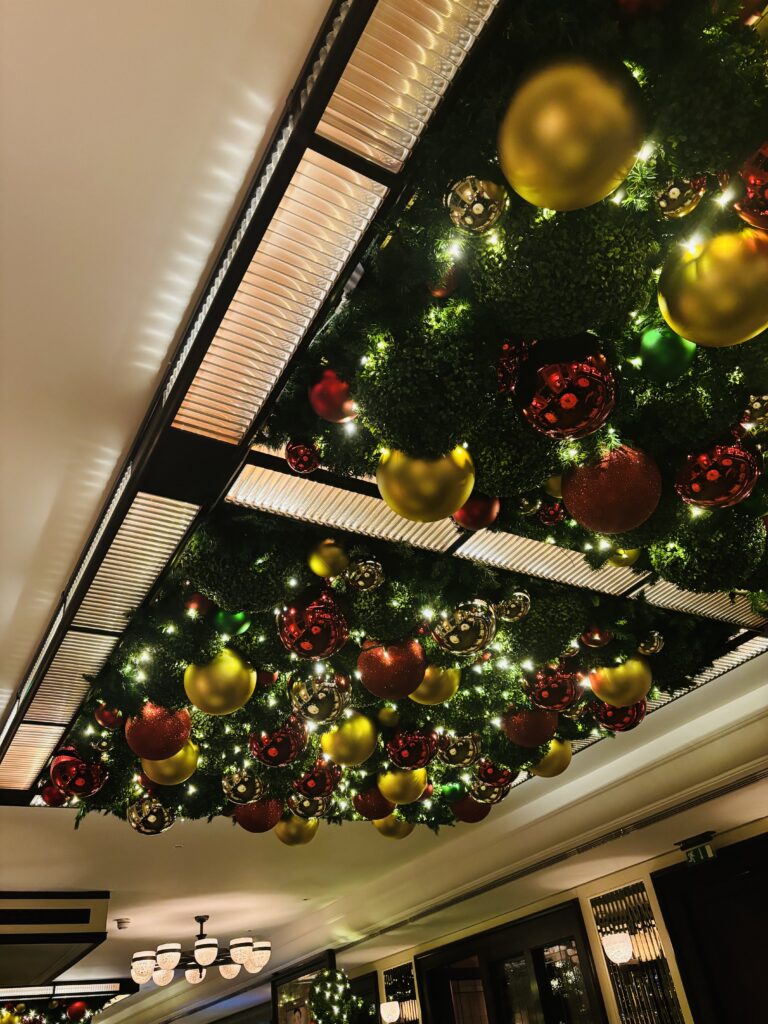 For dinner, start your festive weekend off right with a lovely dinner at 34 Mayfair near Grosvenor Square.  This beautiful restaurant not only has incredible food and drinks, but the festive decor is off the charts.  You'll be sure to feel in the holiday spirit after a long meal here.  I love their rotisserie chicken and their octopus starter, plus don't forget to cap it off with a lovely glass of rosé!
Day 2
Day 2 is all about enjoying the magic of Christmas in London but away from the crowds and seeing more local areas ready for the holidays.  I suggest starting your day in Notting Hill, a beautiful London neighborhood made famous by the movie Notting Hill years ago.  This quaint charming area is quiet in the morning, so head to the Notting Hill Gate tube station and then wander up the famous Portobello Road, where sellers are selling antiques and fresh Christmas trees line the road.  As you wander up into the neighborhood, stop for cinnamon buns and an oat milk latte at Fabrique, my all time favorite Swedish bakery that has locations all over London.  Then wander through the neighborhoods, back toward the High Street.  Once back on the main road, you'll head East towards Hyde Park and then meander through the massive Park toward Kensington.  Hyde Park is enormous, but find a route that takes you South towards Kensington and stroll through as locals enjoy their day.  Bonus points if it's a clear day, even if cold, everyone will be out and about enjoying the beauty of Hyde Park.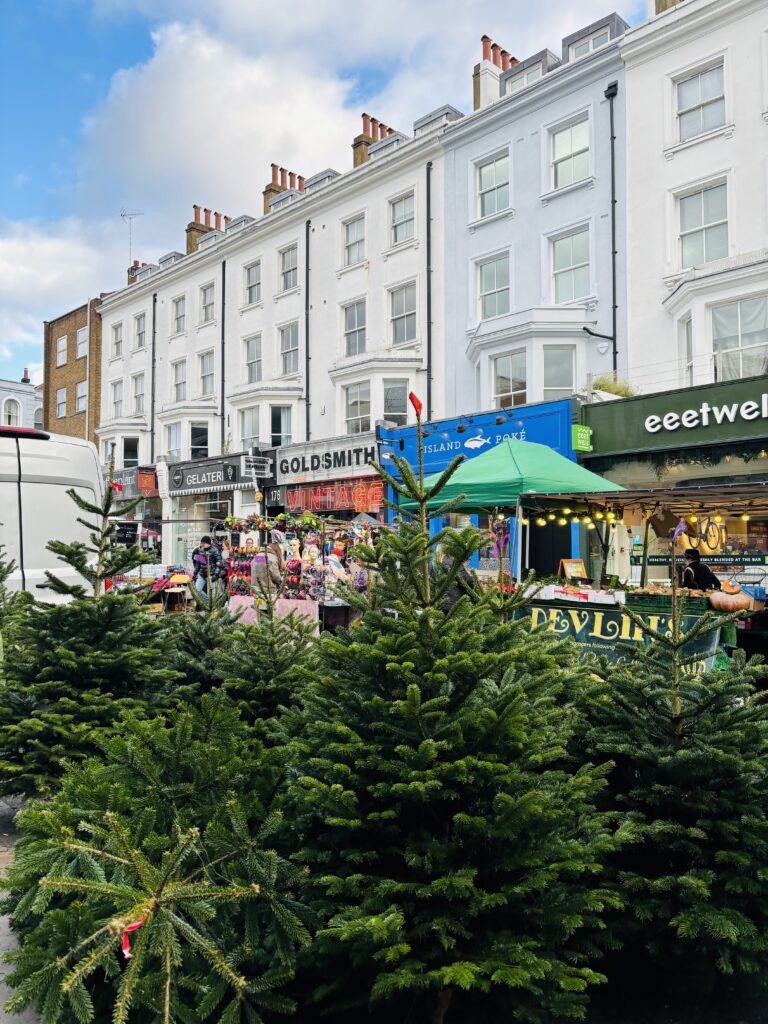 Once on the other side of Hyde Park, a wander through the Natural History Museum or the Victoria and Albert Museum is always a good idea.  After that, head back to your hotel to rest up before dinner.  If you want to take the scenic route, grab a cab and watch as London whisks by you outside the cab windows.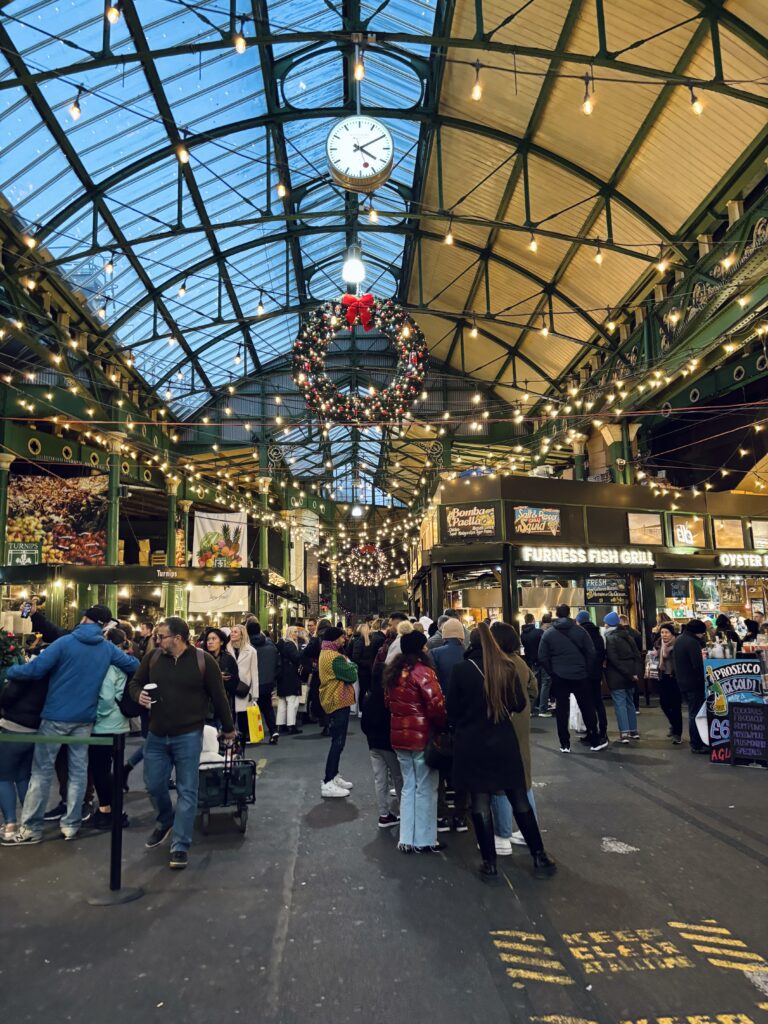 For dinner on night 2, head to one of our favorite spots, Borough Market!  I love the market and we go every trip to London to make sure Nick gets his favorite breadsticks from Bread Ahead and I get to rummage through my favorite spice store there.  Before dinner and after you've had time to enjoy the market a bit, wander down the South Bank of the Thames to see the landmarks of London lit up across the river. The South Bank has the best views of London you can get!  And then wander back to the market for dinner arriving at Roast Restaurant for a proper English roast meal.  Roast will be totally decorated for Christmas and sitting above the market, you'll have beautiful views of lights and wreaths and ornaments as far as you can see.  Their roast beef dinner is divine, but we also tried their Wellington and their Turkey roast and everything was delicious.  Don't miss ending with their sticky toffee pudding!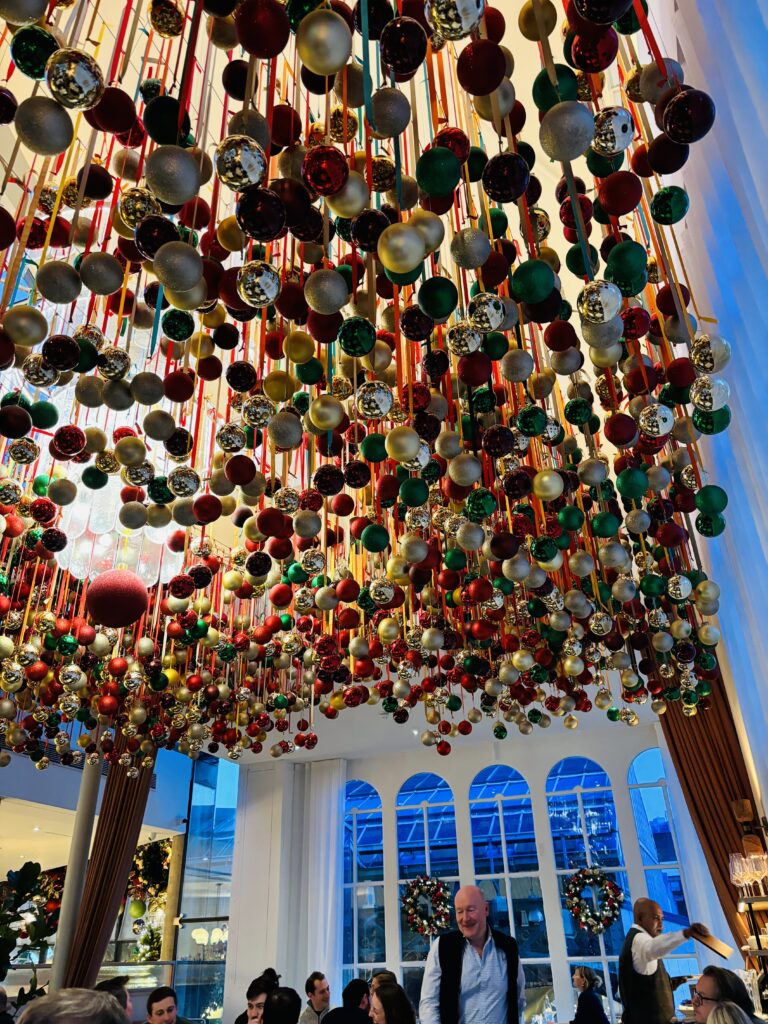 Day 3
For your last day, for me, that's all about shopping!  We love starting our day with breakfast at a favorite spots Granger & Co. and then heading to all of my favorite places in London for shopping.  I love specific spots in London to shop and coming from the US where I don't have access to some of the places all the time, I keep a day to hit up all my favorite shops.  Some of my favorites are:
Cambridge Satchel Company at Covent Garden Market
Uniqlo at Covent Garden Market
Whistles, Reiss, and LK Bennett at St. Pancras Station (these shops are all over in London, but I always find the best pieces at St. Pancras and they are all together)
Fortnum & Mason (all over London but I like the small shop at St. Pancras Station)
COS at Sloane Square (locations all over London but this area is beautiful and usually quieter)
The Conran Shop at Sloane Square (locations in different areas of London but amazing home items)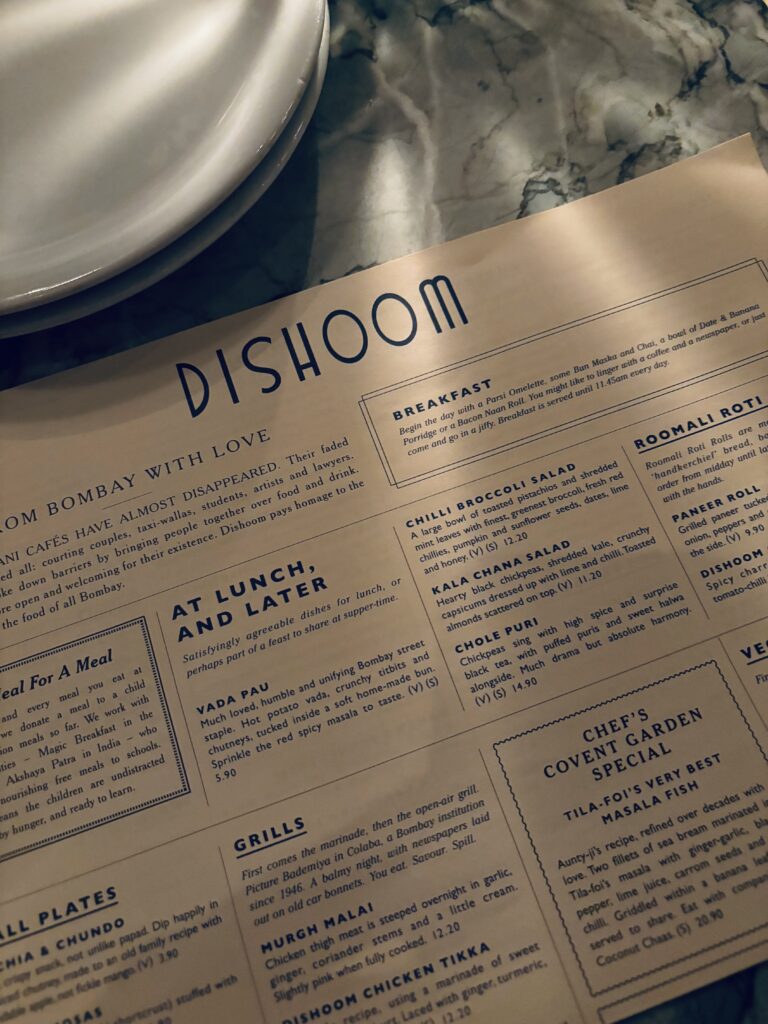 After you've spent the day shopping at all of my favorites, head to one of London's most known restaurants for dinner – Dishoom!  This Indian restaurant, while always crowded, is worth the hype, I promise.  There will be a long line for a wait as they only take a few reservations but the line moves quickly and the restaurant is huge.  Also – if you're just a couple, you'll probably get pulled up faster and get to bypass part of the line when there are larger parties in front of you.  Order their Ruby Chicken and the Okra Fries, but the best part of the meal will be the rice pudding for dessert!
*You'll want to make reservations at all the dinner spots I recommend if you can!