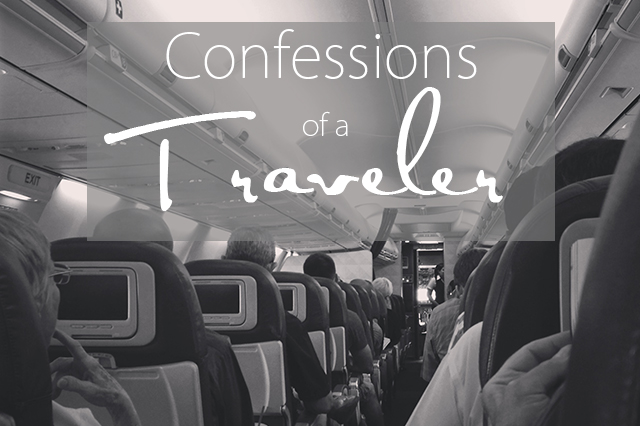 When I read articles or blog posts about traveling, there are always a number of things that I kind of laugh to myself on, things that never happen the way they say they are going to happen or things that you suggest doing that really can't be helped most of the time. And with the amount that I travel, I've come to learn that sometimes you just have to "live and let live" while on the go. Whether you are running through airports to catch flights or embarking on a road trip, there are some things that just can't be helped, hence, here's my list of my own confessions as a traveler.
It's totally ok…
To eat super unhealthy while traveling.
I'm not saying throw everything you know out the window about eating healthy while traveling, but on the other hand, sometimes it's almost impossible to do everything you're supposed to with your eating habits on airplanes or in airports. I go with what's available and don't worry too much about it.
To not look like a celebrity when you land.
You know those paparazzi pictures of the stars when they land in an airport and their outfits are impeccable and their makeup is amazing? Yea, that doesn't happen to the rest of us. My outfits are usually wrinkled and my makeup and hair definitely look like I've been on a flight for 10 hours. Don't worry about it, that's life.
To ask the flight attendant to move if there is something wrong with your seat.
Seat doesn't recline, even though they said it would? Large neighbor next store taking up your arm rest? Screaming baby right next to you? Believe me, I've been there. It's totally ok to ask the flight attendant nicely if there is possibly another seat you can move to. Often times, even if it's a full flight, they might have some options, so it never hurts to ask.
To ask at the gate if there are any upgrades available.
99% of the time they are going to say no, but you never know, you might get lucky. But be nice! The nicer you are, the better chance you have of getting one.
To not disinfect your entire airplane seat.
I've read countless articles about everything you're supposed to do when you get to your seat on an airplane. You're supposed to wipe down the seat, the armrests, the window shades, and believe me, I've been on flights where people do this. But seriously? You get on a plane full of people and can barely move most of the time anyways, this is one of those things I say "live and let live."
To laugh at the "gorilla bags" people come on the plane with.
Nick and I have come up with the term "gorilla bags" to explain the bags people come on the plane with. They have so much luggage they look like they might have brought their entire wardrobe with them. I get it, it's costly to check bags and everyone wants to bring everything on board with them, but for the hassle of how long it takes for them to get those massive overfilled bags into the overhead bins while everyone watches, either get a better bag that holds all your stuff or take out half and don't overfill it.
To ask for an extra snack or refill of your drink.
There are certain airlines that I love their particular snacks or sometimes want a refill on my diet coke after the flight attendant comes through. Most of the time, if you ask nicely, they will be more than happy to comply with your request. I've had flight attendants give me all sorts of free food and drinks on flights when I've gone back and asked for it. They are more than happy to help you if you ask nicely!
To not always have an amazing experience.
It's ok to not enjoy every trip you take or every experience that comes your way. Believe me, I've had some trips that I look back on now and am not sure how I survived them. But those are the travels that make you stronger, that push you further and that you aim to not repeat. It's ok to have places that you don't love or trips that you wouldn't wish upon anyone, but at the end of the day it's what you take from those experiences that matters most.