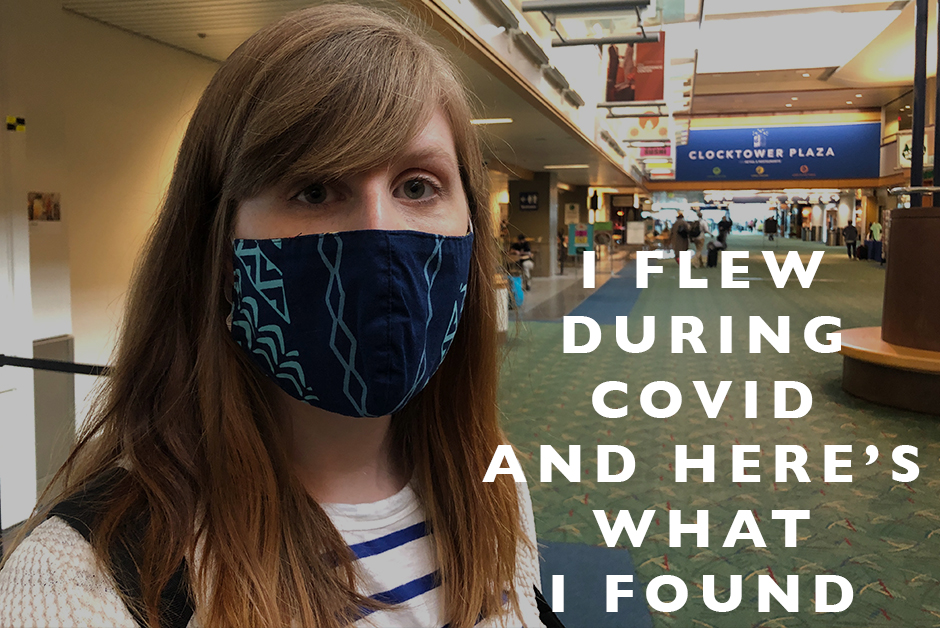 Last week, Nick surprised me with flights down to Southern California to visit my parents for Father's Day weekend.  We had visited them a few weeks ago when they first moved to the LA area but that time we drove as we were helping them move in and had our car filled with stuff to take down.  This time though, we flew and it was my first flight since the beginning of March and it felt so good to be in the air again, even if it was just a short 1.5 hour flight from Portland.  In short, the experience of flying wasn't too bad during COVID but I wanted to share my impressions so that if you are looking at booking a flight right now, you know what to expect.  I flew during COVID and here's what I found.
Park at the Closest Airport Parking Garage, Even if it Costs More.
As our trip was only for a long weekend, we chose this time around to park in the short term lot at PDX.  We actually never do this and always park at an economy lot and take a bus over to the airport, but right now, we figured any way we could not have to be in a bus with other people would be a good thing.  We paid more than normal, but for us, it was well worth the peace of mind.  Take a look at your airport's information and find out how you can park as close to the airport as possible so that you can park your car and walk to the terminal without having to take public transit to get there if possible.
Use the Airline App to Check In and Get Your Boarding Pass.
We have done this for years as we hardly ever check bags, but if you don't already do this, it's worth it.  Download your airline's app and check in on there. You'll get your digital boarding pass so that you don't have to be handing paper to everyone and having ten million people touch it.  This will make your security and boarding process contactless which is so important in the age of COVID.
Bring the least amount of luggage possible.
In an effort to make this flying experience the easiest we could, we just brought small backpacks for our luggage.  It was easier than lugging around our roller bags and honestly, anything right now to make life and travel easier is a win in my book.
Have wipes and antibacterial gel conveniently located.
You'll want to have your antibacterial gel and hand wipes conveniently located in your luggage for easy use.  We used antibacterial gel right after security and then we had lunch, so before we ate, we wiped our table and everything down with wipes.  Then once on the plane, we wiped our seats down and everything around us and used antibacterial as often as we could while on the flight. Make sure those are easy to get to throughout your whole journey.
Wear a comfortable mask.
You'll be wearing a mask for your entire journey so be sure it's a comfortable one.  I'd say about 90% of people were wearing masks in the airport before we left (even though it's supposed to be required) and then on the plane, everyone was because it's definitely mandatory on the airlines.  Honestly, it made me feel pretty good on the plane that you knew mask-wearing was being mandated because the facts show that if everyone is wearing masks, even if someone has COVID-19, the percentage of you being infected from them goes way down.
Some checkpoints for security are closed.
At the airport, only one security checkpoint was open at PDX so we did have to walk a little more out of our way than normal so just be aware that that might be the case.  With so few travelers, it's understandable that they wouldn't have every checkpoint open, so just plan ahead and give yourself some time if that's the case.
Not all restaurants are open.
I'd say about half the normal restaurants were open in PDX but a lot were still closed.  I think every airport and every location is different on this but you might want to bring extra snacks just in case!
Be mindful and cautious.
Overall, the experience wasn't bad at all.  There were actually more people than I was anticipating flying however our flight was only about half full because Alaska Air isn't selling all the seats on the aircrafts in an effort to let flyers social distance, which I really appreciated.  We were mindful and cautious the whole way, just as I am in my daily life at home, and by doing that, flying during COVID wasn't all that bad.  Now would I want to make a trek around the world right now?  Maybe not.  But for domestic travel, it was fairly easy compared to what you might think and I felt like PDX and Alaska Air did a fantastic job throughout our journey keeping us safe.