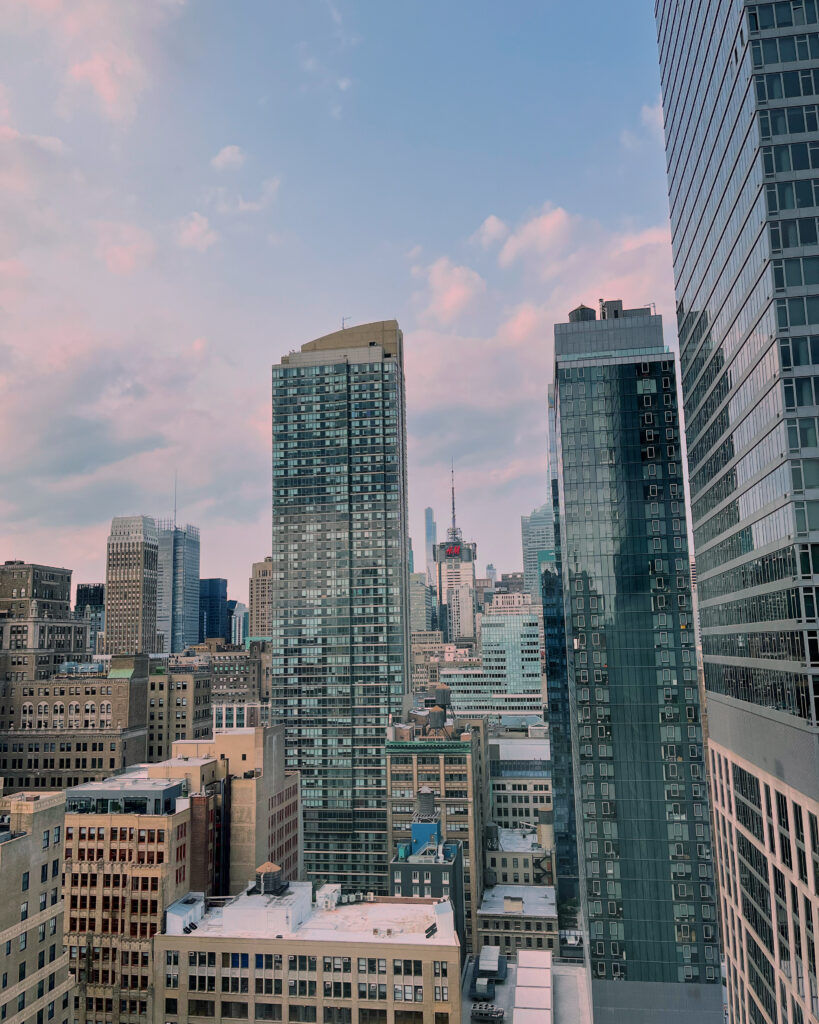 I love New York.  There is something so electric and alive in NYC that you just don't find anywhere else in the world and one of the things that New York does best is food.  And in my opinion, food is a huge part of travel and I don't skimp on that part of my explorations.  Food for me is always such an amazing way to enjoy a place and New York has an incredible mix of low and high end options – all equally amazing.  Here are my favorite places to eat in New York City and the places that I keep going back to again and again!
Fabrique
This Swedish bakery only has a few locations around the world and NYC happens to be one of them so rest assured, every trip to New York, this makes the list.  It's the perfect spot for a slow Saturday breakfast spot.  Grab a Swedish cinnamon bun and an oat milk latte and sit in their tiny bakery space and just enjoy.
Katz's Deli
This famous deli in NYC usually had a line – it's worth it (and that comes from me who rarely waits in lines).  Their pastrami is out of this world.  For the two of us though it's a lot of food, so after several trips to Katz's, we've come up with the perfect order: half pastrami sandwich, bowl of matzo ball soup, and an order of latkes.  And then share everything!
Balthazar
This popular French spot in SoHo is popular for a reason!  The vibe, the food, the location… basically it's great.  I personally like their brunch menu better but you can't really go wrong – just make sure you have a reservation.
Pastis
An old time favorite in NYC, Pastis just transports you to France.  Go for breakfast on a weekday and there will be no one there.  Their French omelette is pretty incredible but you can't really go wrong with anything on their menu.
Laduree
My favorite macarons from France, Laduree has a couple NYC locations now I think.  We usually stop at their Upper East Side spot and enjoy a treat.
Eleven Madison Park
If you have the cash to splurge, the experience at Michelin-starred and world-renowned Eleven Madison Park, it really is worth it.  We've eaten their twice now – once in the regular dining room with the full experience and most recently in the lounge with the lounge menu – and both times were absolutely incredible.  The restaurant experience is pretty amazing but I think I liked the lounge a little better.  It was more casual and easy but still with incredible service and insanely amazing food.
Ernesto's
This was a new spot we tried on a recent trip to NYC and it will definitely become a new favorite!  This Lower Manhattan spot for Basque-inspired food was delightful and we did not have a bite of anything that we didn't love the whole evening.  We sat at the Chef's Counter and it was such a fun experience watching them prepare everything.
Shake Shack in Madison Square Park
Shake Shack is everywhere now, but their original Madison Square Park location is still one that I feel like is cool to experience.  Sit outside and eat your burger with the city all around you – it's a vibe.
Hotdog in Central Park
And I really couldn't end this list without the quintessential New York food – eating a hotdog in Central Park from a street cart.  I don't even love hot dogs, but in New York, somehow they just taste better.
Headed to New York?
Here are all my posts on the city.