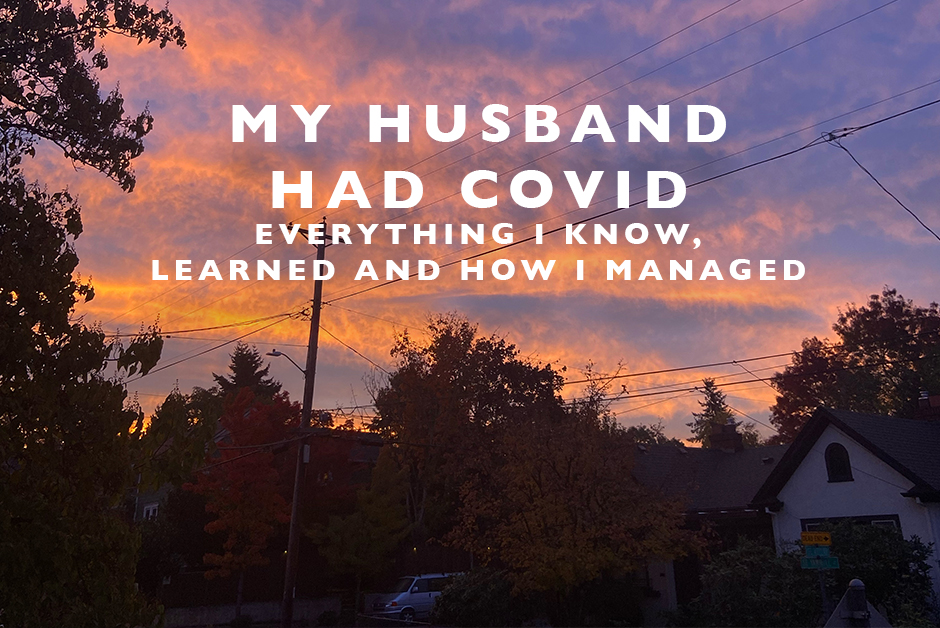 2020 sure has been a crazy year and up until December I was telling anyone who would listen that I felt like I have aged 10 years this year.  After my December so far, I feel like I've aged 20.  The first week of December, Nick tested positive for COVID and since then it's been a whirlwind.  We still have no idea where he got it and without patting my own back too hard, I really mean it when I say, we have been overly, extra cautious, since March when it comes to COVID.  We wear masks everywhere, haven't eaten inside any restaurants and wash our hands so much that mine are red and raw most days.  Out of everyone in my immediate circle, we are probably the most cautious.  So how did he get COVID?  What was going to happen next after that positive result? And even now that he's recovered, I constantly have to remind myself, my husband had COVID.  It seems surreal.
The weirdest part of all of this is that I tested negative, twice, while he was sick.  I tested the same day as him the first time, after he had already had probably close to a week of showing symptoms.  I was negative while he came back positive.  Then a week later, I tested again and got a negative again.  To add more mystery to this weird virus, I 100% believe that Nick had COVID earlier this year as well in February.  It was right when the large outbreak was happening in the Seattle area and we happened to be up there that week.  Upon returning home, he got really sick for a week with a high fever and respiratory issues, as well as loosing his taste.  At the time, testing wasn't really up and running and we didn't really think anything of it until later when all of his symptoms lined up.  The weirdest part is, I didn't get it then either.  To add more mystery to all of this, I also got the antibody test after our quarantine ended and his symptoms were clearing up and I don't have the antibodies which means that I haven't had COVID recently either.  Had I had the antibodies, I would have understood more how I didn't contract COVID from Nick while he was sick, but since I didn't, it seems I must have some sort of immunity to the virus.  No one has the answers and the long and short of it is, after watching him go through a mild case of COVID (I say mild because he could recuperate at home), you do not want this, no matter how old you are or how healthy you are.  It's brutal.
Other than the weird thing about me bypassing COVID twice this year while he's been sick, the main thing I've learned by going through this with him: this virus is scary and strange and it's a rollercoaster.
Even though he had been symptomatic for several days before getting tested, he really only felt like he had a cold with congestion.  It wasn't until the nausea started that we decided to get tested.  From there, the symptoms got more pronounced and weirder with every day that passed.  From a crazy Friday afternoon where he broke out in hives and his entire body, from his face to his feet started swelling in front of my eyes to days and days of extreme fatigue where he could barely keep his eyes open and going downstairs was unimaginable, the symptoms were all over the place and often appeared with no warning whatsoever.  Then, hours or days later, they would be gone and another symptom would appear.  Our journey through COVID was like nothing I've ever experienced.  It wasn't like a standard cold or flu where you're sick and then you start to feel gradually better.  COVID was a rogue monster and had Nick in bed for a solid 2 weeks and even then, it was a slow game to him getting back to normal.
Honestly, Nick had a minor case of COVID.  Yes, the symptoms were strong and scary and it was a rollercoaster of a couple weeks, but he was able to get better at home.  He required only minimal medications and he recovered.  But with how careful we were being and having no idea where he was infected, it serves as a reminder for how horrible this virus can be and how you really don't want it, even a mild case of COVID.
In the span of these insane last few weeks, I've had to figure out how to take care of him, get everything delivered to my house as we were both in quarantine and try to stay healthy myself.  Here is everything I know, everything I've learned and some tips for how I got through this so that if, God forbid, a similar fate befalls you, you have what you need to be prepared:
Rely on Delivery
I've been relying on delivery for most things this whole year but some of the best delivery services that got me through this stretch while Nick had COVID were the following:
Amazon Fresh – I used this for groceries as well as medications that I needed last minute and delivered fast.
Instacart – Nick specifically likes the sparkling water by Safeway's in house brand, so I used Instacart for some of my groceries – that way he could have the water he prefers.  It's a lot more expensive than Amazon Fresh FYI, but if you want a specific brand or grocery store, it's perfect for that.
Vegetable Deliveries – While I did buy some vegetables here and there through Amazon Fresh and Instacart, I have relied on Organics to You here in Portland since March.  It's a weekly fresh vegetable delivery that includes produce from local farms depending on the season.  It's honestly changed the way I look at vegetables and being able to eat local, farm fresh and seasonal vegetables has been a game changer.
Thrive Market – Another way I've been getting pantry supplies since March, Thrive Market has been amazing this year.  I've been relying on Thrive Market for pantry staples like Oat Milk, Chicken Broth and tunafish for months but I've recently been using their fresh meat delivery as well and have loved it for organic and grass fed meats delivered straight to my door.
If you need something delivered, just call and ask!  I had a prescription at Safeway to pick up and a work thing that needed to be picked up while we were in quarantine and when I called to see if they could be dropped off or mailed to me, it was no big deal. Even things you didn't think about that could be delivered, just ask and usually you can figure out a way to make it work so you don't have to break quarantine!
Reach out to Family and Friends for Support
I said to my mom so many times through this, "I don't know how I would do this if I were sick too!"  Thankfully I didn't get COVID through this even though Nick and I were in close proximity up until his positive test and in the same house the whole time but had I gotten sick, I'm not sure how we would have managed.  I was constantly either cooking food for him or checking on him or talking to our doctor or figuring out what he could take for his symptoms.  It was a full time job while he was sick and thankfully I was able to be home with him and help as needed but it was hard.  You'll need support, even if it's just someone to call and vent too.
Have a Stockpile of Medications
We usually keep a medicine cabinet fairly stocked but there were things that Nick needed or potentially could have needed through this that I would never even have thought about beforehand.  Here are the medications he took and things to consider stocking:
Tylonol – This is the only pain reliever that doesn't make me nauseous so we always have this on hand and he used this for minor aches and one day when he had a fever.
Ibuprofen – He took this the majority of the time for aches and pains and to help relieve some puffiness/inflammation after his shocking episode of hives/swelling.
Sudafed – Nick took this early on in his COVID episode to help relieve his congestion.
Benadryl – When his hives started and his face started to swell, I had to race across the street to our corner market to buy Benadryl as we didn't have any.  It was the only time I broke quarantine and in the moment, it truly felt life or death and I'm glad I did, as the swelling stopped almost immediately after he took his first dose of Benadryl.  He took this for 2 days while the swelling subsided.
Pepcid – While I raced across the street to buy Benadryl, Nick was on hold with our doctors office and they told us that you can take Pepcid with Benadryl and it will help the reaction stop even faster.  He did that for a couple days and then took Pepcid for heartburn a couple times as well.
Excedrin Migraine – While he didn't have too bad of headaches, he did take Excedrin a few times and it's our go-to for headaches.
Dramamine – While he never took Dramamine, I did have it on hand for the few days he was nauseous.
Peptobismal – Nick only took this toward the end of his symptoms as he started getting really nauseous and dizzy when he would move around too quickly.  He took the chewable Pepto tablets a few times to help with the nausea.
Utilize Your Doctor or Medical Professionals for Questions
We are lucky that we have a great general doctor who answers our emails very quickly so we utilized him a lot for random questions as they arose.  We also were very fortunate that we went through OSHU for our COVID testing and they offered great support by phone as well.  Upon his positive COVID result, an OHSU nurse called us and spoke to us for a half hour describing everything we would need to know about symptoms, medications, etc.  She also laid out our quarantine and the dates that we would need to be home and not have any contact with anyone.  I ended up quarantining for a full 10 days and then was able to end mine with my negative test result.  Nick was in isolation for longer and was able to break his quarantine when his symptoms were progressively getting better – I think that ended up being a full 14 days.  It's also important to note that your quarantine can't end if you test positive for COVID until after 10 days (this just changed so it's a little all over the place), if your symptoms are progressively getting less and less to the point you are feeling better, AND you haven't had a fever for at least 3 days without the help of any medication.   Any question, we had, the nurses at OHSU were there.  It's so important to have access to medical professionals during COVID because it's all over the place and such a weird virus so being able to ask questions is vital.
Get lots of Sleep
The one thing that was so important for both Nick and myself during this was that we both got lots of sleep.  Nick was thankfully able to sleep a ton during the time he was sick and was able to really let his body rest.  The days he did that, the recovery showed up so much faster.  The days he pushed himself, each time ended up setting him back a day or so.  Sleep is so important for the body to heal and with COVID, it's even more important.
Sleep was equally important for me as well as I was taking care of him, trying to work and get everything done around the house so long nights were vitally important for my well being as well and one thing that carried me through this!  I took NyQuil a few nights just to make sure I slept a long night and felt rested in the morning, especially after the rough days, as I function so much better on lots of sleep.