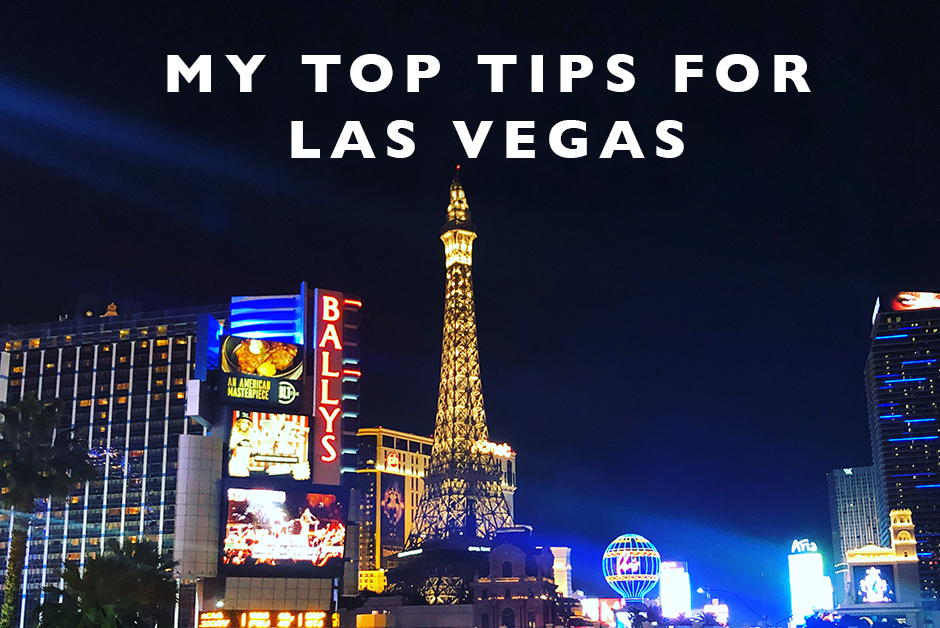 Nick and I have been to Vegas a lot.  Both separately and together we've spent a decent amount of time there and over the years, I've come to figure out the best way to really experience this famous city.  There are a lot of misconceptions about Las Vegas, a lot of what you hear that really is true and a lot still somewhat unknown for travelers heading to Vegas.  After many, many trips to Sin City, here are my top tips for Las Vegas and how to make the most of your trip there!
It's going to be more expensive than you think.
Hotels are notoriously cheap in Vegas and we usually get a hotel for right around $100 per night, even for high end hotels, depending on the time of year.  It's also fairly cheap to fly to Las Vegas from most areas of the US, especially from the West Coast.  However, once there, you'll spend more money than you think.  With so much right there, from gambling to food to taxis and transportation.  Keep in mind that once here, all the attractions cost money so other than just walking the strip, you'll pay for everything you do here.  You'll end up spending more while in Las Vegas so if you're headed here for a cheap getaway… it might necessarily end up so cheap.
You really need a car if you're leaving the Strip.
If you'll be leaving The Strip, you'll need a car.  There are actually a lot of amazing places around Vegas to see, but you'll need to drive yourself which means you'll probably need to rent a car.
Go in the Off seasons.
Vegas gets really crowded during certain times of the year and I personally like going in the off seasons when the weather is cooler and the crowds are thinner.  Mid-January was a really nice time to go, albeit a little chilly but it was really calm and quiet.
Decide what your priority is for your trip and go from there.
I think that Vegas can be a lot if you aren't sure what your main priority for being there is.  There is just so much to do, so much to see.  Figure out why you want to go to Las Vegas, maybe it's to gamble, maybe it's to sight-see, maybe it's to eat amazing food.  And then base your itinerary around that and find a hotel that is a good location for easy access to all the things you want to do.  If you're there to gamble, just stay in one hotel maybe and do everything there.  If you want to sight-see in the area, maybe rent a car and stay off the strip and drive around when needed.  If you're there for food, base yourself at a hotel in the middle of all the restaurants you're going to.  It definitely helps to have a focus in Vegas because it can be a bit of an assault on the senses your first time.
The dress code in Vegas is all over the place but be true to yourself.
Every time I go to Las Vegas, I struggle with what to wear.  I'm a pretty conservative dresser and often times, in Vegas, that is the rarity.  On this most recent trip, knowing we'd be going to nicer restaurants, I did purchase a couple things specifically for this trip that were a little more "Vegas" than I would normally wear from Zara, but in the end, be true to yourself in what your wear.  The dresses I bought were on Zara's Winter sale and are unfortunately sold out now but I actually love this one from Amazon.  You might find you want to dress up a little bit more than normal in Vegas, but there are lots of casual spots too, so just go with whatever makes you feel the most comfortable!
You'll walk a lot so wear comfortable shoes.
The Strip is huge, so even if you're just staying there and not driving, you'll be walking a lot!  We walked on average about 5 miles a day while there and didn't even really go that far!  Just getting through the hotels, from your room to the lobby, out to The Strip is a long ways, so be prepared to walk and wear comfortable shoes to do so.  This is also true at night when you're headed out to the clubs or dinner, you'll still be walking so it's worth knowing when planning what you'll wear!
Remember, the Las Vegas Strip is not the same as the rest of the United States.
It's important to remember that the Las Vegas Strip is a very unique place in the United States and not reminiscent of the rest of the country.  There is definitely a really gross side of Vegas, men handing out cards of naked women on the sidewalks like baseball cards, lots of binge drinking, people losing money they don't have gambling.  At this point, after several times seeing the city, I sort of block a lot of that out.  But if you're visiting for the first time, realize that people are sometimes at their worst in Las Vegas and it's important to not become something you're not or expect it to be like other parts of the US while there.
Headed to Las Vegas?
See more of my content on Las Vegas.