We just got back from a few days in Las Vegas and even though it wasn't our first time there, I always find myself a little in awe of Vegas.  There is so much happening and so much to do and so much to see that it can often be overwhelming.  In several trips to Las Vegas over the years, I've finally figured out the best way for us to enjoy the city and much of that has to do with great food.  Las Vegas is full of incredible restaurants and there are so many places to choose from when eating and drinking during your trip so to help narrow them down, here are the best places to eat in Las Vegas, a list of my very favorite spots that we've tried out on our recent trips there.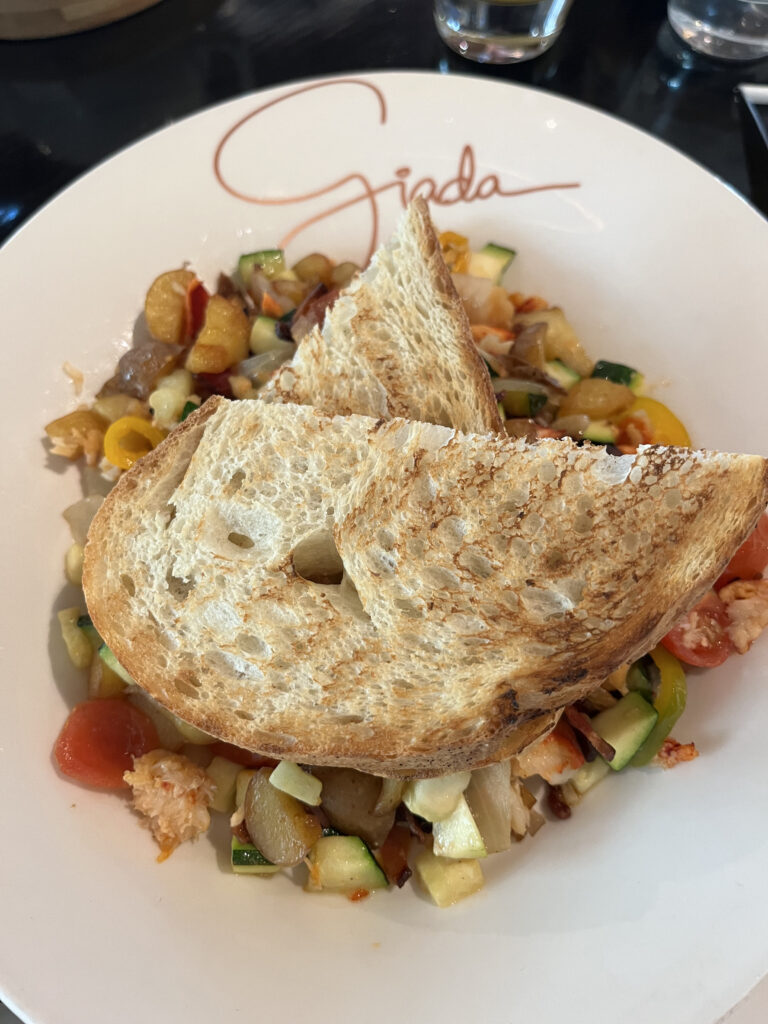 Giada at the Cromwell
We've eaten at Giada's restaurant in the Cromwell several times now for dinner and brunch and it's always one of our favorites. The food is light Italian and tastes super fresh.  The interior is lovely and it's an amazing location on the strip with beautiful views out over Las Vegas.  It's definitely one of our go-to's while in Las Vegas.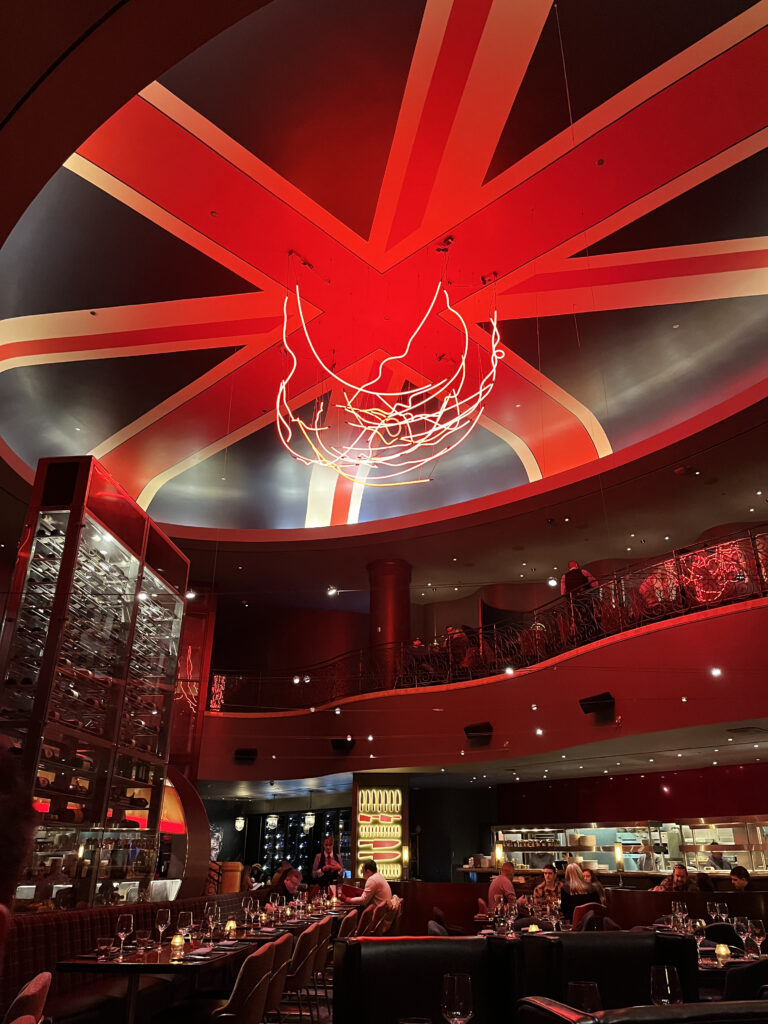 Gordon Ramsay Steak at Paris
We wanted to try one of Gordon Ramsay's restaurants while in Vegas this last trip and since we couldn't get a reservation at Hell's Kitchen, we opted for Gordon Ramsay Steak at the Paris Hotel and it did not disappoint.  His signature Beef Wellington was divine, along with an incredible Caesar salad and sticky toffee pudding for dessert… the meal was incredible and I'd highly recommend.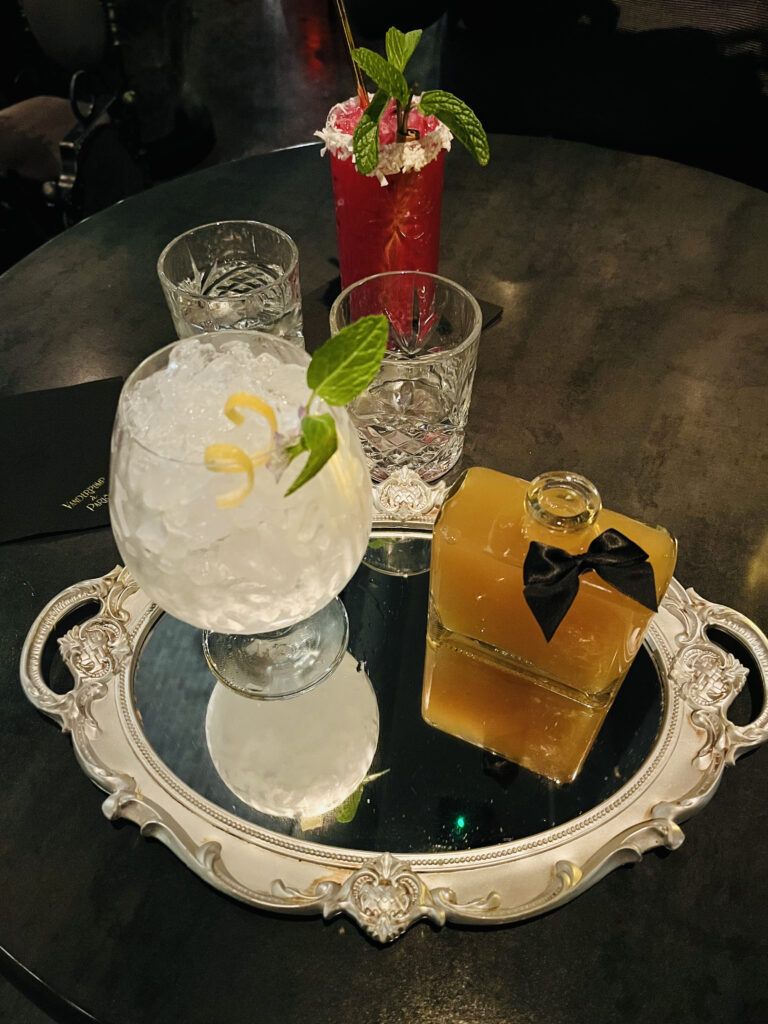 Vanderpump a Paris
I'm a big fan of Lisa Vanderpump from the Real Housewives and I wanted to try her new cocktail garden at the Paris Hotel this trip and wow, I was pretty impressed.  The drinks were incredible but the interior is what really blew me away.  Sitting in the space you feel totally transported to a Parisian garden in the best possible way.  I would highly recommend this spot for an after dinner drink.
Mizumi at the Wynn
We had some of the best sushi of our lives at Mizumi and it's always a place I think about going back to.  The location at the Wynn is a little further down the Strip, but definitely worth a splurge meal while in Las Vegas.
China Poblano at the Cosmopolitan
This is one of our go-to's for a more casual spot in Las Vegas.  One of Jose Andres' restaurants, this spot is always a hit with amazing fusion food and a cool casual atmosphere in the Cosmopolitan.
Bacchanal Buffet at Caesar's Palace
If you want a good old buffet while in Vegas, this is the one.  It's not cheap (I think it's close to $70 per person) but you can eat your fill of really high quality food from a huge variety of options.
Pronto by Giada at Caesar's Palace
My mom and I had breakfast sandwiches at Pronto by Giada in Caesar's Palace one morning and it was delicious!  I got the sandwich breakfast sandwich and my mom got the prosciutto one and the quality was pretty amazing for being a fast-casual spot.  My one issue here, the price.  It was $45 for 2 breakfast sandwiches and 2 bottled drinks… but that's Las Vegas for you.
Gordon Ramsay's Pub and Grill at Caesar's Palace
We wanted a casual spot for a night this past trip and we wandered past Gordon Ramsay's Pub and Grill in Caesar's Palace and it was perfect.  It was easy and casual and the food was great for a pub environment.

Canaletto at the Venetian
If you wander down to Venice in the Venetian, a great Italian spot is Canaletto in the open plaza along the canals.  I ordered their lobster special and it was incredible so sit down and enjoy the feel of dining "al fresco" in Venice.
Mon Ami Gabi at Paris
This spot is great for breakfast at the Paris Hotel and offers a wide variety of great breakfast options.  It's also very Parisian in feel and the food is great quality.
Amalfi by Bobby Flay at Caesar's Palace
I'm a Bobby Flay fan and his Amalfi restaurant that took the place of his old Mesa Grill in Caesar's Palace is delicious.  We've only had appetizers and drinks here but what we have had is top notch and I'd love to do a full dinner here sometime soon in the future.
*Note – be sure to make reservations for all of these spots in Las Vegas!  Most won't be able to get you in without a reservation.
Headed to Las Vegas?