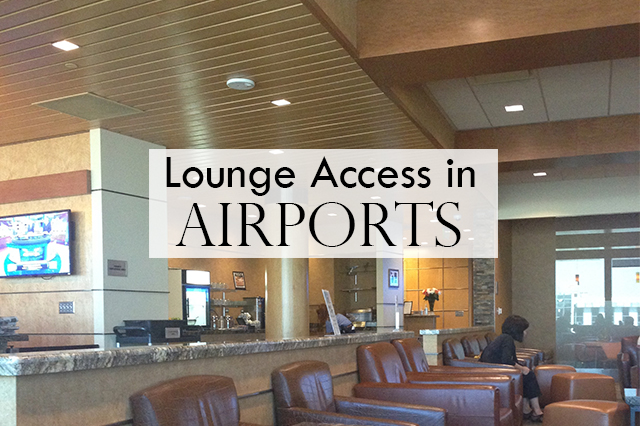 Traveling can be brutal: long layovers, uncomfortable seating, having to lug your bags around. So whenever possible, your travels can be made a lot easier by gaining access to the many lounges throughout airports around the world. Often, I find many people don't know how they can gain access to these lounges and they can be a life saver in more ways than one while you're waiting for hours at an airport. These lounges offer everything from showers to free food and drinks to comfortable areas to wait out your layovers. And actually, there are many ways to gain access to these lounges and make your airport experience that much better.
Become a frequent flier with a specific airline.
Becoming part of airlines' loyalty programs can have lots of perks, but one of the best is the access to lounges. Not all airlines handle this the same and many of them you have to be top tier fliers to achieve free access, though some airlines will allow you to pay a minimal fee to have access to their lounges when you're an MVP with the airline.
Daily passes.
It's becoming more and more common for lounges (especially in major airports) to offer day passes for purchase. We've done this in the past including once at the Virgin America lounge in LAX. The day passes are usually around the $30 range and you get to use the facilities all day. This is a great option if you have a long layover. Keep in mind too even though you're paying for it, usually it's free wifi, free food and soft drinks and comfortable areas to stretch out and sleep or do work. Considering you'd probably spend that much on food or wifi charges anyways in the normal terminal, it's usually a pretty fair deal.
Priority Pass.
This is a
program you pay yearly for
but that let's you have access to any lounge worldwide. My dad pays for the premium membership for work but for Christmas last year, he signed up Nick and I for the Friends and Family membership plan at a discount. With this plan, it's around $100 per year and every time we use it when traveling, we pay $24 per person for access to any lounge at any airport worldwide. It's been a great thing for us and we've used it multiple times already since receiving it in December of last year. My favorite use so far was at the United lounge at Newark in February en route to India. We had a 6 hour layover in Newark and with bag weather in NYC, we decided to stay at the airport instead of venturing into the city. So we holed up in the United Lounge, were able to take showers, stretch out and be really comfortable for 6 hours. They also have a great app that you can see all the lounges at your access and what each one offers. It's a great program to check out if you travel a lot.
Get upgraded or book a business class ticket.
Whenever you book a business or first class ticket or get upgraded, you'll get access into the airline's lounges. The only time this has happened to us internationally was from London to Seattle last November and though we got upgraded to Business Class and would have had access to the BA Lounge, our flight time was soon and we didn't really have time to use it. But keep in mind, when you get that magical upgrade or you've already booked a business class or first class ticket, you'll get lounge access on your boarding pass.