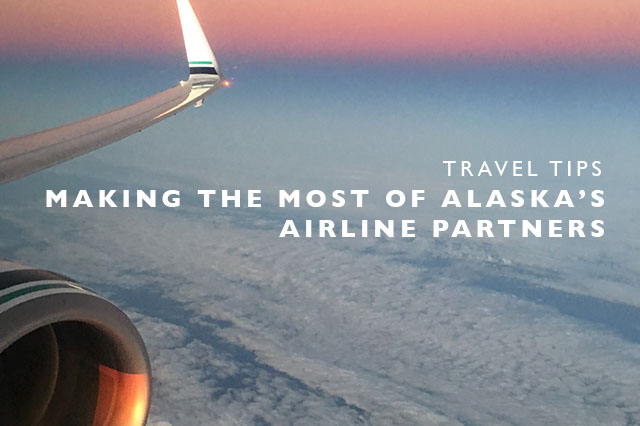 One of the ways we're able to travel as much as we do is because we take full advantage of airline miles and points.  Over the years of traveling, we've become experts on how to save money and use points and miles instead of cash when it comes to travel bookings.  I've done multiple posts over the years on my favorite mileage plans and points programs, but perhaps at the top of that list is the Alaska Airlines mileage program.  Living in the Pacific North West, Alaska is our main airline here and when we started traveling a lot years ago, we realized we needed to pick one airline and stock up all our points with them to really be able to take advantage of their points program and earn elite status.  Now, we fly only Alaska domestically and we try to fly their partners abroad to make the most of the program and rack up as many miles as we can. In my opinion, the Alaska Airlines mileage program is still one of the best out there and you can fly all over the world with their points with very little out of pocket.  Here's how you can be making the most of Alaska Air's partner airlines and travel all over the world for very little money!
Iceland
Iceland is big on everyone's radar right now and for good reason – it's one of my favorite places in the world and beyond breathtaking.  And while there are a lot of great ways to get to Iceland (like WOW's $99 one way flights), Iceland Air is still my choice to get from the Pacific North West to the newest "it spot" on the planet.  And with Alaska Airlines and Iceland Air being partners, it's easier than ever (and cheaper than ever) to get there using points and miles.
Fly to Iceland for only 50,000 miles and $200 roundtrip on Iceland Air using Alaska Airlines miles.
Peru
Last year we flew to Peru on LAN, which has since changed to LATAM Airlines and loved taking advantage of this great partnership with Alaska Airlines.  We flew the LAX to Lima route on the airline's Dreamliner and had a fantastic experience.  You can book mileage tickets through Alaska Airlines' website or book through LATAM, pay for your ticket, and rack up the Alaska miles!
France
France, only one of my favorite destinations on the planet, is so accessible using Alaska Air miles!  As a partner of Air France, it's super easy to get to Paris from the West Coast using miles.  We also really like to fly Air France on intra-Europe flights and you can use miles or pay for those as well and book the miles with Alaska.
Fly from San Francisco to Paris for only 32,500 miles one way + $95 on Air France using Alaska Airlines miles.
China 
Last November we headed to China and while there are lots of ways to get to China, we wanted to fly into Beijing which is where we were based during our time there.  Upon some research, I found out that Hainan Air is a partner of Alaska and while I hadn't heard of the airline previously, they run a direct flight from Seattle to Beijing which worked perfectly with our schedule.  We actually paid for our ticket because it was so inexpensive and earned Alaska miles on the deal.  We loved the airline and we actually got priority boarding and other extras because of their Alaska Airlines partnership!