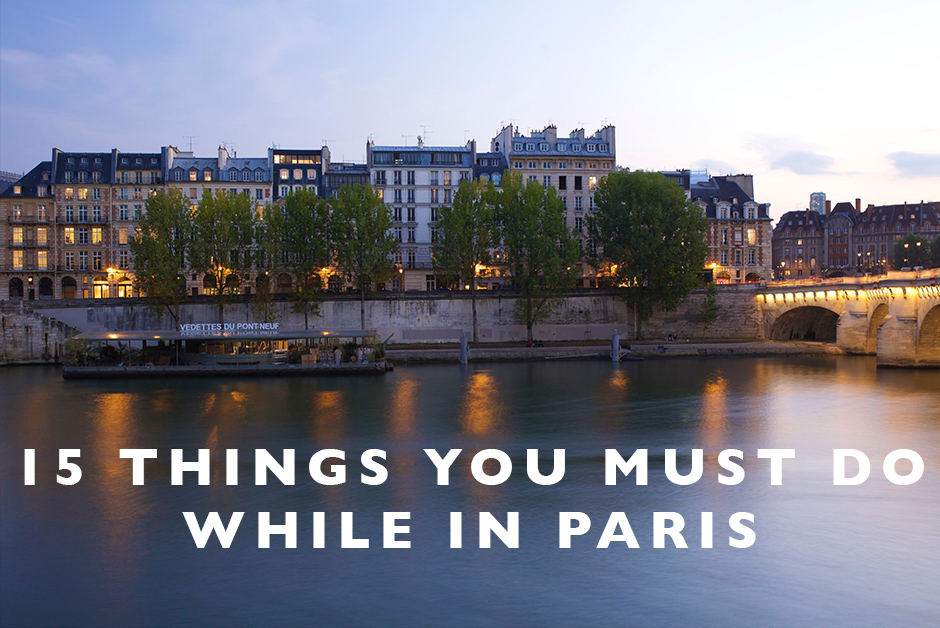 Paris is one of those cities that offers an endless array of tourist attractions and landmarks to see, but beyond all of that is a city that is also full of smaller incredible things to do as well.  Sometimes when traveling, it's easy to overlook those smaller things that make a place so great in favor of the tourist attractions but while in Paris, the smaller things to do are often the best parts of the French capital.  So the next time you head there, here are 15 things you must do while in Paris, other than the obvious stuff you'll see in every guide book!

1. Eat a fresh croissant from a boulangerie.
We have a favorite local boulangerie on the Île St. Louis that has become our favorite over the years, but no matter what neighborhood you stay in, find your local bakery and get fresh croissants from them in the morning while in Paris.  Literally no where else in the world (other than the bakeries of France) makes flaky croissants as well.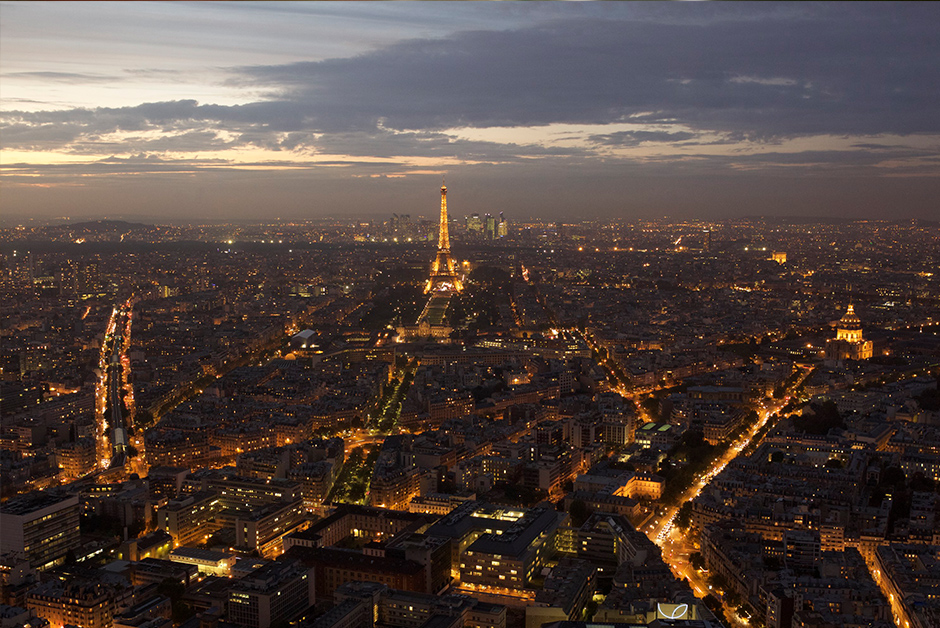 2. See Paris from above.
Paris is unique and beautiful from above and there are a bunch of spots around the city to get a panoramic view of Paris including the famous monuments of the Eiffel Tower and the Arc de Triomphe.  I'm more partial to the less crowded spots though like the Tour Montparnasse or the Galeries Lafeyette building in the Opera district.  Some hotels also offer amazing views from above, like the Holiday Inn St. Michel.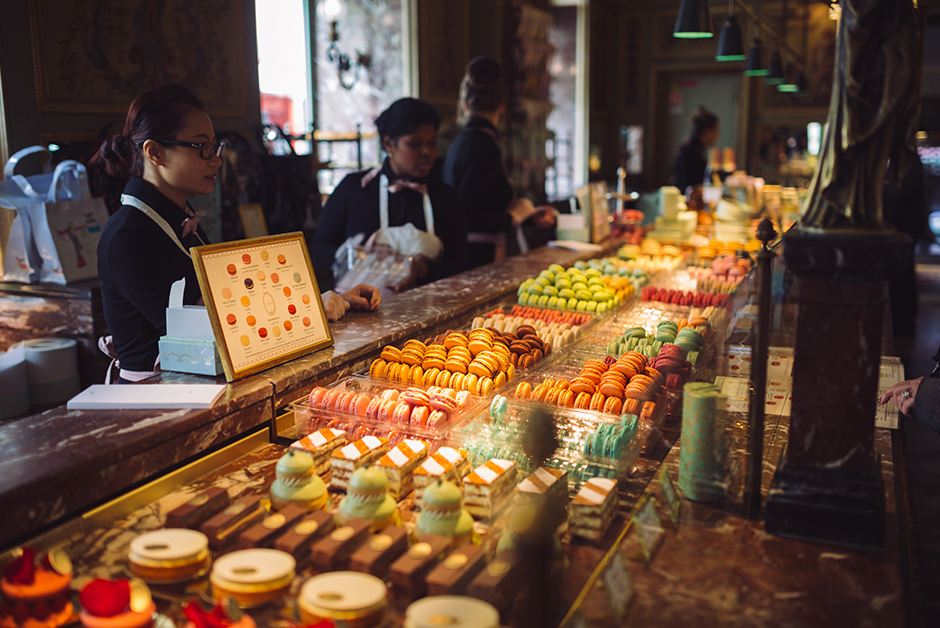 3. Have macarons from Ladureé.
Macarons are a must while in the French capital and while lots of stores sell them, I'm partial to Ladureé's flavors and ease of locations all over the city.  I frequent the Rue Bonaparte location since it's close to where I usually stay and central to lots of areas in Paris, but there are a ton of spots where you can splurge on beautiful little macarons that taste like heaven.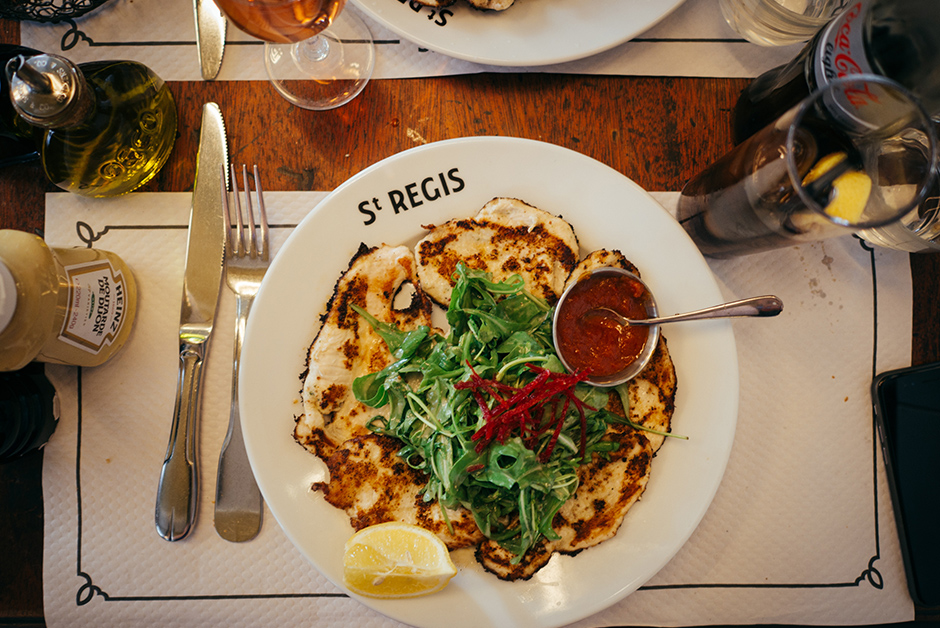 4. Dinner at St. Regis.
For years now, we've been going to St. Regis, a little cafe on the Île St. Louis.  It's become increasingly popular over the years, especially with bloggers, mostly because of its location and the beautiful decor of the space.  Personally, I crave their chicken paillard year round and it's the first thing I usually eat when I arrive in Paris.  Enjoy a long leisurely dinner here over great food and a glass of wine and you can thank me later!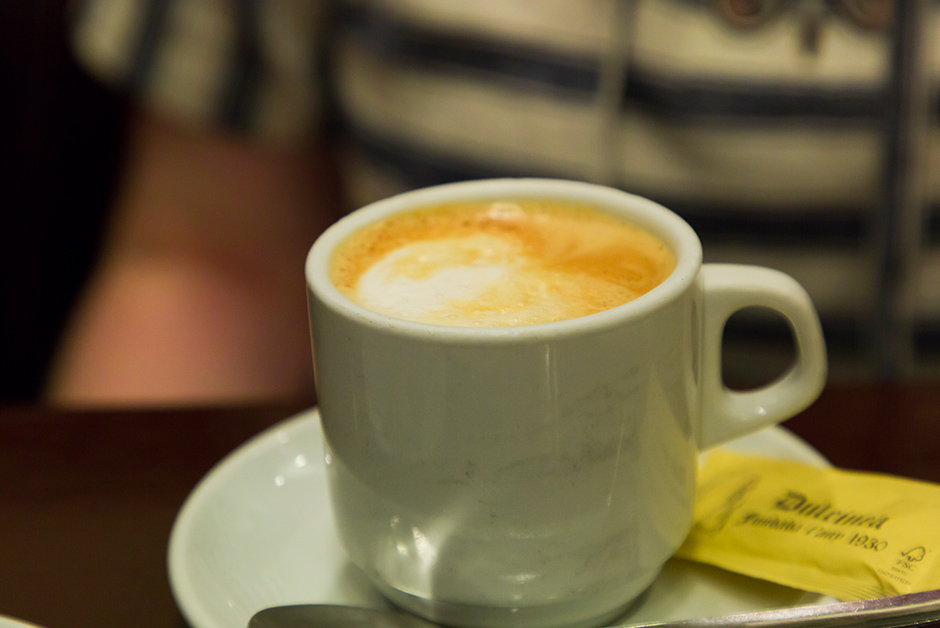 5. Order a cafe au lait after every meal.
Coffee is really unique to place I find, especially in Europe.  And while I might order a cafe con leche in Spain or a flat white in London, in Paris, I always go for a traditional cafe au lait.  Linger over a wonderful coffee with foamy milk after every meal and savor it like the Parisians do.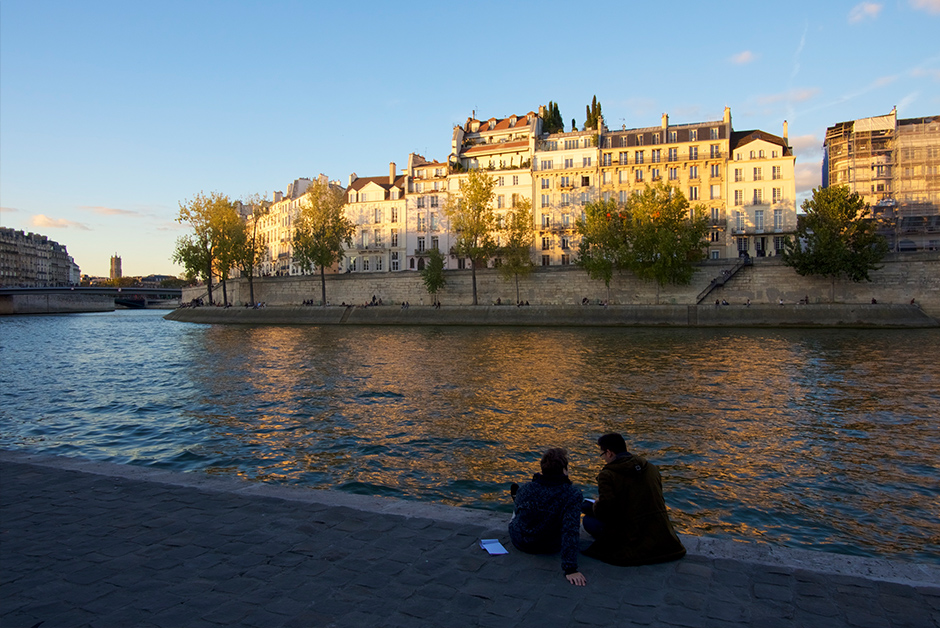 6. Watch the sunset from the banks of the Seine.
On beautiful days, you'll always find a handful of Parisians on the banks of the Seine River, watching the world fade to dark as the sun sets.  Sometimes they'll have a bottle of wine, sometimes a baguette but either way, head there yourself and join them to watch the world set behind the horizon.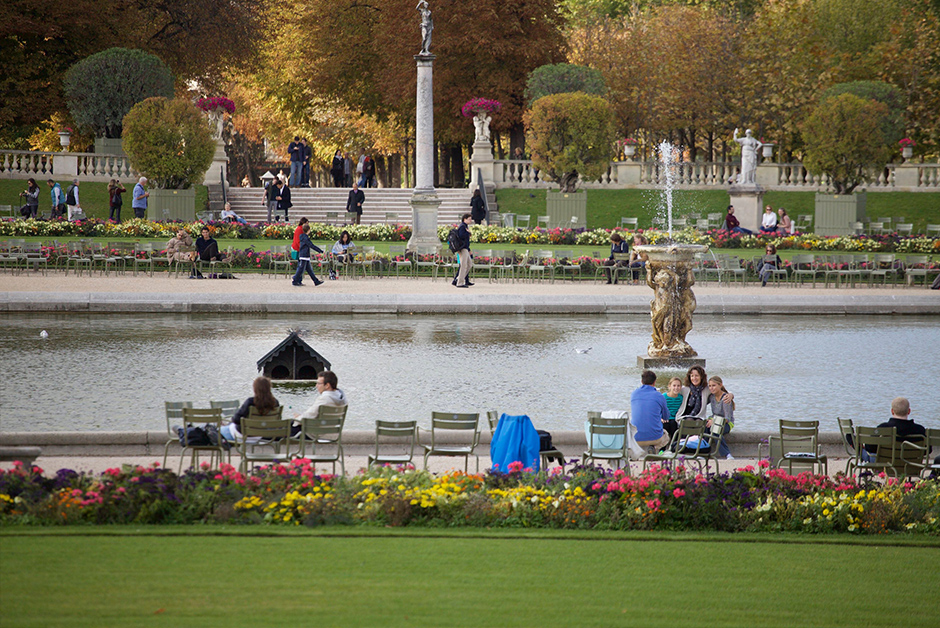 7. Picnic in the Jardin du Luxembourg.
Be oh so French and grab a baguette from a boulangerie, some cheese and meat from a local market, a bottle of wine or orangina's and head to the Jardin du Luxembourg for a picnic when the weather is nice.  Spend an hour or so here, just taking it all in while you devour your French treats.

8. Watch the Eiffel Tower light up at night.
The Eiffel Tower is a sight to see all the time, but my favorite is watching the sun set behind it and seeing the tower light up behind a dark night sky.  As the lights come on and the scene sets around you, it's oh so magical.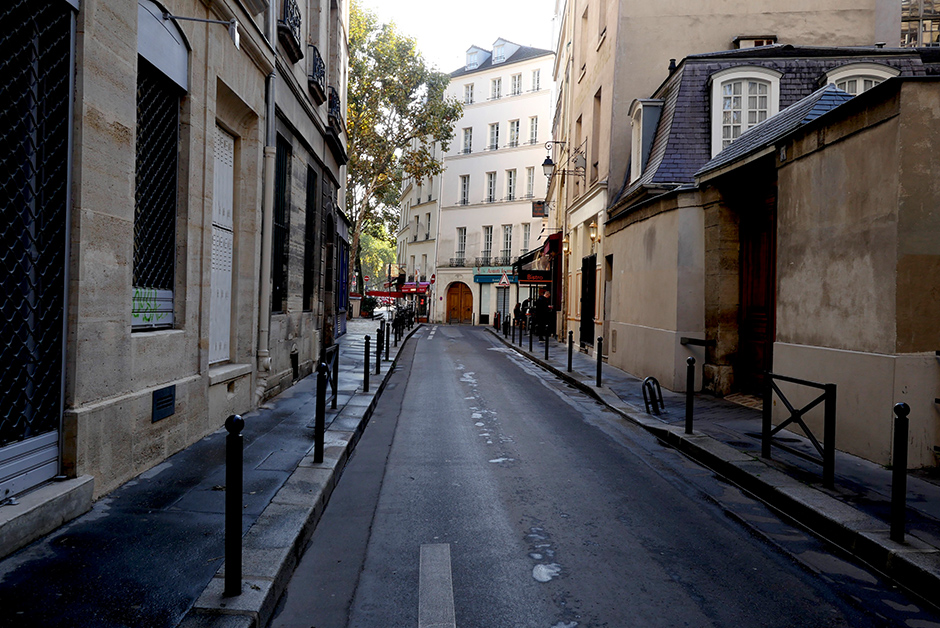 9. Wander back streets.
One thing many people miss in Paris and don't take the time to do, is to just wander.  Head off the beaten tourist path and wander the back streets of a neighborhood.  Take a right when you think you should take a left, head in a new direction without a care in the world.  You'll see the real Paris this way, away from the crowds, down little cobblestone alleyways all to yourself.

10. Have an omelette mixte for breakfast at an al fresco café.
My favorite type of morning in Paris?  Wake up late, wander to your local al fresco café and order an omelet mixte (ham and cheese) and enjoy a long breakfast watching the world go by around you.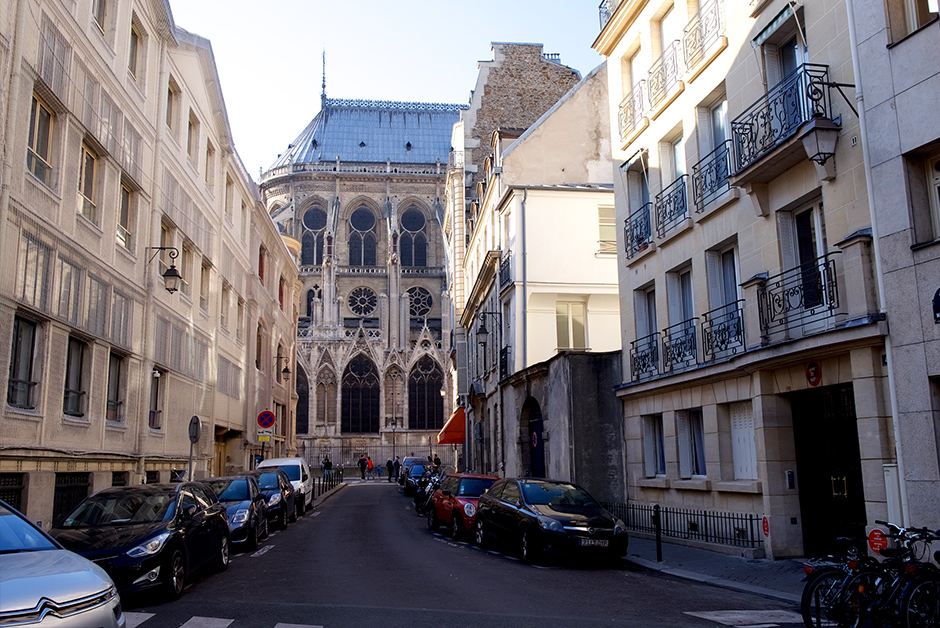 11. Explore the city before the crowds in the early morning.
Most people spend a lot of their time in Paris seeing the tourist sites and while that's all fine and great, you'll get a better sense of the city if you head out early in the morning before most people are up and around.  All the tourist sites will be quieter, the rest of the city will be yours to explore and you'll be so much less stressed without words of people.  So get yourself up out of bed and explore early before the crowds.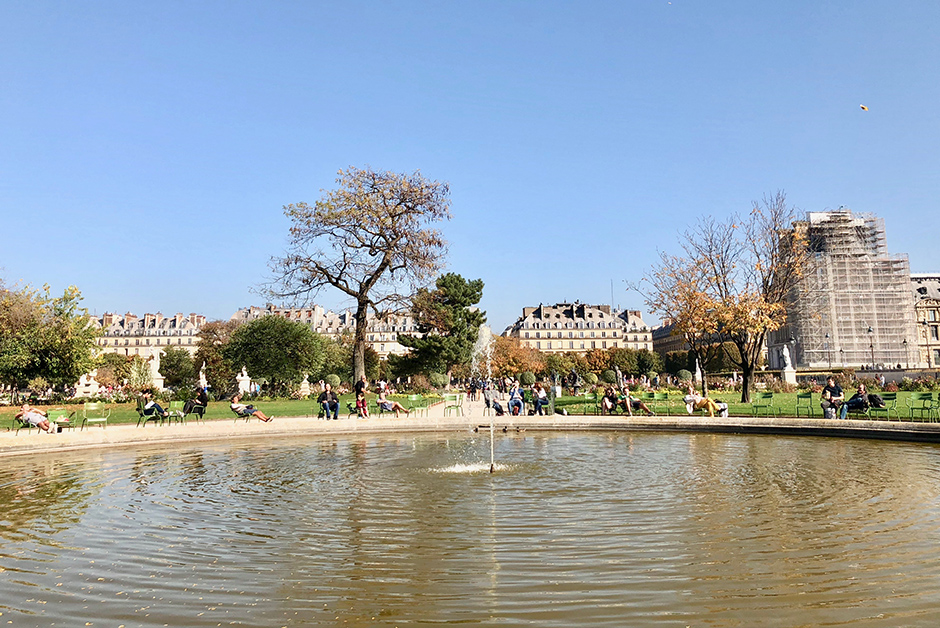 12. Take a break from exploring in the Tuilieres.
Chances are, you'll end up in the Tuileries gardens outside the Louvre at one point during your time in Paris.  My best advice?  When passing through the Tuileries, stop and sit for a while, watch the world around you and take in the gorgeous views in all directions.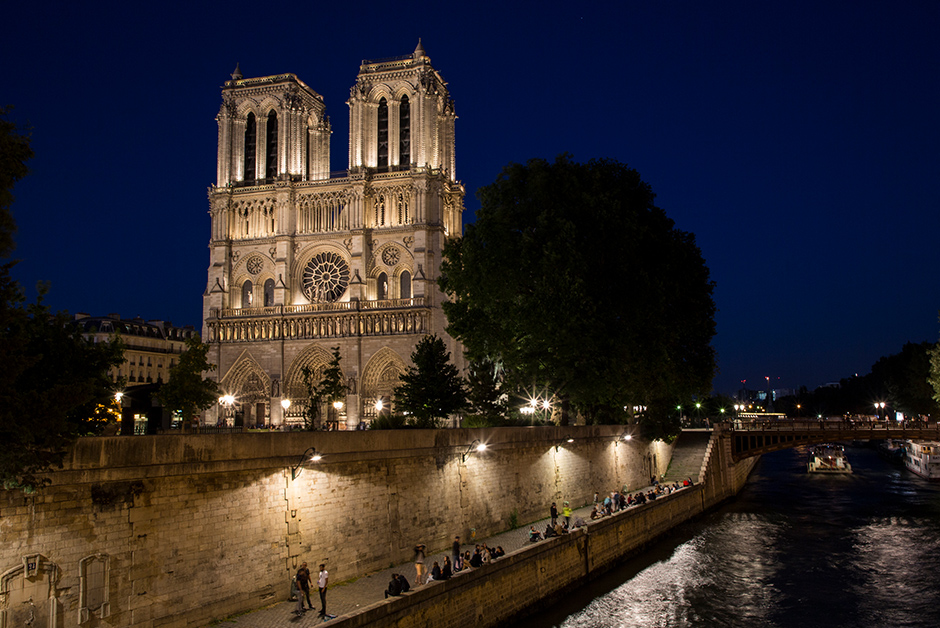 13. See the city light up at night.
No matter where you are in Paris, the city is gorgeous at night as it lights up.  After all, it is called the City of Light.  My favorite spot to watch the lights come on against the night sky is right around Notre Dame on the Seine, where you'll see the famous cathedral and all the buildings around it light up and boats will light up the Seine as they cruise down the river.

14. Drink your heart's content of Orangina.
Growing up in the Middle East, we had this drink called Orangina that we basically lived on.  Well turns out years later when I returned to France for the first time as an adult, while at the time it was still hard to find in the States (now it's easier to find), Orangina was in abundance.  And still, all these years later, it's what I choose to drink while in France over and over again.  Grab a bottle or order it in a cafe and I promise, you'll love it as much as I do!

15. Indulge in decadent treats.
There is perhaps nowhere else in the world that satisfies your indulgence for decadent sweets like Paris – stop by any patisserie and you won't be disappointed!
Headed to Paris?
Check out our Paris Travel Guide in the Land of Marvels Shop for only $5!