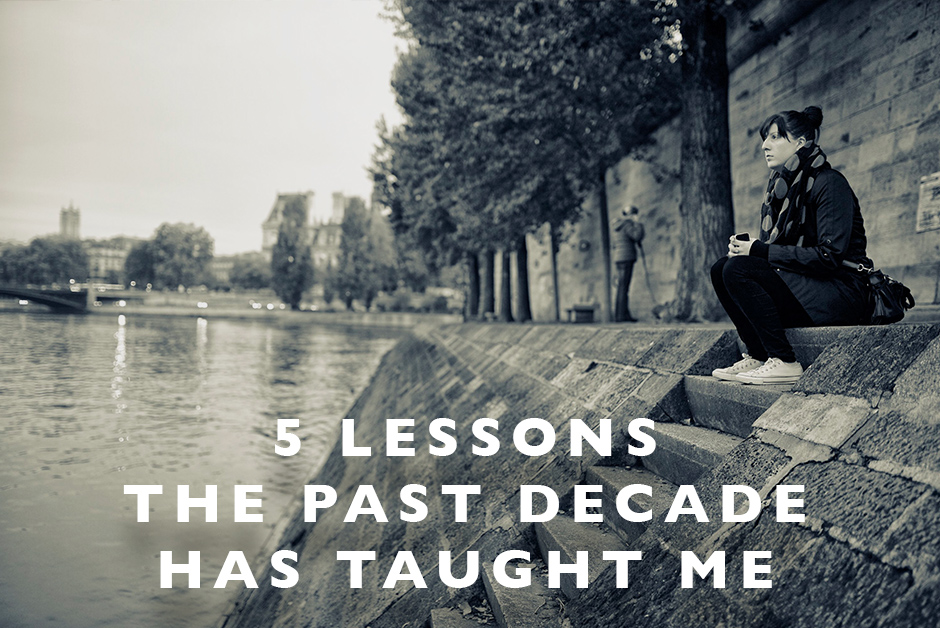 This past weekend I turned 31 in my favorite place in the world, spending the last few days wandering the streets of Paris under the changing Autumn leaves and it was divine.  Though as this birthday came and went, I got to thinking about how much we change as we get older and all those articles I always read about how you start thinking about life differently in your 30's versus your 20's, they are all starting to make more and more sense now.  I think that once solidly in your 30's, we start to look at the world and people a little differently, we're more settled in ourselves, we're more successful, we're more experienced and that all is bound to have an effect on us and in our growth as people.
There are some important lessons I've learned along the way in the 31 years I've been on this planet, many of them recently in the past couple of years or in the past year alone, but in all of them, I'm finding that turning 31 has put everything into closer perspective and so much is making more and more sense.  So as I head deeper into my 30's, many of these lessons are shaping who I am and where I'm headed and I couldn't be more grateful for what the past decade has taught me.
Some friends may fade away.
I've had friendships comes and go my whole life, but there is something about this past year that's brought this into heavy focus.  This year I had to finally walk away or distance myself from some friendships in my life that were not offering me what I was offering them.  I felt like my time and my attention weren't being respected and while it felt horrible at the time to move away from a friendship that had long been in my life, sometimes people grow in different directions and it's necessary to move on.  As we get older and each of our lives change, some friendships will grow stronger and some will fade away and that's totally alright.
My goals have become more long term.
In my 20's, I felt like my goals were really important but most of them were short term.  In the next decade of my life, my goals have shifted and I'm looking further out into the future to accomplish things on that list.  It's more important to me to save money for things down the road or retirement, instead of worrying so much about the short term.  This I think comes from being settled and content in the life I have right now, therefore able to look to the future more than I ever have been able to before.
Professional growth is a slow and sometimes painful process.
I love what I do professionally and I'm able to be a part of a number of different parts of my field, but after almost a decade in the professional world, one of the biggest lessons I'm finally learning – professional growth is slow and won't happen immediately.  That promotion, that income raise, all of that takes time and sometimes a long time.  After almost 10 years, I finally feel like I am where I should be professionally but a lot of that has been my own doing, instead of waiting around for a company to do it for me.  I started my own business early in my 20's as a second income stream and I teach part time at my alma mater college as a third income stream.  I went out and got more experience and made more money on my own all the while still putting in time at my architecture firm job and building up my resume.  It's important to remember that professional success doesn't happen overnight and patience and your drive to make it are the most important things you'll need to get ahead professionally.
Work Hard, Play Hard – and don't apologize for it.
Nick and I work really hard, long hours, multiple jobs and it seems we're always adding something else.  Between us, we have about six income sources and each of those takes a tremendous amount of work and upkeep.  We work a lot of evenings and weekends to keep everything up, but the reward for that?  We're able to really live the life we want and spend money on the things that make us happy.  For us, a lot of that is travel and going to great restaurants to enjoy amazing food – those are the things that mean a lot to us and what we want to spend our hard earned money on.  In my 20's, I felt a constant need to explain to people that while we spend a lot on travel or whatever else that we enjoy, we work really hard to be able to do that.  In my 30's, my lesson learned is: who cares what they think?  This decade has brought that out in me a lot – we shouldn't always be apologizing for the life we want to live.  If someone else has an issue with it, who cares?  As long as I'm not hurting anyone or being careless with my money, it shouldn't matter.
You won't be happy every single minute of your life, but overall, live a life you enjoy.
My mom and I were talking about this a few months back and we were saying how we notice a lot of people assume we should be happy every single minute of your life.  A lot of people think you should be happy every day and every minute in your marriage or in your job or whatever, but the truth is, you just won't be.  You won't be happy every minute of your life, but the important part to learn is to build a life that overall you really enjoy.  That doesn't mean you'll have a smile on your face the whole time, it doesn't mean your relationships will be perfect, it doesn't mean you'll love your job every single day.  It just means that overall, when you look around at the end of the day, even on a bad day, you are happy wth the life you've built and the way you're headed.  Because when you're living a life you don't like, that's where the real problems begin.  Build the foundation of your life on things you love and in return, you'll end up happier.