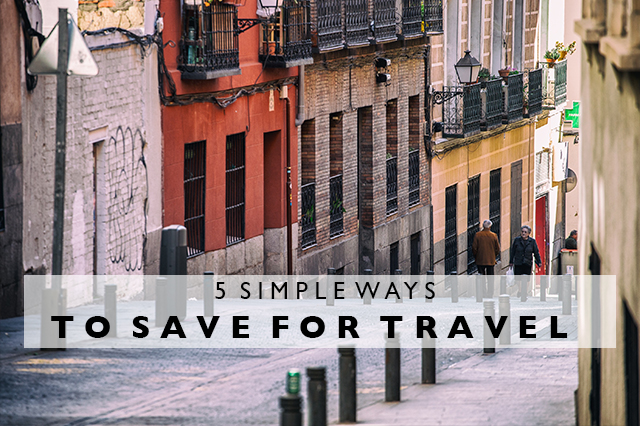 Travel costs money, there's really no way around that.  Even when using credit card points or miles to your advantage (which is fantastic), you still have to have money to spend at your location or on other travel related items.  The key to traveling often is being able to save for those trips you want to take and having the cash to pay for them.  So if you want to travel more and you're not sure where to start in terms of saving money, here are 5 simples ways to save for travel to get you going!
Eat at home.
The first thing I look at when I need to save money are my food expenses.  Most of the time you can save a lot of money by cooking and eating at home instead of going out to restaurants.  Take a look at your schedule and your habits and try to be economical in what types of food you buy at the grocery store and how you eat.  This can actually cut a huge amount of money out of your normal budget which can help you save long term.
Share meals or do happy hour when you go out.
One of the things that Nick and I do often when we do end up going out to teat is sharing meals or working it into our schedule to make happy hour where food is a lot cheaper.  This saves us a lot of money instead of both ordering full meals.
Sell clothes or extra items.
I'm adamant about going through my closet and apartment every month or two and selling anything laying around that we don't need or use.  I sell clothes almost monthly if I haven't worn them lately or extra technology that isn't being used any more.  I know this doesn't sound like you'll make a ton of extra cash, but you'd be amazed how fast it adds up.
Cut out Coffee.
A huge one for many of us, think about how much money you're spending on Starbucks or whatever place you frequent for your daily fix.  I don't even have coffee every day (maybe 2-3 times per week) and even that really adds up.  Your $4 drink every day ends up being around $20 per week, which ends up being $80 per month, which ends up being almost $1000 per year!!!  There's your airfare right there.
Cut out Alcohol/Desserts.
We have friends that complain a lot about not being able to travel but then will spend $30 at dinner on alcohol and extra things like dessert.  If you drink alcohol, look at the cost that is adding to your grocery and restaurant bills.  It ends up being a huge amount and something that we spend hardly any money on.  It's all about what's a priority!