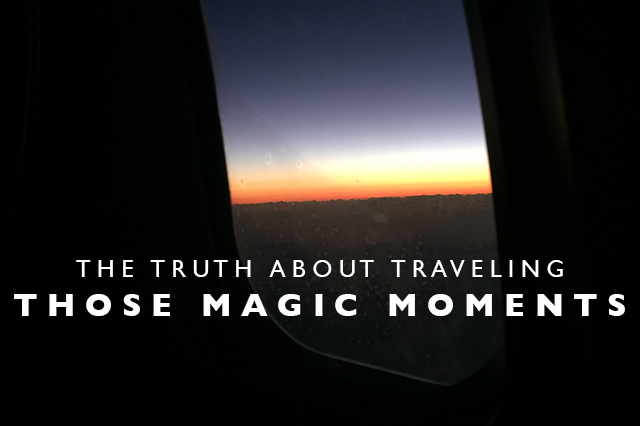 There I was high above the Pacific, nearing midnight Portland time when suddenly I woke from my in-flight sleep to the most spectacular sunset high above the world.  I don't know if it was that my iTunes top 25 playlist was playing which features mostly songs that mean a lot to me, songs that have been really present in many memorable moments in my life, or if I just happened to wake up feeling rested, feeling calm or if I just was really content curled up in my seat staring out the window at the sun setting and the puffy white clouds tinged in violet. Whatever it was, it was one of those magic moments when traveling, one of those moments when you feel so entirely grateful to be able to experience it.
Travel is all too often hectic and disorienting and uncomfortable.  We're all too often wide awake when we should be sleeping or battling jet lag at all hours of the day, or rushing through a crowded airport in hopes of making our connections.  So when those moments come along where you feel entirely present, when you look out your plane window and feel like you are meant to be right there and then in the middle of that sunset over the Pacific Ocean, you have to take advantage of them, you have to remark at their beauty and their meaning.
Life has been pretty crazy this Summer for Nick and I, with us both taking on a lot of new work opportunities and when most of the Summer so far as consisted of us working long hours and seemingly buried in never ending professional priorities, the moment of clarity when I awoke on that plane headed to Hawaii a couple weeks ago made me really stop and be present.  I actually had a lot of work I could have been doing on that flight after being assigned a big new project the day before, I actually had a long list of things I wanted to accomplish on that flight that I had made before hand.  But instead, I watched the sunset and I wrote this post.  I wrote this post because the moment seemed too important not to document and because sometimes something as simple as watching the sunset from your airplane window can really make you stop and think, it can make you stop and really take a look around at the world around us.
Travel is all about those magic moments, those moments that change you, those moments that make you reconsider how you look at things, and in my years of traveling, I've had many of those.  But it's also those small moments here and there like a cotton candy colored sky high above the Pacific that pull us back to what's really incredible about this world we call home and why it's so important that we venture out to see it.  It's cotton candy colored skies high above the Pacific that have the power to remind us of who we are and those magic moments can stop the universe for a moment and let us remember what a beautiful world we call home.