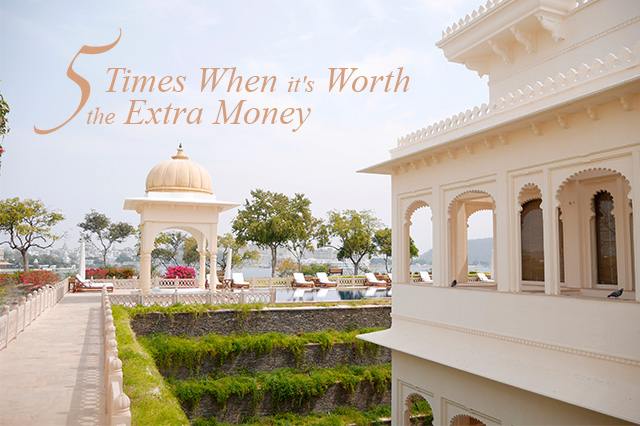 Travel is expensive, it really isn't worth in saying it isn't.  Even if you employ techniques to save money and even when you get deals, it's still expensive.  And while I do my best to cut back where I can while traveling and use as many miles and points as I can, there are also time when it's worth the extra money to splurge on your trip.  
It's important to know though when it's worth the extra money and when it's not.  For Nick and I, we like to splurge in certain areas of our trips but over the years we've realized when we can handle cutting cost and when we really should spend a little extra.  Here are the areas I would suggest splurging on and when it's really worth the extra money.
Plane trips over 10 hours.
The majority of the time, we're just like everyone else and smashed into economy seats on airplanes with bad food, no leg room and the person next to us taking up half our seat.  Isn't that always the case?!  However, there is a limit to what we're willing to endure aboard an airplane.  When we're traveling somewhere on a plane for over 10 hours, that's sort of my limit.  Over 10 hours is worth upgrading, even if it's just to Premium Economy which is becoming more and more affordable.  
One thing I'm not willing to skimp on when we travel is a good hotel or apartment.  My sleep is really important to me and I'm always willing to pay more for good accommodation.  Especially towards the beginning of your trip and at the end when you're tired from traveling or feeling ready to head home, it's important to get good rest and spend the money on a decent place.
Train rides over 4 hours.
I love traveling by train and particularly in Europe, the trains are pretty good and comfortable for quick trips.  Though when you're spending 4+ hours on a train, it's often worth paying not much more for a first class ticket.  We did this on the 5 hour journey from Milan to Nice a couple years ago and got our own first class cabin.  It was by far worth it for not that much more money.
I'm a big fan of celebrating special occasions and trips can be a great way to commemorate birthdays or anniversaries.  But don't skimp on these trips, these trips are the ones that everyone will remember for years to come and it's worth spending a little extra for a special memory.
My one major weakness when we travel are hotels that have amazing views.  There is something about waking up and opening up your windows to see Notre Dame across the street or panoramic views over Brussels or seeing your private infinity pool overflowing down the hill into Lake Pichola in Udaipur or watching a lightening storm behind the Taj Mahal from the privacy of your hotel room.  A fantastic view from a hotel room is always worth the extra money and will often make your whole trip.