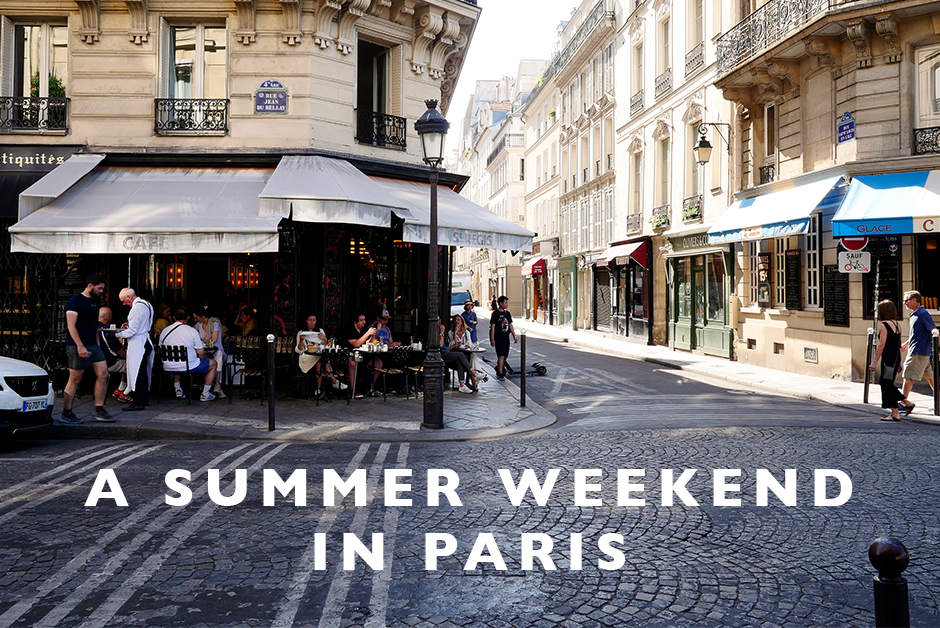 Our most recent trip to Europe saw us arriving in Paris on Friday evening, leaving us to explore our favorite city for a couple days over the weekend before heading South to Provence.  And while we've been through Paris more times than we can count now, the city is always a favorite of ours for a few days. There is just something about how I feel in Paris that I can never quite put into words and spending the weekend there is a great way to get in my Paris fix!
We stayed at the Hotel Duo in Le Marais this time around and spent the weekend wandering to our favorite spots like Cafe St. Regis on the Île St. Louis, wandering the Left Bank down through St. Germain, and watching the twilight fall around the Eiffel Tower camped out on the banks of the Seine.  All in all, our Summer weekend in Paris was everything we hope for when we visit the beautiful City of Light.
Tips for Visiting Paris in July
The city gets super busy in July, it's Summer vacation but it also gets busy around Bastille Day (July 14), so if you're headed to Paris during the busy season, here are my recommendations to steer clear of the crowds:
-If you've been to Paris before, take this chance to wander and not worry about seeing the landmarks.  Wander local neighborhoods of Paris like St. Germain and Le Marais instead of making it to every monument.
-If you still want to see the monuments, go right when they open.  Or view them from different places where there won't be tourists.  For the Eiffel Tower, my favorite spot is to walk down on the banks of the Seine River and you won't have hardly anyone around for an incredible view.  For the Arc de Triomphe, walk clockwise around the monument away from the Metro stops and the Champs Elysees and you'll find unobstructed views.  All of the monuments in Paris have views where no one will be, you just have to wander a bit to find them.
-It can get hot in Europe in July and we happened to be in France during a heat wave, so be sure to keep stopping to hydrate.  Not a lot in Europe has air conditioning, but confirm your hotel does, you'll need it at the end of a long day out and about without it.  I found wearing a hat really helped keep the sun off my face and neck and breathable clothes are a must.
Headed to Paris?
Check out our Paris Travel Guide in the Land of Marvels Shop for only $5!