This time around for our weekend in Hawaii, I knew it was going to be pretty stormy before we headed to the Islands due to my parents living there and filling me in on the weather this Summer due to hurricanes floating in the Pacific.  So knowing that I had Friday afternoon with my Mom while Nick was working, I really wanted to do something special and different.  I actually saw photos from the afternoon tea at the Kahala Resort on someone's Instagram account and thought that would be perfect for a rainy day activity and it turned out such a lovely afternoon!
Website: Kahala Resort
What I Loved
Ambience- The afternoon tea is served in the hotel lobby and then spills out onto the veranda.  We chose to sit out on the covered veranda with a view of the hotel grounds and the ambience of the whole experience was lovely: quiet, classic and enjoyable.
The China – My mom and I both remarked many times throughout our afternoon tea how beautiful the China was used for the tea service.  No detail was spared.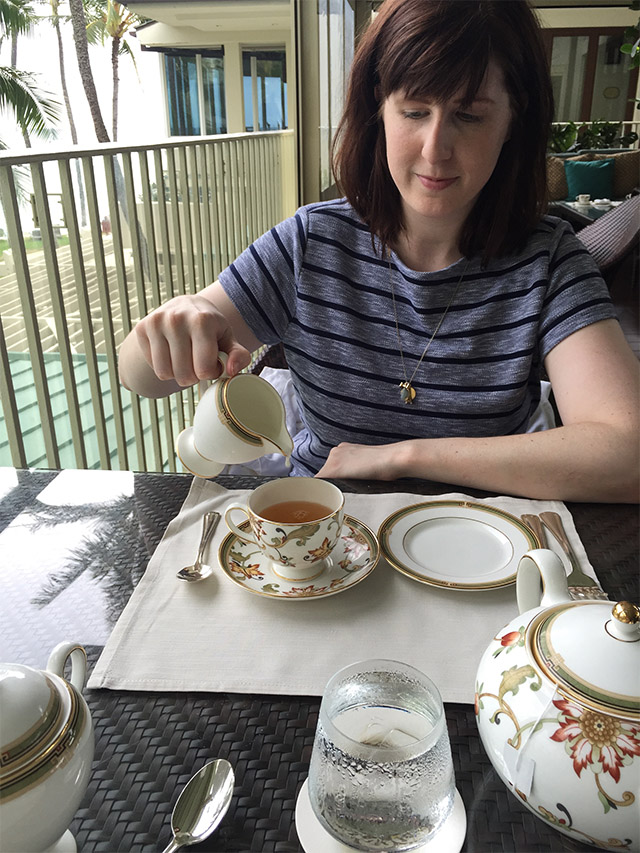 The Service – The service itself was wonderful.  We were served quickly, made sure we had everything we needed and offered everything we needed.
The View – The view at the Kahala can't really be beat, especially from up above on the veranda.  With dolphins swimming around in the pools below and the ocean just a stone's throw away, the view is gorgeous and the perfect compliment to a lovely afternoon.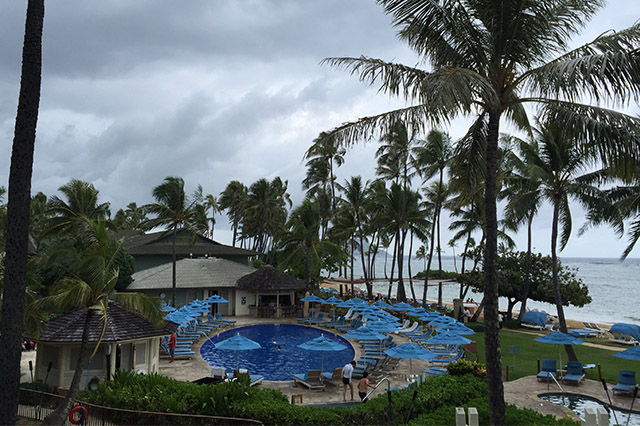 The Treats – It wouldn't be an afternoon tea without treats and the Kahala's were delicious.  We only wished we had more room to eat them all, but we definitely took whatever we didn't eat home with us and enjoyed it later.  From fresh scones and clotted cream to tea sandwiches to chocolate tortes and macarons, there was a little bit of everything to enjoy!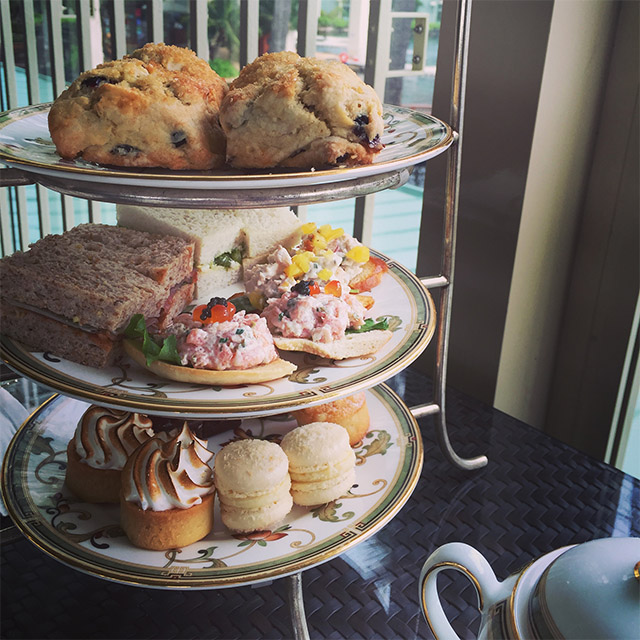 What I Didn't Love
Nothing! – We've loved everything about our experience at the Kahala!
Notes to Keep in Mind
Valet your car and remember to stamp your parking ticket – Remember to have you waiter stamp your parking card for your valet ticket.
This is the perfect activity for a rainy day – In Hawaii on a stormy day and wondering what to do?  This is the perfect activity for those days when laying on the beach or at the pool isn't really an option!
Land of Marvels was welcomed to the Kahala Afternoon Tea as a guest, though as always, all opinions are my own.