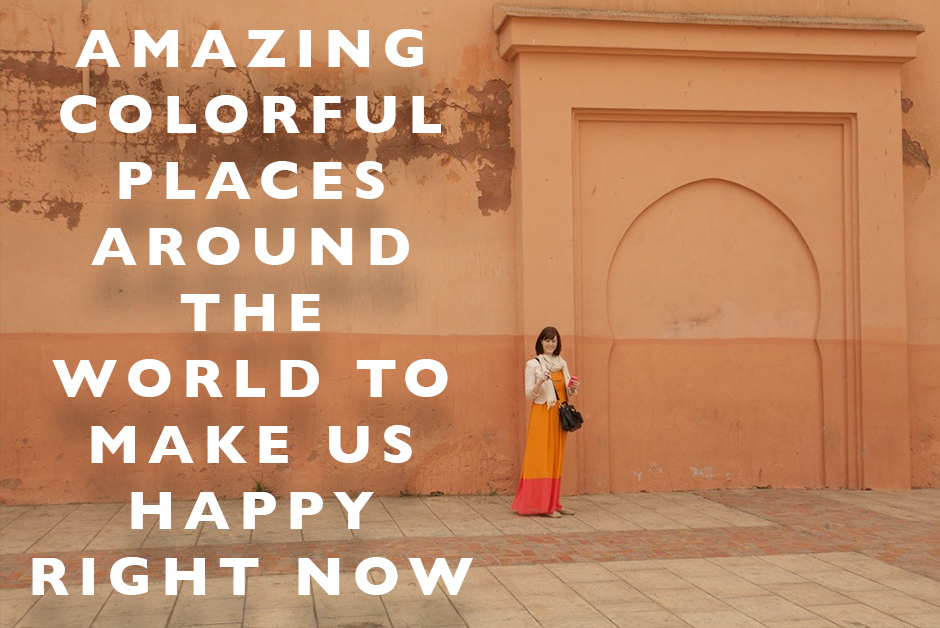 I'm currently at the point in my self-isolation where all I can think of is travel.  Just to look through travel photos right now is really helping me process all of this and think ahead to future travel, when we're free to roam the world once again.  And while we're all looking at places that we'd like to go, I thought I'd share some of the most amazing colorful places around the world in an effort to make us happy right now and cheer all of us up.  So once this all over, let's all explore this amazing colorful world!

Yellowstone, Wyoming, USA
With incredible natural colors in the landscape, Yellowstone's pools are a sight to see that you can't miss that will have you questioning if they are real or not.

Nice, France
For a colorful European escape, Nice in Southern France is one of those places that doesn't feel quite real.  Orange and pink buildings set on black and white tiled squares… it's color on the Med!

Antelope Canyon, Arizona, USA
For a landscape that is so bright orange, it looks completely surreal, Antelope Canyon in Northern Arizona takes the cakes.  The bright orange hue of this canyon is 100 times better in person that in photos.

The Palouse, Washington State, USA
This off the beaten path destination in the Eastern area of Washington State is one of the most stunning landscapes I've ever seen in my life. The rolling hills of green and gold that go on for miles are best seen at sunrise, when the golden light of dawn rolls over the landscape in a wash of gold.

Lyon, France
For a dose of Mediterranean-inspired color without going to the Mediterranean, Lyon is a colorful delight in the heart of France.  With streets and streets of pastel colored buildings, set along a bight blue river, Lyon is simply lovely.

Santa Monica, California, USA
The Southern California coast in Santa Monica is awash with green palm trees, purple and pink flowers and set against the backdrop of the bright blue of the sea and the sky.

Bali, Indonesia
For bright orange temples and food that is a rainbow of colors, Bali is full of magic and color.  Alongside the bright blue ocean, Bali is a tropical paradise of color.

The Painted Hills, Oregon, USA
For a natural wonder, the Painted Hills in Central Oregon are one of those places you can't quite believe really does exist.  The color in the soil and the way that the area feels completely different than anything you've ever seen, makes this spot an incredible natural.

Lupines at Lake Tekapo, New Zealand
When we turned the corner on the highway and first saw Lake Tekapo from afar, I literally let out a "wow" without even knowing it.  The color of the lake is an almost violent turquoise and once you arrive at this famous destination, the lupines growing in the Spring are a deep and intriguing purple and pink, that feel fake against the turquoise water.

Rainbow Row, Charleston, USA
This row of rainbow color homes in beautiful Charleston is the perfect spot for someone needing some color in their life.  Actually, all of Charleston is pretty colorful, but this row in particular will cheer anyone up.

Rome, Italy
If you've never wandered through the pastel colored streets in Rome, eating gelato as you go, it's one of those things that just needs to be on your bucket list.  Rome is color in the buildings, in the personalities of the Italians and in the gelato choices.

Fall in Vermont, USA
If Fall is your thing, a trip to Vermont in October is a must-do in your lifetime.  The Fall there is like nothing I've ever seen elsewhere.  The colors are jewel-toned, deep and exotic in a magical way.
Cusco, Peru
From the holiday parades to the markets, Cusco is full of vibrant color.  All you need do is wander around the town and you'll be taking in color at every corner.

Spice Markets in Marrakech, Morocco
For sights and smells, Marrakech is an incredible colorful destination.  The spice markets in particular will awash you in the scents of cinnamon and saffron, complete with bright colors and arrays of the most beautiful treats you've ever seen.

Udaipur, India
From the palace in Udaipur, you can look out over this gorgeous Indian city and see the buildings awash with all types of pastel colors, set amongst green foliage and monkeys jumping from house to house.

Lisbon, Portugal
All you have to do is to look out your window in Lisbon and you'll see color everywhere.  From the hand painted tiles on buildings left and right to the pastel paint colors chosen and the bright blue sea along the shore, Lisbon is a rainbow of color.