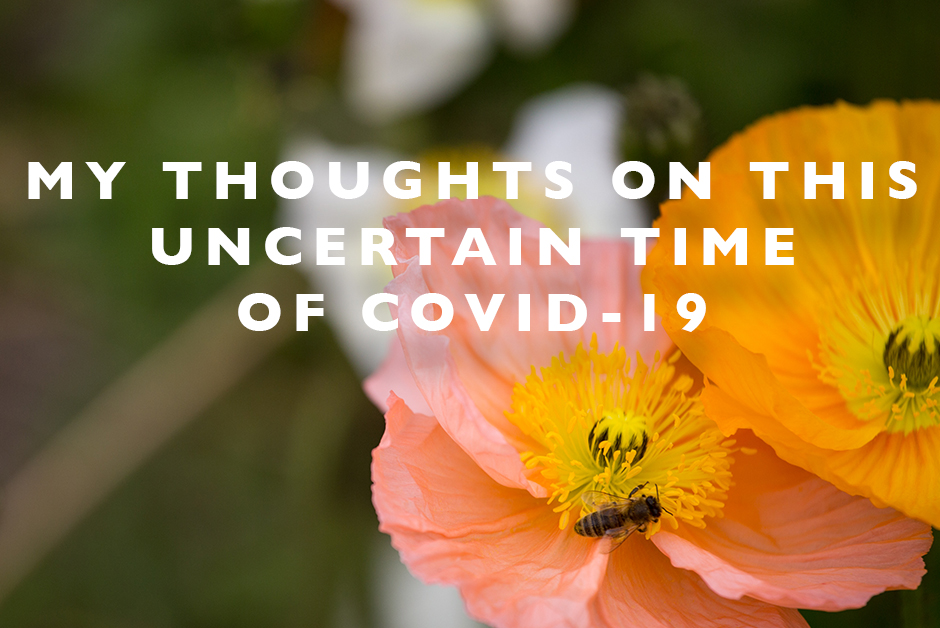 When I wrote out my thoughts last here on the blog, it was 4 weeks ago, right after we had gotten home from our quick trip to Hawaii.  It was before the stay-at-home orders, before grocery shopping became like an olympic sport to get everything you might need to sustain you for weeks at a time, dodging people left and right.  It was before everyone started wearing masks, before the death toll was creeping higher and higher and higher.
Those 4 weeks feel like an eternity honestly.  Yet at the same time, they feel like the weeks themselves went quickly.  Time is weird that way.  Life is weird that way.
In the past few weeks, I've gone through a huge range of emotions.  I started out anxious, my chest feeling like it was closing in on itself.  Then my emotional tidal wave moved on to anger, at our federal government for not handling this as well as other countries have, anger at how this is changing our lives, anger at having to cancel trips and all the stuff on my calendar.  Then I moved onto sadness, to thinking a lot about how this is going to change so so much in our world.  Sadness at how many people are losing loved ones, sadness at how countries are being torn apart by this.  Sadness over the fact that the world will never be the same.  Now?  Now I'm at the stage in my emotions four weeks later where I'm contemplating.  I'm contemplating what this new world might mean for me.  I'm thinking professionally, as I'm currently furloughed by my architecture firm in Hawaii and I'm not sure how long that will last.  I'm thinking about it personally… what do I want out of my life in the next handful of years after we make it past this?
The last few years I've been leaning toward a realization that perhaps in the not so distant future I'd like to escape to a smaller town somewhere, have a slower lifestyle, walk everywhere and create a life outside of what we've always known.  That thought, it feels closer and closer through this.  Maybe I do want to be more secluded from the world, maybe I want to grow more of my own food and tend to a garden.  I'm not sure if that idea will ever come about, but it's been on my mind a lot lately during all of this.
This pandemic has made me question a lot.  It's made me stop and think at every corner, with every decision.  It's made me realize how lucky I am, how privileged.  It's made me understand that the things that we often take for granted are now our lifelines.  It's made me find joy in the little things, it's made me more creative and it's made me stop and really think about our lives, what we like and what we don't and how we might change in the future.
Honestly, I feel like everyday is an eternity and yet at the same time, looking back after 28 days in self-isolation and staying at home except to go on very minimal errands, I can't believe that much time has passed.  This is a weird time, it's a weird world right now.  We're first hand experiencing something that will get written about in the history books.  We're first hand experiencing something that will change our entire world.
I find myself often thinking about it in terms of different places that have been the hardest hit by this virus.  Like when I visit Italy at some point again in the future, the country will be forever changed by the sadness of losing so many of its own.  Or when visiting China or Spain or New York.  This will last in our memories forever.  It will remain one of those life experiences that shape us, that change us as societies and that will eventually be a distant memory.
But until this is in our past memories, we must fight on.  We must do as we're told, stay home, stay away from other people, wear masks and wash your hands.  We must cancel trips and feel that sadness.  We must have empathy for those losing people they love.  We must thank workers for doing jobs that keep us fed and safe.  We must look outside at the flower blooming and smile, knowing that we are safe inside, that we're taking this time to feel what we need to feel.  And at some point when we emerge from our isolation, I hope we look back and know that we acted with empathy, with compassion.  I hope we know that whatever world is awaiting us on the other side, that we make the best of it.