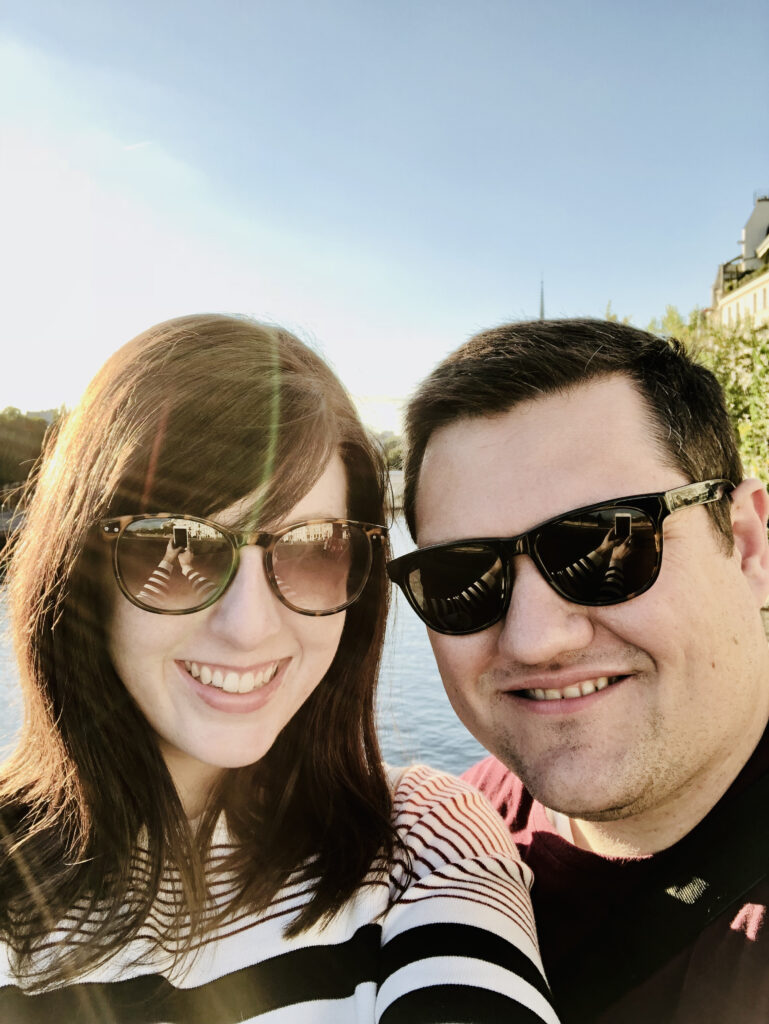 You know, there are moments in life that you simultaneously wonder how you made it there and how it came so fast.  Today, Nick and I celebrate ten years of marriage.  This anniversary, it's definitely one of those moments.  Ten years of marriage seems like a milestone that I'm not old enough for and celebrating fifteen years since our first date in October made me feel even older.  Today though, I can't help but think back over the last ten years, all the highs and all the lows.  Finding ourselves along the way, exploring the world together hand in hand, fights and tears but also immense joy and accomplishments.  That's what relationships are.  That's what marriage is.
Our marriage hasn't been perfect.  We haven't been perfect.  But what I do credit with our marriage and our entire relationship is that we consistently come back to each other.  We actually want to be together.  We want to spend time together.  And we want to explore this big wide world together.  That, in the end, is stronger than everything else.
When I think of Nick and I, I think of all the incredible things we've done together like buying 3 homes in 10 years and renovating them all.  I think of our career growth, supporting each other.  I think of exploring the world together, visiting 6 continents and over 30 counties together.  I think of the life changing moments we've had like our morning in the snow on the Great Wall of China where I followed Nick up the icy stairs and vividly remember just looking at him as we made it to the top, and being in awe of being there with him.  I remember the first moment we made it through the gates of Machu Picchu as the twilight started to fall around us and the shadows got long and we looked at each other and couldn't believe we were actually standing there.  I remember the moments together making major life decisions and listening to each other's points of view.  I remember so many moments over the years that I didn't think I could love him more.
And then, I also think of all the small moments that no one witnesses except for us.  The evenings getting completely wrapped up in a tv show on the couch and binge watching episodes.  I think of our little inside jokes and nicknames for each other.  I think of the way I know how he's feeling before he does.  I think of small moments driving in the car when he takes my hand in his without a word.  I think of us working side by side in our home office for hours into the evening to catch up with work, silently each of us doing our own thing, but side by side nonetheless.  I think of the moments that he says something that makes me die laughing and the moments when the silence between us is enough that no words are needed.
Love is about the big moments, the first date, the engagement, the wedding, the houses.  But honestly, the small moments are just as important.  Without the small moments, the big ones wouldn't exist.  Without the small moments, love would be all show and not the quiet, small, private moments between two people that love each other and have chosen to live life together.
If I've learned anything about marriage in the ten years that Nick and I have been married, I'd say it's this: the road is long and bumpy but the scenery is breathtaking.  Being tethered to another person is a challenge, I say that honestly.  But it's also really intricately beautiful.  Marriage and relationships will test you, they will try every ounce of patience you have.  But they will also make you need the feel of that person's embrace.  It will also make you need to hold their hand, no matter how mad you are at them in the moment.  It will make you fully understand another human being.  And if you allow it, the scenery along that long and bumpy road will truly be the most beautiful thing you've ever seen.