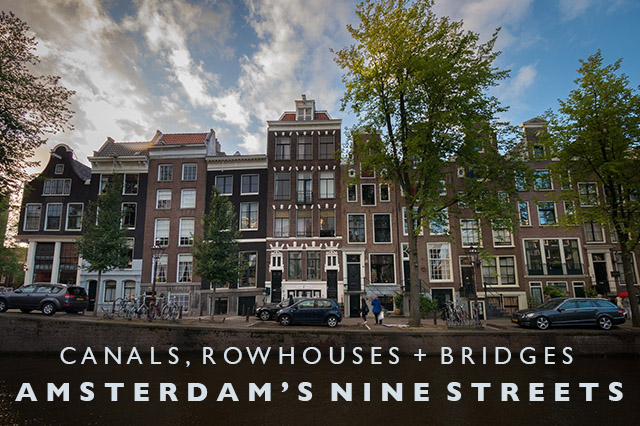 The majority of our short trip to Amsterdam was spent just wandering.  Before we left, Nick and I specifically knew we didn't want to have any plans, just to wander the canals and walk hand in hand without any itinerary.  And that's exactly what we did.  Any tourist coming to Amsterdam is coming to see the beautiful canal lined streets, the gorgeous brick row houses and the bridges upon bridges upon bridges.  We were no different.  Even though we've been to Amsterdam previously, Amsterdam's Nine Streets are perhaps some of the most scenic spots of a city I've seen in my travels.  From the leaning row houses to the bridges that light up at night, Amsterdam's Nine Streets are not to be missed on your itinerary for the Netherlands.
This area in the famous canal belt of the city is lined with trees and bicycles and home to many people in the city.  It's the perfect place to just wander and take it all in.  Also amazing here, are the tiny little alleyways you'll find nestled in off the canals, totally empty but remarkable all the same.  So if you find yourself in Amsterdam, don't miss a wander through the Nine Streets area of the city!
Traveling to The Netherlands?
See all of my posts on the country!